When I think of Italian food, Donatello Trattoria comes to mind. This classic restaurant has been around for over 30 years and it never disappoints me.
This slideshow requires JavaScript.
A few months ago, they moved their premises from a corner in Av. Pardo in Miraflores to another corner in the same district. They have now settled in a lovely two-story traditional Miraflores house that they have beautifully renovated. I loved the casual and yet sober look it maintains in each of its various rooms with its high ceilings, floor tiles, and windows that let the light and sun stream in.
Every time I have eaten in Donatello, it was pasta I had. This time together with the TLiP Team, I discovered it has so much more to offer.
The Food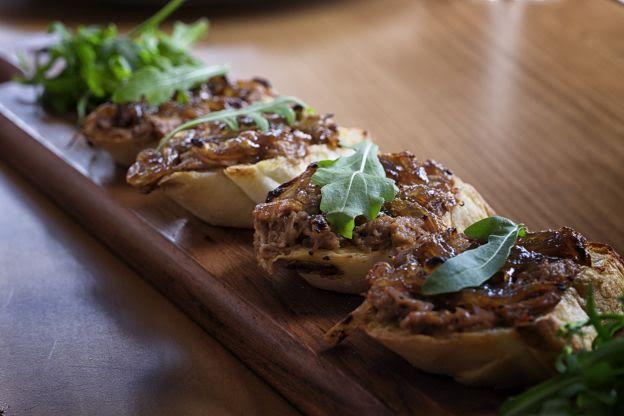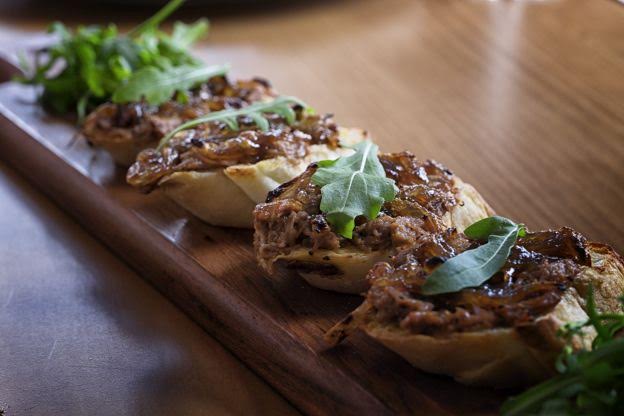 We started with a classic Italian appetizer: bruschettas. We ordered the Beef Bruschettas (s./15) which came in a wooden tray with four bruschettas topped with a rich beef stew mixed with crunchy caramelized onions that were divine. They also have prosciutto and mushroom versions of the bruschettas.
We then tried their Neapolitan Provolone with Basil Pesto (s./29), another Italian classic, that comes with some wonderful homemade piadina flatbread. The provolone is served on a hot plate with plenty of melted cheese, tomato and pesto sauce. What a fabulous mix this was!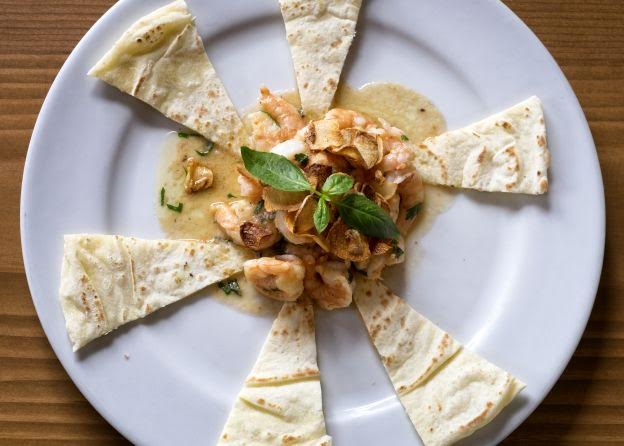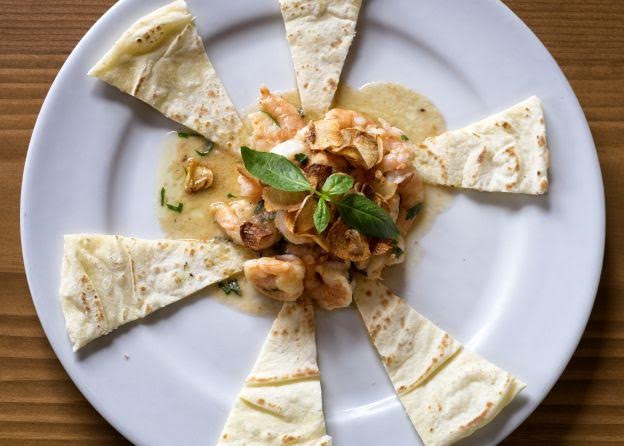 Our final appetizer was the Shrimps Aglio Olio (s./ 41), a plate with good-sized stir-fried shrimps bathed in garlic and olive oil that were a dream. The texture of the shrimps was perfect and the taste of the sauce was extremely delicate and full of flavor without the garlic overwhelming your taste buds. We loved this dish and it quickly became our favorite.
Donatello also serves pizzas.
Actually, they have fifteen varieties, of which we tried three. The Chef, Liliana Terry, confessed that the restaurant owes its creation to the family's wish to open up a pizza place in Lima some thirty years ago. Since then, their oven hasn't stopped pampering pizza-loving customers.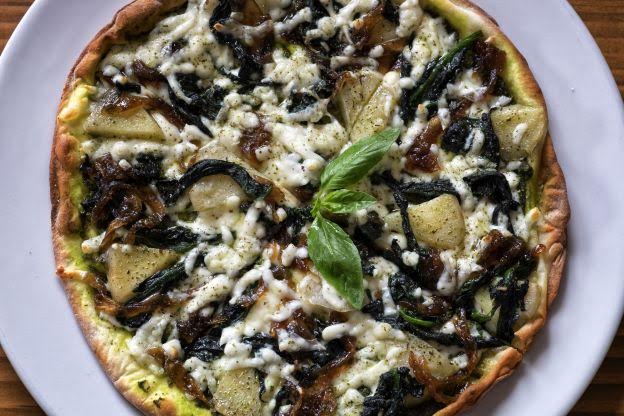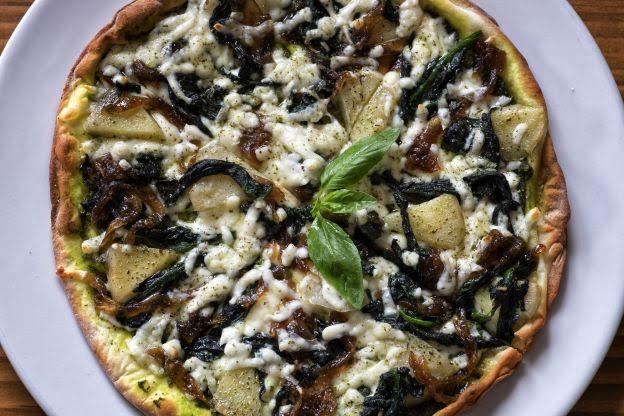 So, we had the Pizza Berenjena, a good sized round pizza with mozzarella cheese, slices of grilled eggplant and tomato sauce (S/23 & S/39). We enjoyed it. We then had the Vegetarian Novoandina Pizza (S/28 & S/52) that has eggplant, red bell peppers, mushrooms, zucchini, asparagus, onion and plenty of Andean cheese. In my view, way too many ingredients and in large quantities that made it somehow difficult to define the taste. The third and final pizza was the Spinach, Artichoke and Pesto (S/27 & S/49) which was my favorite. I am a fan of pesto and found theirs to be very tasty. All pizzas come in two sizes: the small which is fairly good-sized and the large which you can share with friends. They are all thin crust, crunchy and tasty on their own.
It was time for pasta.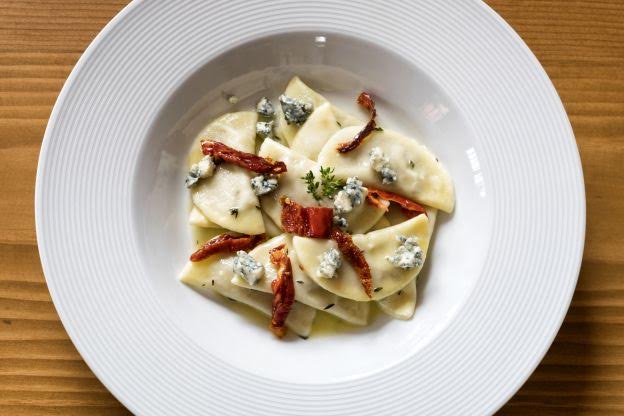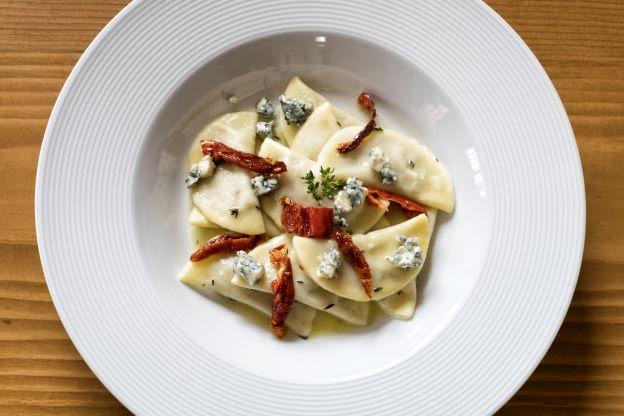 We started with the Agnolotti with Blue Cheese and Nuts (S/29). The pasta was al dente as I like it, with plenty of blue cheese filling and pieces of nuts, and the butter thyme sauce that gently covered the agnolotti was delicate and exquisite. I will definitely come back for this.
We also had the Pappardelle with Seafood (S/42), a generously served dish of homemade pappardelle mixed with plenty of shrimps, octopus, squid, and cilantro, and a little bit of cream. Once more, the pasta was al dente, there was plenty of seafood –unlike other places where you can count them with one hand – and it was full of flavor. I loved it.
We ordered some fish.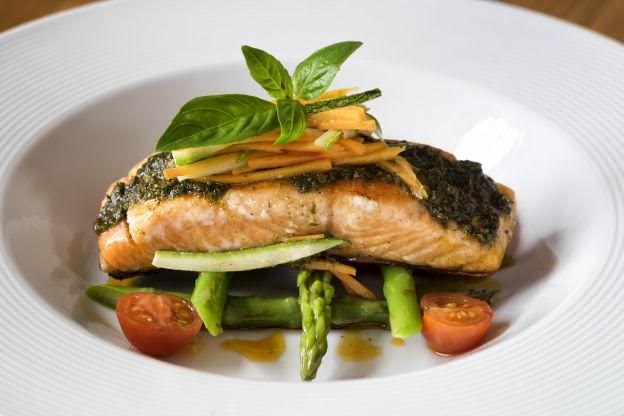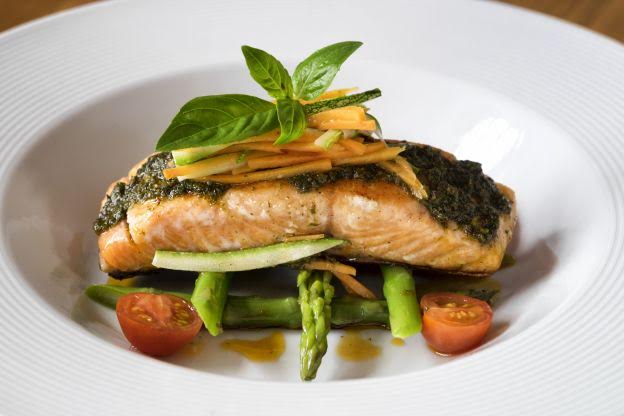 We had the Salmon Filet with Fine Herbs (S/53). This was a big piece of salmon with some mouth-watering pesto sauce on top, and colorful and crunchy vegetables on the side. The texture of the salmon was perfect and we enjoyed every bit of it.
The last dish we had was the Ossobuco Donatello (S/48), a huge piece of ossobuco meat covered in sauce and homemade creamy fettucini on the side. Apparently, it is one of the dishes clients mostly ask for, but it was definitely not my favorite.
The Dessert
It was time for desserts so we ordered a Trío Supremo (S/22). This dessert can be easily shared as it consists of a cold chocolate nougat piece of cake, a pannacotta with strawberry coulis, and a scoop of homemade fig ice cream. Of the three, we all preferred the fig ice-cream as it is not that common to find, but it was also quite nice.
And what a better way to finish our visit than with a homemade Limoncello!
Yes, this southern-Italy lemon-based liqueur can be produced with Peruvian limes so you know. It was savory and light, less strong than those Italian ones. We enjoyed it all the way.
Last Thoughts
Our visit to Donatello was certainly a pleasant one: food and service were excellent, portions were good, the setting is homely and accommodating, and the prices are those within the range of other restaurants around Miraflores. Donatello has everything you need when you long for Italian food,  including a menu in English-, making this one more corner dining experience in Miraflores not to be missed.
Donatello Trattoria
José Galvez 390 Miraflores
Parking – yes (and for bikes too!)
Opening hours – Monday to Saturday – 12-4, 7-11.30 pm, Sunday 12-10 pm
Delivery – yes except Mondays
Cocktails – s./16-38
Wine by the glass – s./18-22
Appetizers – s./9-41
Soups – s./22-24
Salads – s./19-33
Pizzas – s./18-32 – small (20 cm), s./39-56 large (30 cm)
Pasta – s./ 28-42
Risottos – s./ 38-47
Fish s./ 49 -53
Beef – s./ 38-56
Desserts – s./ 14-22
Hot & cold beverages – s./ 6-30
Salmon Filet with Fine Herbs (Cover photo: Marco Simola/Traveling & Living in Peru)
Comments
comments