An authentic French patisserie in a bustling area of Miraflores? La Raffinerie is full of charm and surprises. Read more about our recent visit.
Eclairs, croissants, pain au chocolat, cream puffs, brioche, tartelettes, choux, macarons, quiche—oh my! La Raffinerie is about authentic flavors, high-quality ingredients, beautifully decorated pastries, great attention to detail and deliciousness.
I enjoyed my visit so much to La Raffinerie a couple weeks ago that I purchased many of their desserts (four boxes) to share with guests at my house. I doubt they expected authentic French pastries in Peru, but they were pleasantly surprised.
La Raffinerie just celebrated its one-year anniversary on November 20th. It is located in a very busy area among hotels, tourists and offices in the district of Miraflores—which should be a plus for their business. This delightful cafe was full of pleasant surprises.
The group of owners at La Raffinerie is an enthusiastic bunch of young, talented and passionate individuals. We spoke a great deal with Antoine Minguillon, the general manager who hails from Toulouse, France, the day of our visit. The chef, Pacome, is a Bordeaux native; Christian is half French (Bordeaux) and half Peruvian and Elena is originally from Russia.
Choux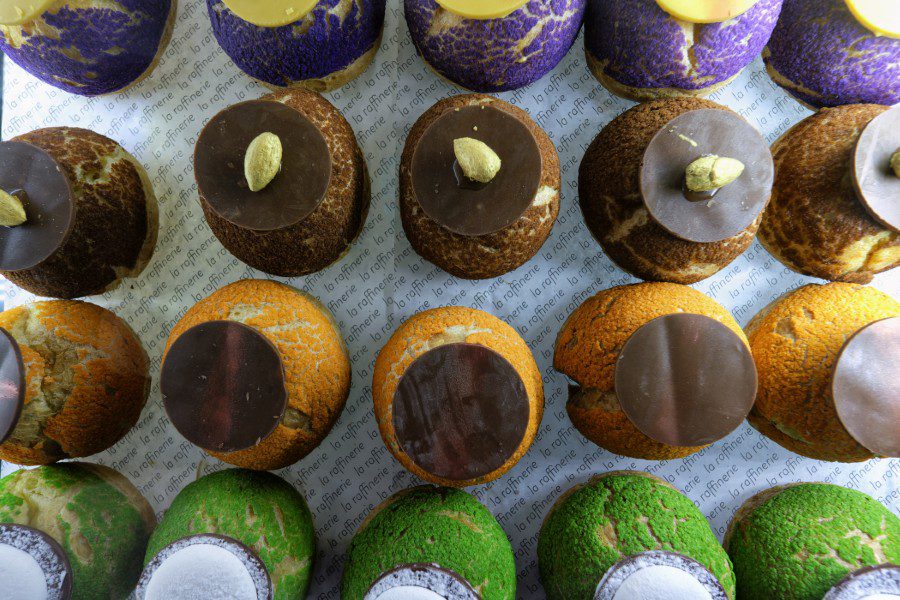 The pastries at La Raffinerie must be highlighted first because they made the biggest impression on me. I may be addicted to the choux at La Raffinerie. These airy, round cream puffs are decadent and luxurious. Choux is a light pastry dough which is used in many pastries. It contains only water, butter, flour and eggs. Instead of using an active raising agent, it uses high moisture content to create steam during the cooking in order to puff up the pastry. La Raffinerie has several choux options to choose from: Madagascar vanilla, lucuma, mango and maracuya, chirimoya and praline. All were exquisite but my favorite was the pastry cream with Madagascar vanilla choux.
Eclairs
In the case of the eclairs it's hard to choose a favorite. These oblong pastries are also made with choux dough and filled with a cream and then iced. La Raffinerie offers various fillings and icings. You can choose from the fresa con mascarpone (strawberry with mascarpone), caramel, Café, and the chocolate con avellanas (chocolate with hazelnuts). We sampled several and our absolute favorite was the chocolate with hazelnuts. It was a flavor revelation and probably one of the best eclairs I have eaten in my life. Both the chocolate and hazelnuts they use are high quality.
While each eclair costs S/ 10, La Raffinerie offers a Combo Dulce, sweet combo, for S/ 15: the eclair of the day plus a cappuccino.
Macarons
We were also happy to indulge in the various macarons of which there are currently eight flavors: lucuma, limón-albahaca (Tahiti lime and basil), rosa (rose), violeta (violet), azahar (Peruvian orange blossom water), chocolate 70%, choco-maracuya, and café. The team of Traveling and Living in Peru sampled the azahar and the violeta flavors. In the French city of Toulouse, one of their symbols is the violet (flor de violeta). It is also used in their gastronomy for marmalade, ice creams, caramels, etc. My personal favorites were the unique violet and the citrusy and refreshing Tahiti lime and basil macaron. I adore macarons and I ended up purchasing every flavor to enjoy at home.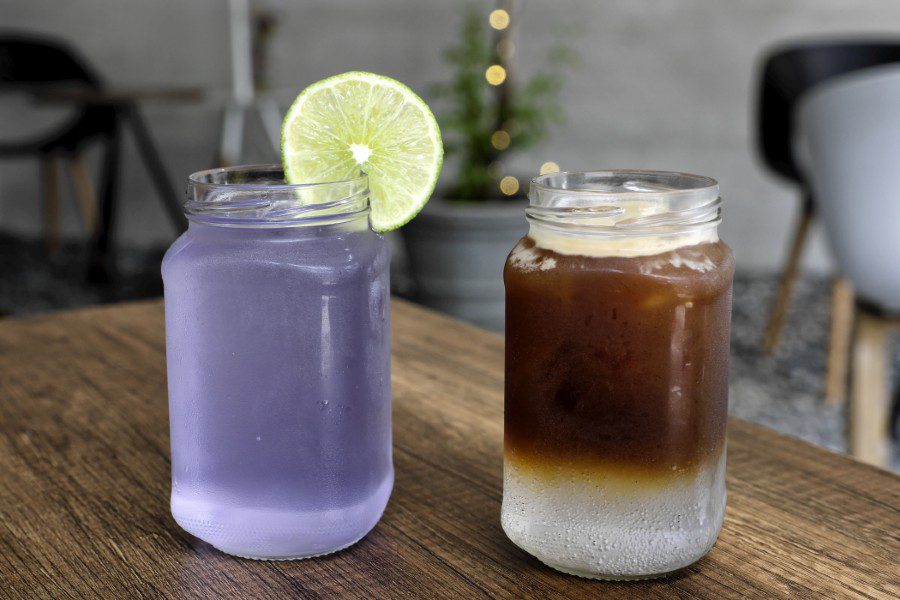 The violet flavor mentioned above is also used in a couple of other items at La Raffinerie. La Raffinerie prepares their own "secret" violet syrup for their macarons as well as for their Limonada de Violeta (S/ 8) and the Latte Violeta (S/ 12). We sampled both of these beverages and were intrigued by the slightly addictive violet flavor. The lemonade had just the right amount of violet syrup without being overwhelming. And who knew that violet could taste so good in a coffee beverage.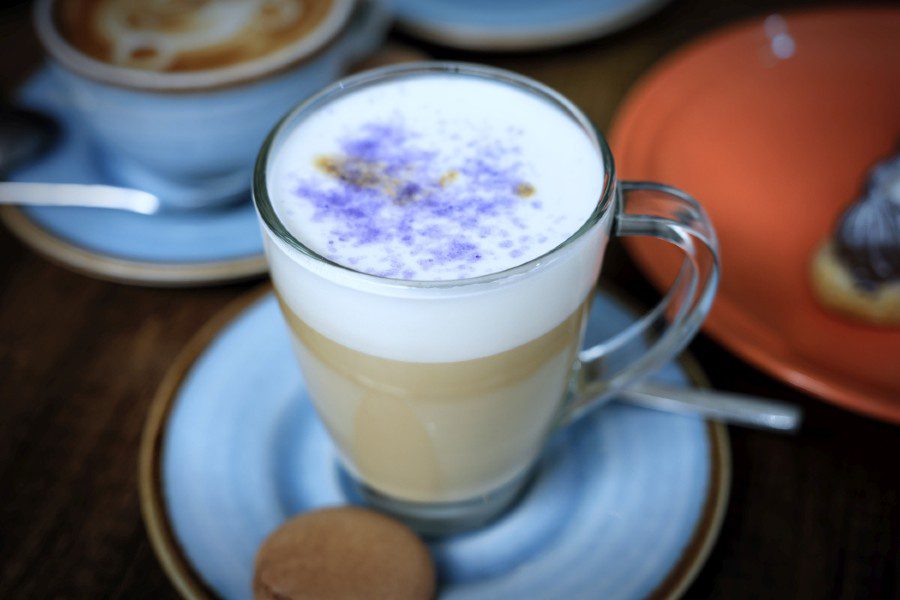 Besides these beverages, we also sampled their moccachino and cappuccino. We also shared a new cold beverage menu item, Espresso Tonic. La Raffinerie uses 100% Peruvian coffee from Villa Rica.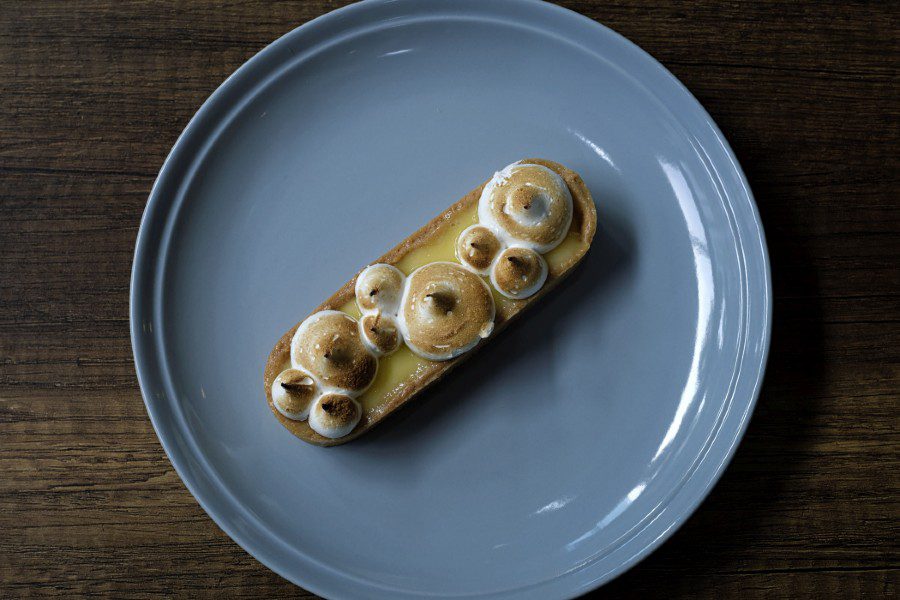 A must mention is the delicious Pye de limón (S/ 12), a lemon pie packed full of citrus flavor and creaminess, held in a delicious dough. Also the Tartelette Poire au Vin was incredible, the combination of pears with wine in this tart pleased the pear lover in me.
Savory selection
Besides the delicious pastries at La Raffinerie, they also have a small selection of sandwiches, salads, focaccias, and toasts as well as breakfast options and specials. The day of our visit we shared a Quiche Lorraine (S/ 13), a delicious traditional quiche prepared with egg, cheese and bacon. The four available quiches are all accompanied by a small salad.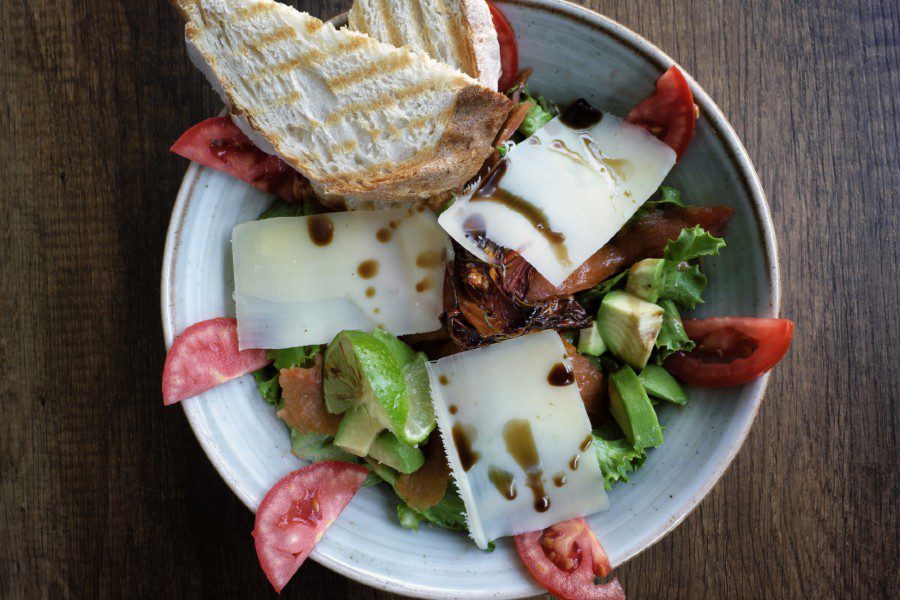 We also shared the Raffineur sandwich (S/ 15.50), a popular menu item with prosciutto, cheese, caramelized onions and tomato. All of the sandwiches are served on their sourdough bread. The Ensalada Raffineur was a bit underwhelming for me. Mixed lettuces, sun dried tomatoes, chopped Brazil nuts, avocado and balsamic dressing. This is available with trout or prosciutto for an extra S/ 5. I felt the salad could be a bit larger in size.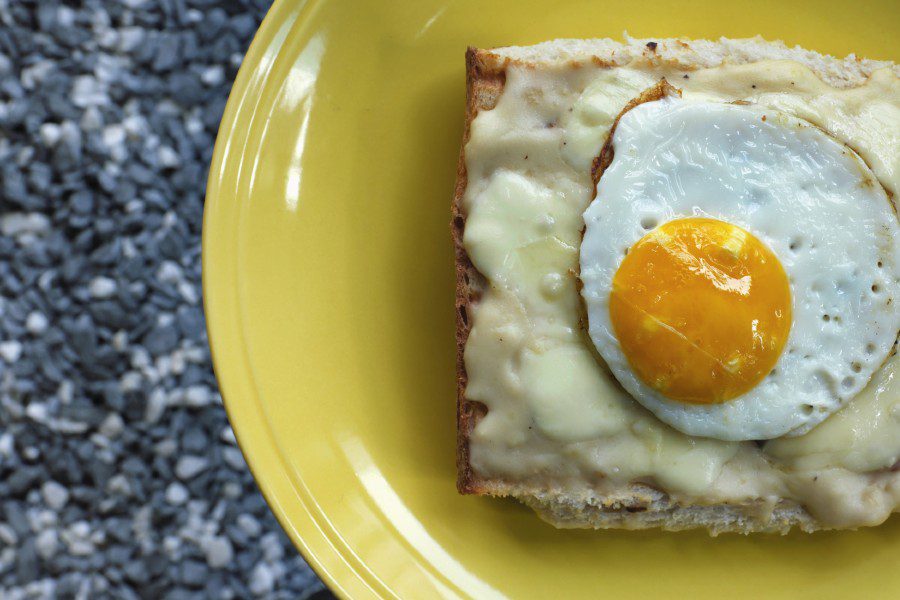 One of my personal favorites the day of our visit was the Croque Madame (S/ 16), a new addition that will soon be on their sandwich menu section. I can't resist the combination of a grilled ham and cheese sandwich generously topped off with béchamel sauce and a fried egg on top of it all. Decadent and delicious.
In the evening hours many people enjoy the Tablas (S/ 43.5-70), a variety of cheese and meat board options, some with breads, marmalade, pate, olives, quiches, focaccia, wines, etc.
La Raffinerie will soon be offering several new menu options for the upcoming summer season.
I love that La Raffinerie provides excellent quality pastries and they don't skimp on high-quality ingredients and details. I will return soon.
La Raffinerie
Av. 28 de Julio 393, Miraflores
Phone: +51 777-8911
Reservations accepted
Capacity: approximately 30 inside, 25 outside
Hours: Monday-Friday: 8am-10pm
Friday- Saturday: 9am-10:30pm
Saturday-Sunday: 9am-8pm
Quiches: S/ 13
Focaccias: S/ 11.5
Toasts: S/ 15
Sandwiches: S/ 12.5-16.5
Sandwich/Quiche Combos: S/ 25-28
Salads: S/ 20.5-22
French breakfast: S/ 15
Hot beverages (coffee, tea, infusions, hot chocolate): S/ 5-12
Cold beverages (coffee, milkshakes, iced tea, juices): S/ 6-14
Macarons: S/ 3.50 each, 6 for S/ 20, 12 for S/ 38
Choux: S/ 8 each; three for S/ 22
Eclairs: S/ 10 each; four for S/ 38
Tarts: S/ 12
Mini cake: S/ 5.5
Cake: S/ 23.5
Combo Dulce: S/ 15 (eclair del dia + cappuccino)
Brownies: S/ 5 each
Pye de Limón: S/ 12
Cannele: S/ 6 each or 2 for S/ 10
Tablas (Cheese & Meat Boards/Platters): S/ 43.50-70
Red & White Wines: S/ 14-20 (a glass); S/ 65-95 (bottle)
Sparkling wines: S/ 45-50 (bottle)
All photos: Marco Simola