Mar y Selva is a restaurant that serves fusion cuisine, bringing several surprises to those who come to dine at its location in the district of Surquillo. The dishes we tried were wonderful, well-portioned, and were elegantly presented. If it weren't for restaurants like Mar y Selva, enthusiasts of amazonian food would be disappointed to find a lack of options within Lima.
Photo: Causa acebichada/ Maria Alejandra Baraybar

Photo: Interior/ Maria Alejandra Baraybar
Appetizers
If you're not sure what to eat at Mar y Selva, the menu can be found online and looked over before visiting the establishment. On the day of our visit, we tried the Causa acebichada (S/ 18) and the Tiradito in cocona sauce (S/ 18). The main ingredients are what make this menu so special. Another dish that stood out for us was the patacones, a typical jungle dish which is made of bananas and dried meat called cecina. It is also worth noting that Mar y Selva's menu includes options for salads, pasta, and rice dishes.

Main dishes
The menu offers four rice dishes and seven main courses including several kinds of pasta, which is something relatively new for Amazonian cuisine. The Arroz chaufa (S/ 30) was very tasty, especially for the mix of ingredients: cecina, home sausage, and sweet fried banana. This diverse blend made each bite a unique experience, and it was definitely our favorite dish. It was not too spicy or overloaded with soy sauce.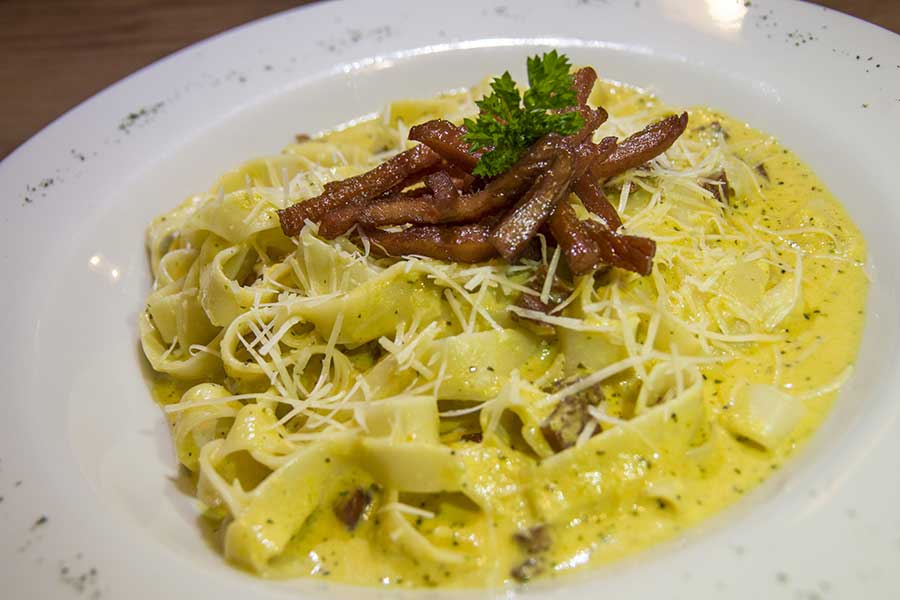 For the pastas, we tried the Cocona sauce fettuccine (S/ 30). It's a dish that you're sure to enjoy especially because of the fried cecina (different from the traditional way which is just dried meat, not fried). It is also worth noting that the sauce was soft and aromatic, not spicy. The pasta was also very good and you can substitute the pasta for fusilli or rigatoni if you wish.
The recipes vary between the sauteed, marine, or Amazonian style. They also have dishes offering Amazonian fish such as palometa, toa, paco, and fried maparate.

Typical dishes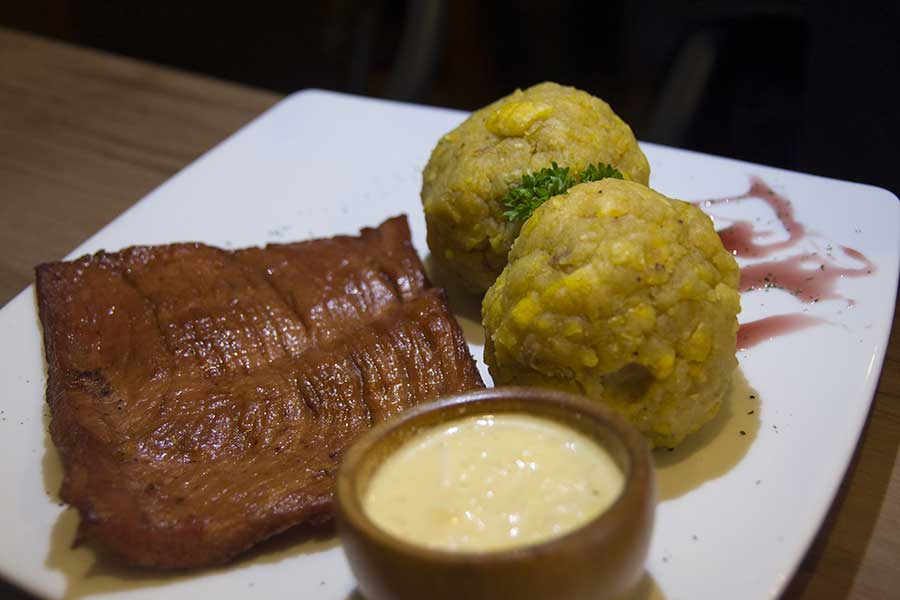 If you're looking for more traditional Amazonian dishes, Mar y Selva offers two classics at 28 soles each: the Juane, a banana leaf filled with rice flavored with mishkina, ground pork, and other ingredients. The Tacacho is another typical dish you can find on the menu. It consists of crushed and fried green banana which is flavored with pork rind, cocona pepper, and cecina. The chili sauce accompanying this dish is made with cocona, and we found it to be very delightful, and perfect for people who don't like spicy dishes. Lastly, they offer several excellent drinks made from Amazonian fruits such as camu camu, maracuyá, and cocona.

Mar y Selva
Tomás Marsano 1195, Surquillo
Monday to Saturday, 11.00 – 22.00
Sunday, 11.00 – 17.00

Appetizers: S/ 16 – S/ 22
Main dishes: S/ 28 – S/ 38
Triplets: S/ 32 – S/ 42
Juices: S/ 5 (glass), S/ 18 (jar)
No desserts
Bonus: They offer adjustments to their recipes to what the customer asks.

Now that you're here:
We're asking you, our reader, to make a contribution in support of our digital guide in order to keep informing, updating and inspiring people to visit Peru. Why now? In our near 20-year journey as the leading English-language source on travel in Peru, we've had our fair share of ups and downs-but nothing quite like the challenges brought forth in the first quarter of 2020.
By adapting to the changing face of the tourism and travel industry (on both local and international levels), we have no doubt we will come out stronger-especially with the support of our community. Because you will travel again, and we will be ready to show you the best of Peru.
Your financial support means we can keep sharing the best of Peru through high-quality stories, videos and insights provided by our dedicated team of contributors and editors based in Peru. And of course, We are here to answer your questions and help whenever you need us.
As well, it makes possible our commitment to support local and small businesses that make your visit an unforgettable one. Your support will help the people working in these industries get back on their feet once the world allows us to make our dream of enjoying everything Peru has to offer a reality again-from its mouthwatering gastronomy, thriving Amazon and archaeological wonders such as Machu Picchu.
Together, we will find a way through this. As a member of our community, your contribution, however big or small, is valuable.
Support Traveling & Living in Peru from as little as $1 - and it only takes a minute. Thank you!