Mar y Selva is a restaurant that serves fusion cuisine, bringing several surprises to those who come to dine at its location in the district of Surquillo. The dishes we tried were wonderful, well-portioned, and were elegantly presented. If it weren't for restaurants like Mar y Selva, enthusiasts of amazonian food would be disappointed to find a lack of options within Lima.
Photo: Causa acebichada/ Maria Alejandra Baraybar

Photo: Interior/ Maria Alejandra Baraybar
Appetizers
If you're not sure what to eat at Mar y Selva, the menu can be found online and looked over before visiting the establishment. On the day of our visit, we tried the Causa acebichada (S/ 18) and the Tiradito in cocona sauce (S/ 18). The main ingredients are what make this menu so special. Another dish that stood out for us was the patacones, a typical jungle dish which is made of bananas and dried meat called cecina. It is also worth noting that Mar y Selva's menu includes options for salads, pasta, and rice dishes.

Main dishes
The menu offers four rice dishes and seven main courses including several kinds of pasta, which is something relatively new for Amazonian cuisine. The Arroz chaufa (S/ 30) was very tasty, especially for the mix of ingredients: cecina, home sausage, and sweet fried banana. This diverse blend made each bite a unique experience, and it was definitely our favorite dish. It was not too spicy or overloaded with soy sauce.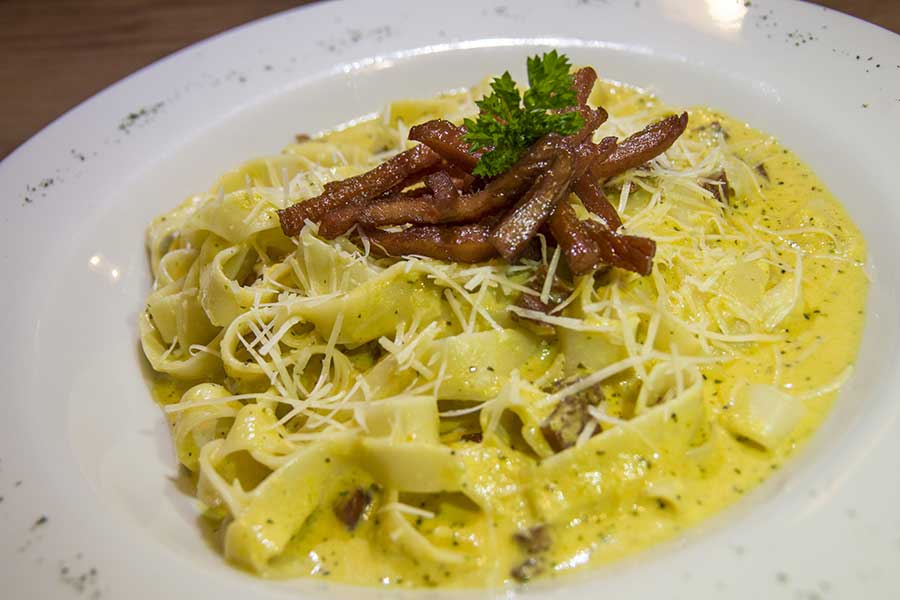 For the pastas, we tried the Cocona sauce fettuccine (S/ 30). It's a dish that you're sure to enjoy especially because of the fried cecina (different from the traditional way which is just dried meat, not fried). It is also worth noting that the sauce was soft and aromatic, not spicy. The pasta was also very good and you can substitute the pasta for fusilli or rigatoni if you wish.
The recipes vary between the sauteed, marine, or Amazonian style. They also have dishes offering Amazonian fish such as palometa, toa, paco, and fried maparate.

Typical dishes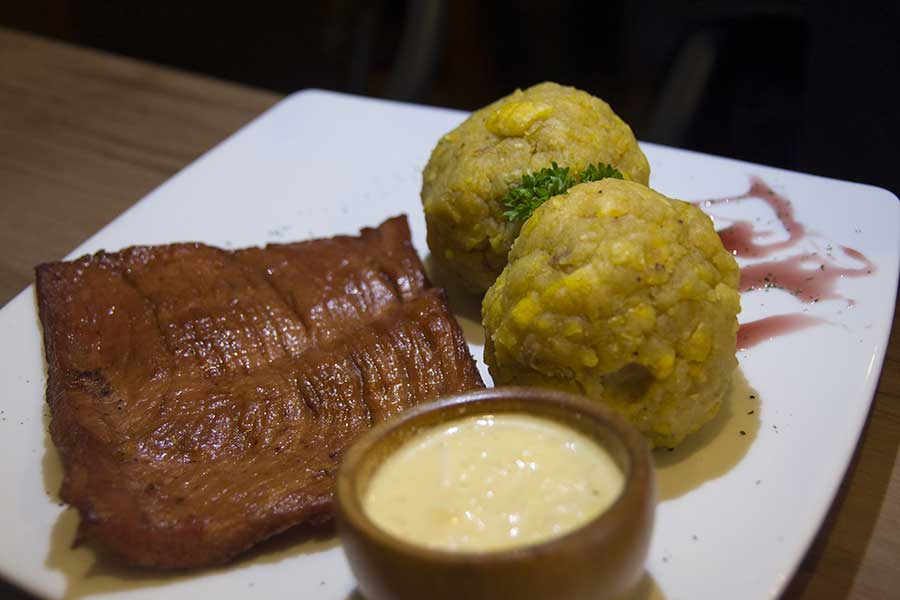 If you're looking for more traditional Amazonian dishes, Mar y Selva offers two classics at 28 soles each: the Juane, a banana leaf filled with rice flavored with mishkina, ground pork, and other ingredients. The Tacacho is another typical dish you can find on the menu. It consists of crushed and fried green banana which is flavored with pork rind, cocona pepper, and cecina. The chili sauce accompanying this dish is made with cocona, and we found it to be very delightful, and perfect for people who don't like spicy dishes. Lastly, they offer several excellent drinks made from Amazonian fruits such as camu camu, maracuyá, and cocona.

Mar y Selva
Tomás Marsano 1195, Surquillo
Monday to Saturday, 11.00 – 22.00
Sunday, 11.00 – 17.00

Appetizers: S/ 16 – S/ 22
Main dishes: S/ 28 – S/ 38
Triplets: S/ 32 – S/ 42
Juices: S/ 5 (glass), S/ 18 (jar)
No desserts
Bonus: They offer adjustments to their recipes to what the customer asks.