Finding a good bakery in your neighborhood is always a good thing. Fortunately, for people who live or work in Miraflores, Pan Atelier is that kind of place.
[Best_Wordpress_Gallery id="371" gal_title="Pan Atelier"] Pan Atelier is the kind of place that, after just one visit, you will want to visit again frequently, start to become a friend of the owner, and probably stay in there more time than any other place in the neighborhood. The bakery has a variety of options on the menu (bread, pizzas, salads, sandwiches, drinks, and desserts), carefully selected ingredients, and a wood oven that perfumes the entire atmosphere.
The mother dough is the key to Pan Atelier's main products.
The young chef who has created many of the recipes at Pan Atelier, Greace Advíncula, explained to us that, after a long and natural fermentation of 24 hours, the dough is the star ingredient for many of the items on the menu.
The Pizzas
[caption id="attachment_144664" align="alignnone" width="624"]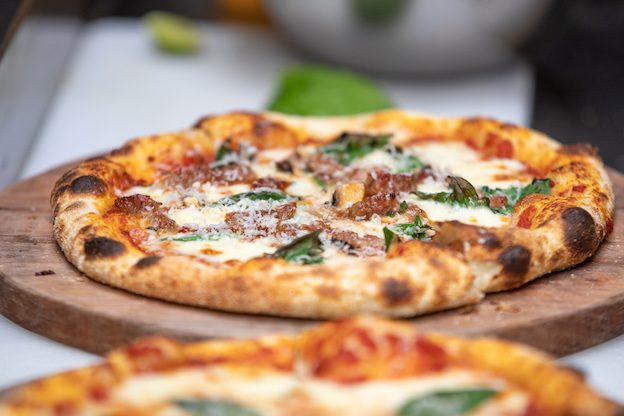 Pizza Saccilica (Photo: AmaraPhotos/Traveling & Living in Peru)
[/caption]
One way in which they use the mother dough is in their handmade pizzas
, like the classic Margarita, the Bechamel (with spinach in white sauce), or the Saccilica (with homemade sausage, chili flakes, and cherry tomato). You can even watch as they make the pizza, including the impressive tossing of the dough through the air.
The Salads
[caption id="attachment_144665" align="alignnone" width="624"]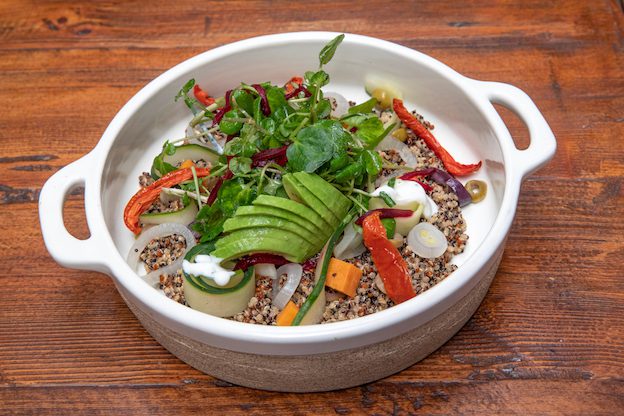 Super Quinua (Photo: AmaraPhotos/Traveling & Living in Peru)
[/caption]
The salads could surprise you if you are thinking of a classic and simple option for lunch.
We tried the
Super Quinua (S/ 19),
made with white and red quinoa, diced sweet potato, zucchini, a good portion of avocado, cucumber, dried tomato, olives, and eggplant, dressed with a soft balsamic vinaigrette. Trust us, it's worth more than it costs.
The Breads
As we are in a bakery, the meal not so surprisingly begins with a table of their handmade breads that you can enjoy with avocado, butter, jam, hummus, and other complements. You can't go wrong with what you throw on it, as
the bread will be the star.
They also have four kinds of peasant bread: The 'campesino' (with fine herbs), a rye campesino (with rye flour, black and white sesame seeds, flaxseed, and chia
—
the best!), the classic campesino, and another with olives (as good as the rye one). The bread is served as warm as possible and with maybe a trickle of olive oil. Pan Atelier also has sweet breads, like chocolate bread, cinnamon pastry, and other specialties that will make you want to come again.
The Soups & Sandwiches
[caption id="attachment_144666" align="alignnone" width="624"]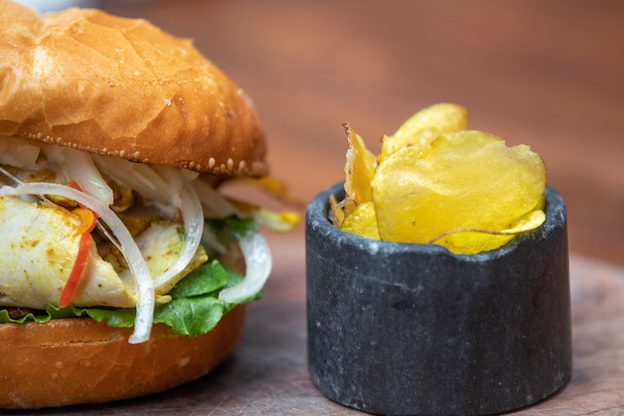 El Paisa (Photo: AmaraPhotos/Traveling & Living in Peru)
[/caption] The soups also come with handmade bread and sometimes sandwiches, both of which are made with the mother dough.
The portion sizes are big enough to feed two people
and come with a good portion of ham.
El Paisa
(S/ 20)
, for example, (a Peruvian recipe) has ham served with onions (caramelized in their version), mushrooms, mozzarella, avocado, and a side of potato chips–a good and not too "fatty" mix that could be your favorite item on the menu (like it is for many of the clients of Pan Atelier). Next, we tried the very creative
Porchetta sandwich (S/ 21)
, served with pickled baby onions in raspberry.
The Beverages
Of the beverages, the classic coffee drinks were in hard competition with the fruit juices (granadilla, tangerine, and orange) and the selection of teas (green tea and apple strudel). If you prefer, they also have Peruvian craft beer and Italian wines.
The Desserts
Finally, the desserts could be just the thing to make you return to Pan Atelier frequently because they make a limited quantity of some (like the 'bombitas' filled with custard cream) and they have a rotating dessert of the day. [caption id="attachment_144667" align="alignnone" width="624"]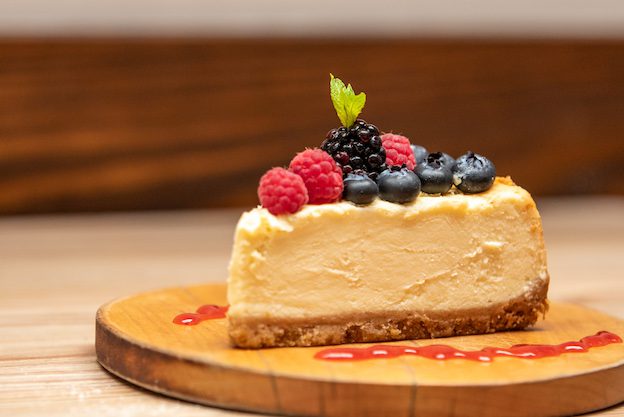 Cheesecake with berries (Photo: AmaraPhotos/Traveling & Living in Peru)
[/caption] We tried the
cheesecake with berries
and it was
one of the best in Lima.
Also, the Peruvian
'crema volteada'
and the
red velvet cake
could be reason enough to make this bakery your go-to dessert spot.
What Else?
Pan Atelier has an inviting terrace located next to the wood oven. The terrace has long and comfortable tables that will make it hard for you to ever leave the cozy environment. Fortunately, they're open every day of the week starting at 7 a.m., so you could make Pan Atelier your daily habit.
Pan Atelier
Cantuarias 167, Miraflores
[email protected]
Hours: Monday-Saturday: 7:00 a.m. – 10:00 p.m. Sunday: 7:00 a.m. – 9:00 p.m. Breakfast (8:00 a.m. to 11:30 a.m.): S/. 11-15 Coffees: S/. 6-8.50 Juices and Frozen: S/. 10-14.90 Teas: S/. 10 Sandwiches: S/. 16-25 Table of Breads: S/. 10-12 Salads: S/. 16-21 Pizzas: S/. 17-32 Bonus: Pet-friendly!