It's been a while since our last review of Quimera, the restaurant located within the trendy BTH Hotel. I remember well that I'd always leave with a big smile after having a meal whenever I visited this place. Recently, I learned there is a new chef and a new menu, so we were ready to make another visit to this chic restaurant serving Peruvian contemporary food.
Photo: Quinoa Trilogy/Marco Simola
Décor
In consonance with the hotel, the décor at Quimera is cool, stylish and elegant. I like the gigantic litographies that extend through the walls and roof, the display of fine wine bottles, and the open kitchen where you see chefs and assistants meticulously going through orders and producing elaborate and artistic dishes.
The food
The experience at Quimera starts with a cleansing of the table using pleasant aromatic fumes that come out from a pot the waiters bring in. Immediately after, some homemade bread and crissini are brought in along with a dish artistically displaying the name of the restaurant written with the olive oil and vinegar that you will use to dip in your bread.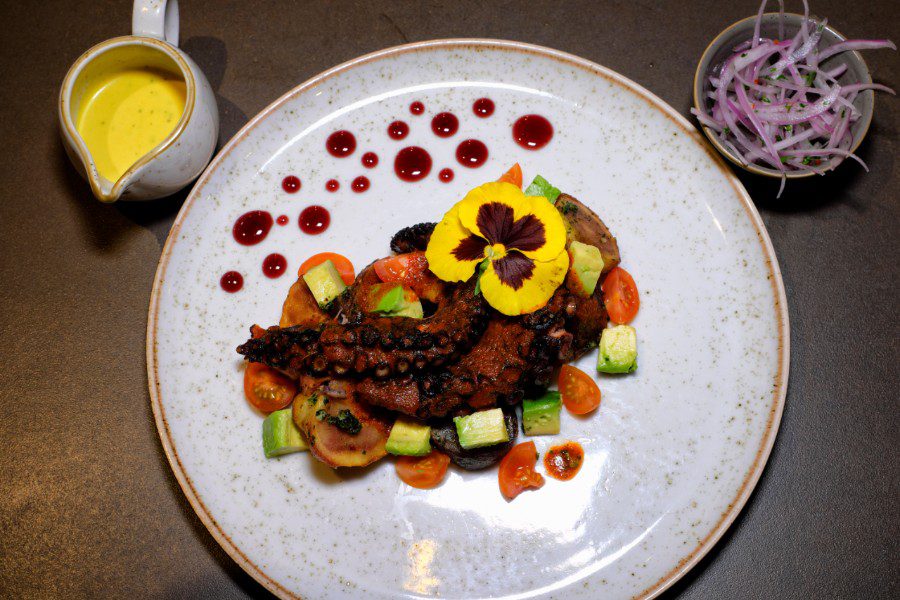 It was time to order some food and we began with the Octopus in BBQ sauce (S/. 55). This dish consists of a good-sized piece of grilled octopus, baked potatoes, avocado, cherry tomatoes, and a wild berry coulis. The presentation was colorful and quite appealing, I must say. The octopus was tasty and perfectly cooked, and the Andean potatoes were deliciously soft and extremely tasty. I also enjoyed the vegetables and the criolla and honey mustard sauces that come along. Altogether it was a well-accomplished dish, and certainly a good start to the day.
The second starter we had was the Quinoa Trilogy (S/. 35). This was a mix of three types of quinoa topped with avocado and sprouts, a perfect dish for our vegan readers. The quinoa was crunchy and the beautifully colored passion fruit sauce that is served at its base made this dish super refreshing and very enjoyable.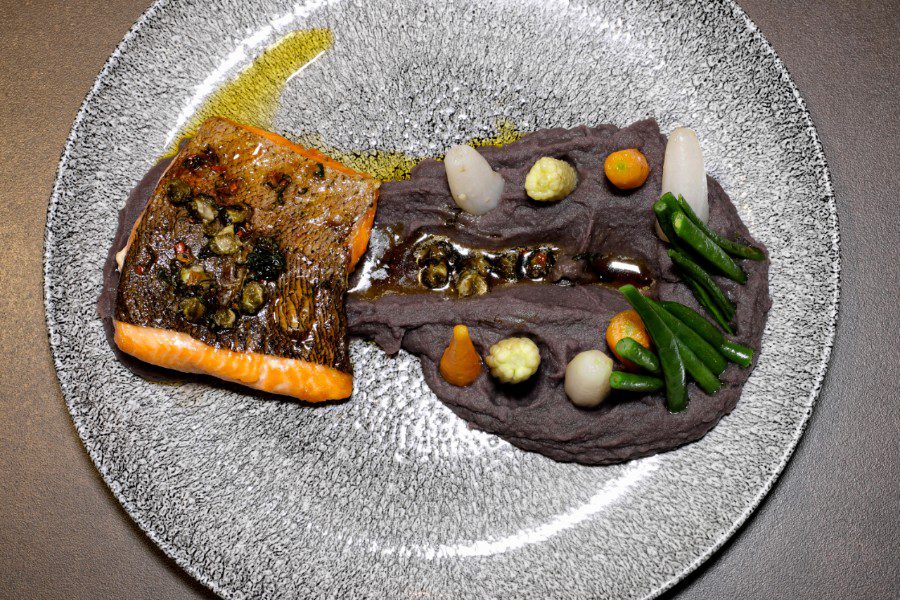 We also tried two of their main dishes. We had the Trout a la Meniere (S/. 60) served with purple corn mashed potatoes and vegetables. The trout with butter, capers and lemon-flavored sauce was enjoyable while the mashed potatoes were quite original, smooth and tasty.
The other main dish we tried was the Sirloin with elderberry sauce (S/. 60). This was quite a colorful dish and nicely presented as all the dishes at Quimera. It consisted of a few pieces of super juicy and succulent flambéed sirloin, a few nice baked mushrooms with cheese, sautéed cherry tomatoes and white onions, crunchy vegetables, and the elderberry sauce. We enjoyed this dish as well.
Desserts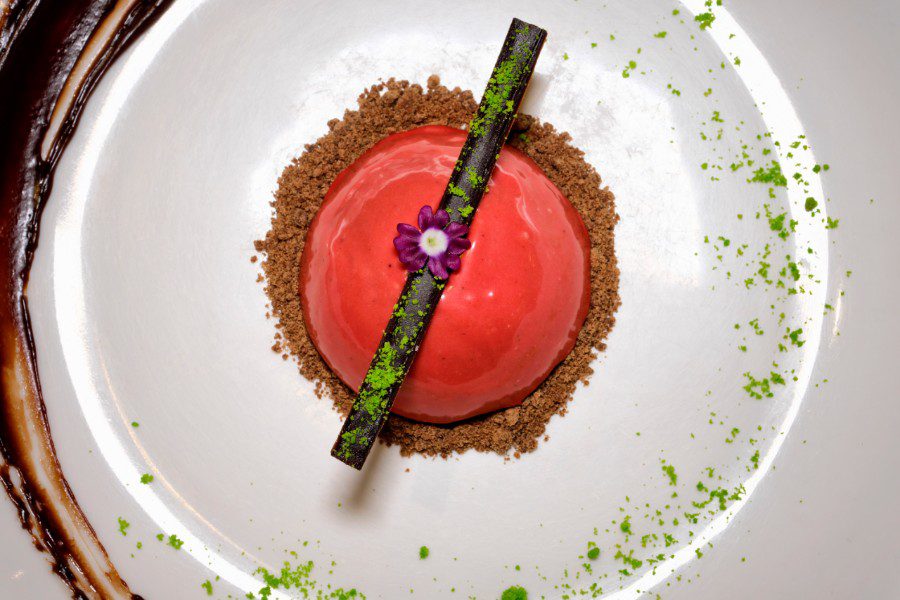 It was time for dessert and I remember well how much I enjoyed desserts at Quimera the times I've visited and how beautifully they are presented. We tried two desserts on this occasion. The first one was the 70% Chocolate Volcano (S/. 28) that came with a scoop of vanilla ice cream. It was nicely presented but the chocolate did not taste like a 70% chocolate, but rather much lower, so it was a bit disappointing. The other dessert we had was the Chocolate Glass Mousse (S/. 28), an intensely pink cherry gel sponge-cake sphere filled with chocolate, fudge, and butterscotch that was okay, but once again, the problem stood with the chocolate.
Drinks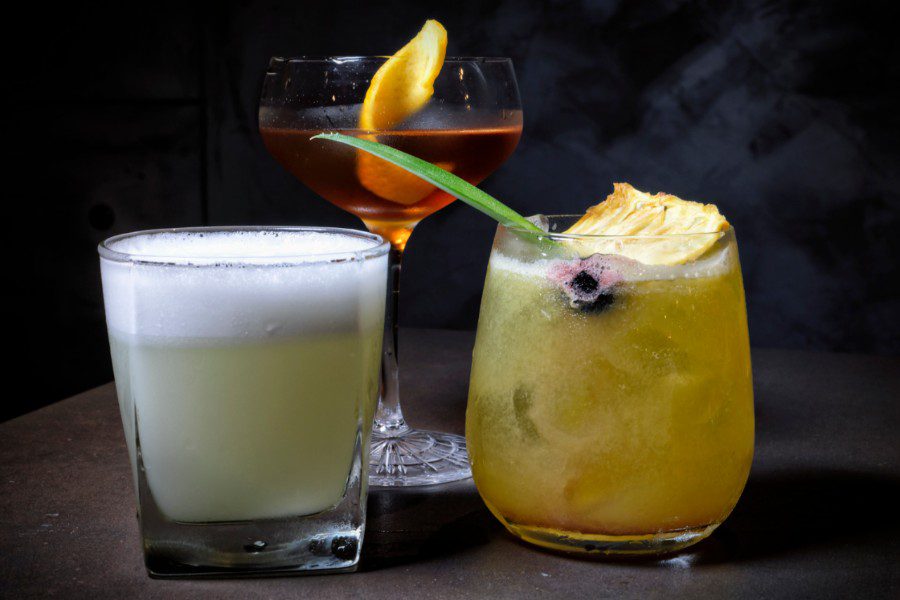 At Quimera you will find a fine collection of wines, classic cocktails, and signature cocktails. On this occasion, we tried some classics like the Pisco Sour (S/. 32) that was fine, a Pisco Punch (S/. 28) that was refreshing, slightly sweet, highly-enjoyable and became the team's favorite, and a Manhattan (S/. 30), the nicely flavored whisky and vermouth rosso cocktail that gave you a kick after every sip.
Final remarks
I would say Quimera is worth a visit as you will enjoy the ambiance and décor of the restaurant as much as the food. Prices are on the high-end so be prepared.
Av. Guardia Civil 727 San Borja
Telf. 319 5333
Opening hours: Monday through Sunday 12 – 11 pm
Menu
Starters – S/. 30 – 70
Salads – S/. 35
Soups – S/. 30 -70
Main dishes – S/. 50 – 65
Drinks – S/.28 – 40
Hot beverages – S/. 14- 15
Cover photo: Sirloin with elderberry sauce/Marco Simola
Don't miss: