Wall Street Burger (Photo: Maria Alejandra Baraybar/Living in Peru)
If big restaurants bet on a big menu with a lot of options, Street Burger is a good alternative for focus on a single offer, executed by hard workers with a good attitude.
Street Burger
Calle San Martín 459, Miraflores, Tel. 243-7544
Monday to Saturday, 12.30 – 23.00
Sunday, 12.30 – 19.00
You only need one bite to change your idea about burgers. Street Burger started with their alternative spot last year, in July, and is now near to opening a second place in San Isidro district (the first one is in Miraflores and they are expanding the local) with a protagonist in their menu: the burger of 200 grams.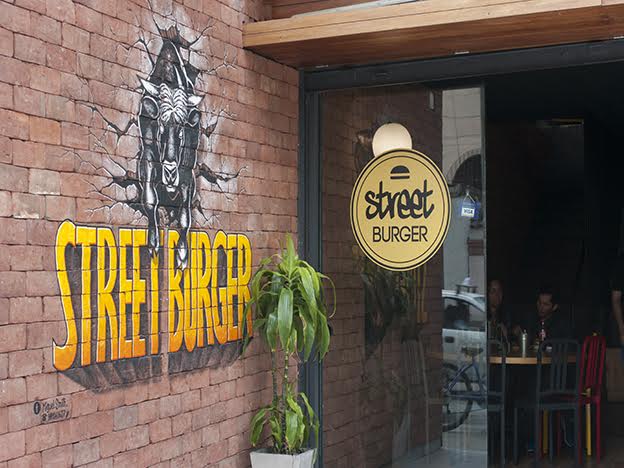 Adolfo Gosalvez, the founder of Street Burger, tells us that the beginning was not easy but, little by little, people started to identify burgers with good products and not just junk food.  Starting with the meat (they have their own recipe, a mixture of ground strip roast, salt and a secret treatment), that they recommend ordering "medium"  so you can taste their real flavor, to the portions of the burger; it is taller rather than wider which makes the burger juicy. Finally, the brioche bread is very special: light but strong enough to support the meat.
There are eight types of burgers, two veggie options, a chicken sandwich and some entries to share (currywurst, pizza grill and BBQ wings with a touch of Thai sauce) that completes the menu. Each dish comes with a side of native potato chips and you can ask for the XL size burgers: 400 grams. On each visit, you will be received with some popcorn to snack on (sweet or salty) and a generous portion of their grilled sausage as a courtesy. For drink, the house recommends Peruvian craft beer.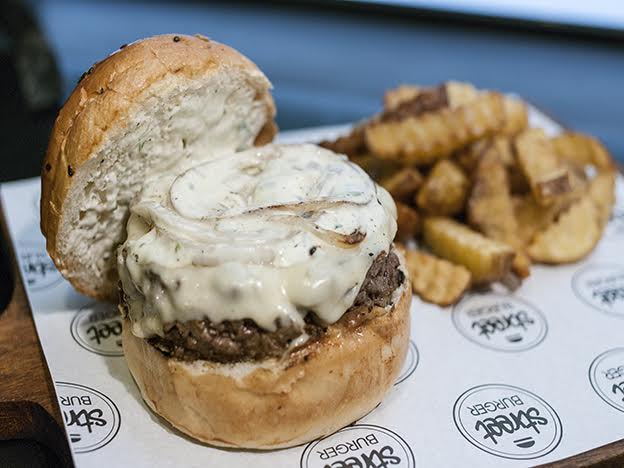 On our visit, we tried the currywurst (it wasn't too spicy, but at the exact point to enjoy the flavors) and three of their most requested burgers: 28 de Julio, Larco Street, and Wall Street. Adolfo told us that his intention was to offer a different experience with each one.
The 28 de Julio Burger (S/ 32) is sealed with a Lomo Saltado juice. It comes with non-fried onion rings, buttery cheese from Cajamarca and tartar sauce, laid over brioche bread. This one is particularly savory and a little smoky. The big pieces of meat inside the burger give the sensation of a real meat instead of the typical ground beef or meatloaf that usually get confused with.
The Larco Street (S/ 28), with smoked cheddar, caramelized onion and bacon is slightly sweet and have different and separate flavors in each bite. A peculiar experience.
"We respect the ingredients. I think the meat is first and the most important thing of our product", says Adolfo.
The Wall Street Burger (S/ 36) comes with crunchy bacon, caramelized onion, the classic onion rings, cheddar, and arugula. The difference is in the Angus meat, very intense and with a special texture.
If you are vegetarian, try the Plateros Veggie (S/ 28), made with quinoa, guacamole, grilled vegetables, arugula, and lettuce. The second option is the Veggie Grill (S/ 22), a kind of pizza with romesco sauce, buttery cheese, parmesan, onion grilled, avocado, arugula and olive oil.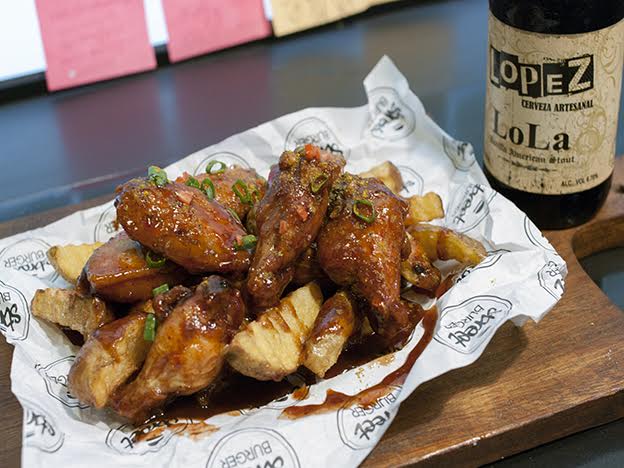 Don't forget the promos, every day they have a different one.
Mondays, for example, the BBQ wings are a courtesy, Wednesdays are for all you can eat (S/ 49.90), and Thursdays you have unlimited refills of native potato chips.
Burgers (200 grams): S/ 26 – S/ 36
XL Burgers (400 grams): S/ 34 – S/ 45
For share:
Currywurst: S/ 16
Pizza grill: S/ 23
Alitas de Street: S/ 25
Peruvian craft beers: S/ 18
Chilcanos and sours: S/ 20
Bonus: Firefighters have a special discount on the menu.
Comments
comments