I always love returning to Mercado 28, a place that's brimming with life. There are plenty of food choices, and excellent dishes at reasonable prices. This time, we visited Vivawok, a stand that specializes in Chinese food. From this stand, you're bound to be drawn to the aromas that come from the sizzling woks.
Vivawok is much more than your average Chinese restaurant (or chifa) like the ones you find around Lima. This restaurant is known for its on the on-the-spot cooking, its fresh ingredients, and secret recipes. No doubt, this Chinese food stand is very special and worthwhile trying.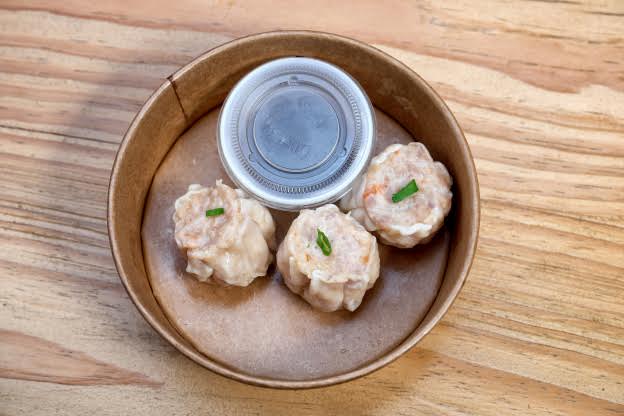 We started with some Wontons (s./12), three large pieces of super crispy deep-fried dumplings with tasty minced pork meat in the middle. They were delicate and flavorful; for sure, the best wontons I have ever had in years. I highly recommend you give them a try. Next, we ordered a set of three Spring Rolls (s./ 15). They were big in size and had a beautiful golden color all around. As you bite on one, you immediately feel the crispiness of the perfectly fried dough, and the freshness of the finely cut cauliflower, carrots, snow peas, and chicken meat that is inside. These spring rolls come with a yummy delicate cinnamon and lemon sauce that was very nice as well. Our last starter was the Siu Mai (s./15) another classic in Chinese cuisine. These siu mai were perfectly cooked al dente, and the shrimp and pork filling was very tasty. Actually, they were so good that one can totally spare the sauce.
As a fan of Chinese food, I can tell you these were highly recommendable, and a reason in themselves to make a trip to this restaurant. Our charming host, Hector Rodriguez, added that these are quite popular at night when customers come to have a drink at one of the market's neighboring stands and want to munch on some nice appetizers.
Hector is a charismatic and recognizable character. When you meet him, you'll probably notice how much knowledge he has of Chinese dishes, his courteous manners, and his big charming smile.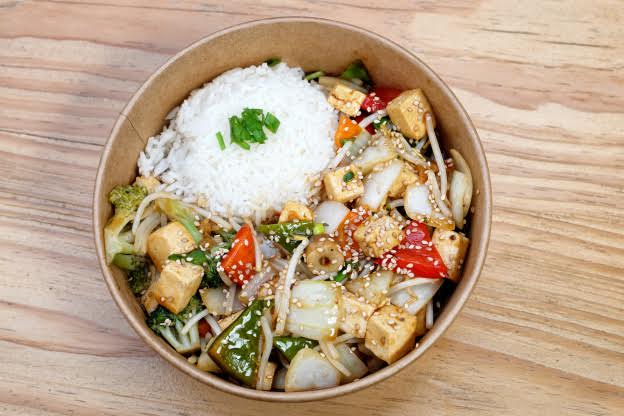 We started with the Veggie Wok (s./25), that consists of a good portion of white rice (you can also order fried rice instead) mixed with tofu, vegetables, and lots of seaweed. The flavors of this dish were delicate and yummy, and one could feel that particular taste that is left by ingredients cooked in a wok under intense fire. We loved it.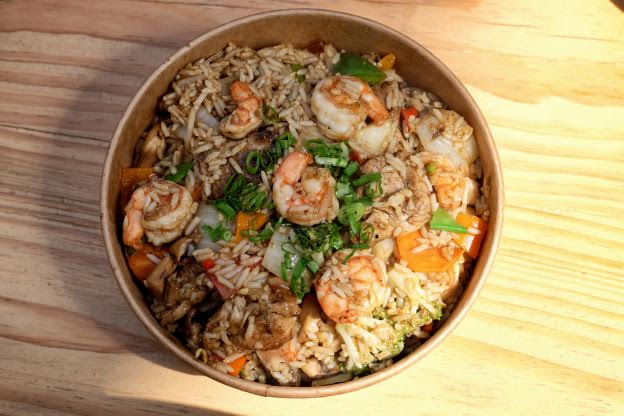 Because the wok is the centerpiece in this establishment, and ingredients remain visible to the client, Vivawok gives you the opportunity to choose and design your own plate. So we had the Wok Taypa (s./30) with shrimps, pork, a mix of vegetables, and oyster sauce. The mix turned out to be fabulous, as once again, the wok simply brought out the best of each and every ingredient we chose for this dish. It was awesome and remained one of my favorite dishes that day.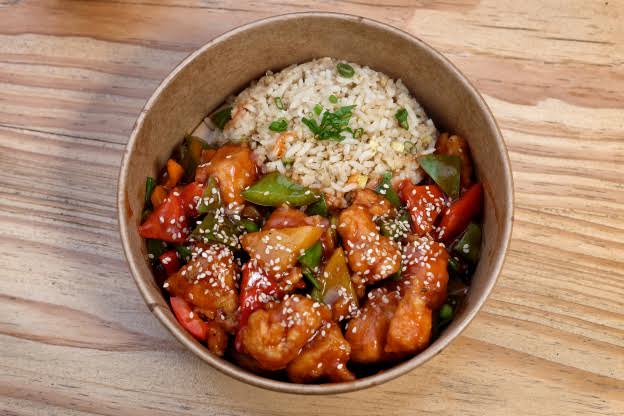 We switched from salty dishes to a more sweet taste and ordered the Tipakay (s./30). This dish consists of several fried chicken pieces bathed in a sweet and sour sauce, and fried rice mixed with pineapple and crunchy bell peppers. The chicken pieces were tender and crunchy at the same time, and quite tasty, indeed. I am normally not a fan of sweet dishes, but this one I enjoyed all the way.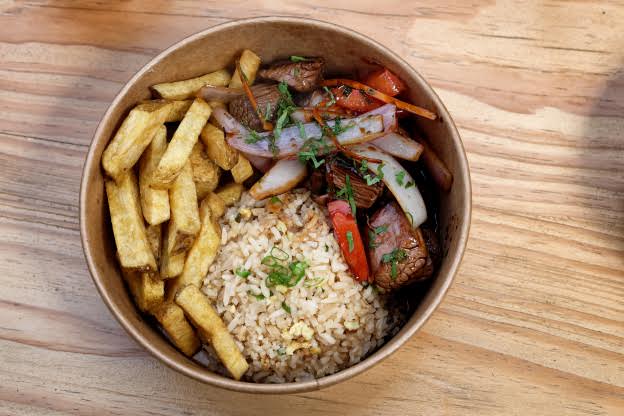 Although typically a Peruvian dish, it is very common to find the Lomo Saltado (s./ 35) in chifas around Peru. With the same ingredients as the criollo version would have, this one had a slight oriental touch which we liked very much. The quality of the meat is worthwhile mentioning, and the flavors were mouthwatering, making this dish one of the table's favorite as well.
What is Chinese food without noodles?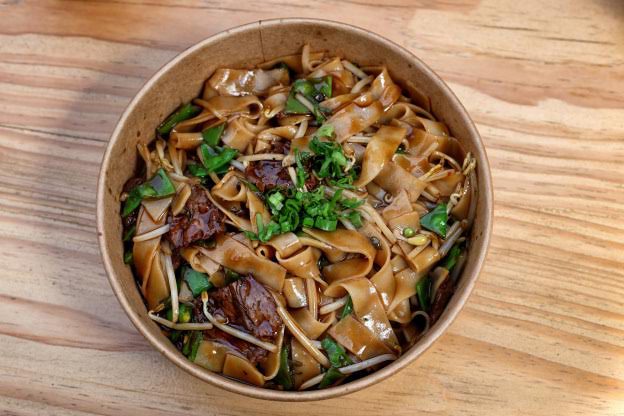 We had to try their Tallarín Capón (s./25 ) that happens to be one of the most popular dishes in their menu. This was a big bowl of spaghetti, with pork and chicken small chopped pieces, crunchy bell peppers, broccoli, all cooked in seaweed oil. However, nothing could beat the Sahofan (s./30), the rice-based flat noodles with plenty of juicy first quality meat, crunchy green peas and plenty of seaweed. The taste of this dish was incredible. Together with the wantons and the Wok Taypá, it made it to the top three.
With so much delicious food, we certainly became very thirsty and tried their Viva Tea (s./8), a dark cold tea beverage that comes in a big glass. I added some lime and sugar, and liked it even more.
Needless to say, we were positively impressed by Viva Wok as we found the food fresh, incredibly tasty, and with portions served generously and at very good prices. What else can we ask for?
Vivawok
Mercado 28- Balboa Strip Mall – Vasco Nuñez de Balboa con 28 de Julio – Miraflores
Opening hours – Monday to Saturday 12-11 pm, Sunday 12-10 pm
Menu
Appetizers – s./12 -28
Soup – s./25
Main dishes – s./25-30
Refreshments – s./5 -8
Comments
comments