Gilad has been sharing with us these past two weeks an excellent itinerary for traveling in Peru and today we have part three of this journey from which we hope you can get inspired from and decide to come to the Inca land if you still haven't decided to do tourism in Peru!
In part one of this four-week itinerary, Gilad shared with us what to do when you arrive in Lima for your trip. Then, on the second part of the trip, he sent us to Huaraz and Paracas for more adventures. Today, he will share the third part of this trip in the cities of Huacachina and Arequipa.
So… keep on reading!
---
Peru is one of the few countries that I've been to that's had such a wildly varied abundance of natural beauty. You have coastlines sloping down the western side, Amazonian jungles flanking the east, Andean mountains in between and sandy deserts stretching right up to the water. It's truly one of the most bio-diverse countries I can think of, complete with breathtaking ruins and remnants of Incan and indigenous civilizations, and as a result, it has quite a bit to offer.
Luckily, one month (four weeks) is a substantial and comfortable amount of time to explore much of what Peru has to offer. It's a large country, but it's doable. Let me run through my Peru itinerary with you to show you how you can hit up all those highlight spots without missing any of the hot spots.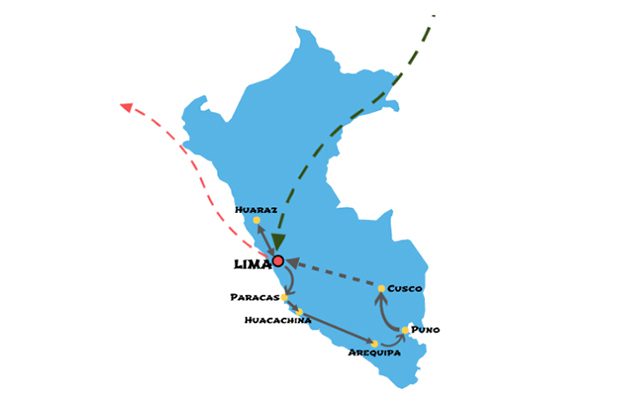 Don't forget these general tips for traveling in Peru too:
Look for desayuno, almuerzo and cena deals- these meal deals are way cheaper, more authentic and very filling.
Be aware of altitude sickness - it may not affect you, but if it does, take it easy, drink lots of water, and do NOT go on a drinking binge (I did none of that and fainted my first night in Cusco).
My golden rule for avoiding food poisoning: only eat at places that are busy. Empty places are empty for a reason, and it's best not to chance it. Having said that, be open to street food because it's often the best food in Peru.
You can get around with English quite easily, but if you can speak any Spanish, try it! Locals really respect and appreciate tourists who make an effort to learn their language.
Opt for local buses rather than tourist ones to save money, unless you're headed on an overnight journey.
So, after visiting Lima, Huaraz and Paracas, we are off to Huacachina.
Huacachina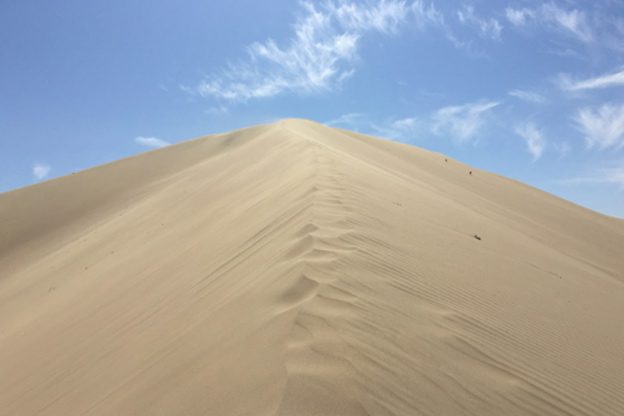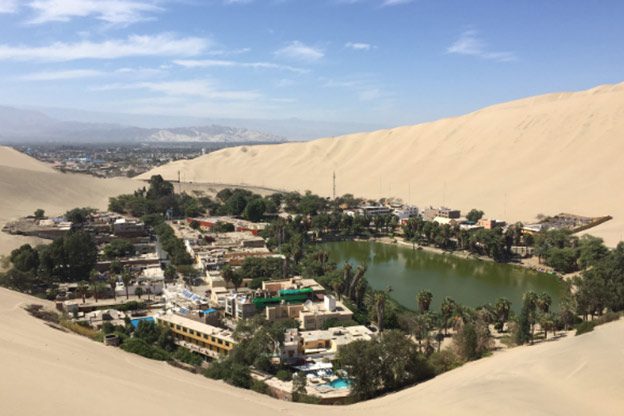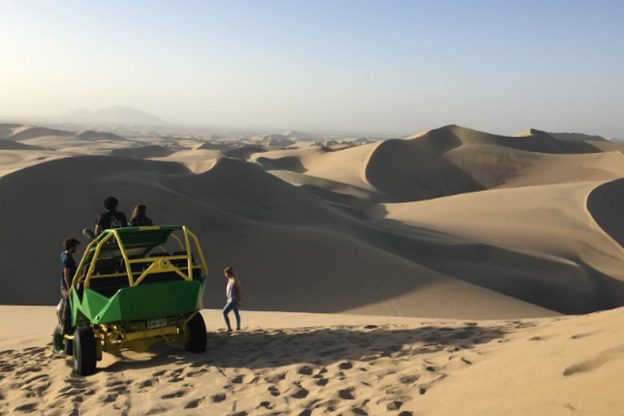 What to do:
Sandboarding

This is, by far, the main reason people come to visit Huacachina. The half-day sandboarding tour usually starts in the late afternoon and has a driver take you out on the surrounding sand dunes in what I can only describe as an ATV that I've never seen anywhere else. It's bumpy, it's fun, and it's very...vertical. You'll go down a lot of dunes that you really think you shouldn't. And then you'll stop off at a bunch of places to try your hand at sandboarding, which is incredibly fun. I would recommend remembering to pick your feet up to avoid spinning out (which I did NOT remember to do). And the tour culminates in watching the sunset over the oasis from the outskirts. It's really quite incredible and a once-in-a-lifetime experience.

Climb around the dunes

It may sound obvious, but Huacachina doesn't have all that much to do during the daytime. So lather up some sunscreen, maybe wear flip flops to combat the hot sand, and take a little hike up the dunes surrounding the town. The view from the top is spectacular, and you can see quite far into the distance overlooking the desert. And if you're feeling brave you can try sliding back down on your butt.
Where to stay:
Wild Olive Guesthouse - this hostel was so comfortable and welcoming after a long few days. The rooms were really clean, the amenities were nice and their built-in restaurant is fantastic. I didn't think I would try pizza in Peru, but the pizza at the hostel was very impressive (and it takes a lot to impress a New Yorker when it comes to pizza).
What to eat:
Huacachina is very much a tourist town, so you'd be hard-pressed to find any actual local food around. Bite the bullet and spend a bit extra on the western food. It's actually quite good here.
Arequipa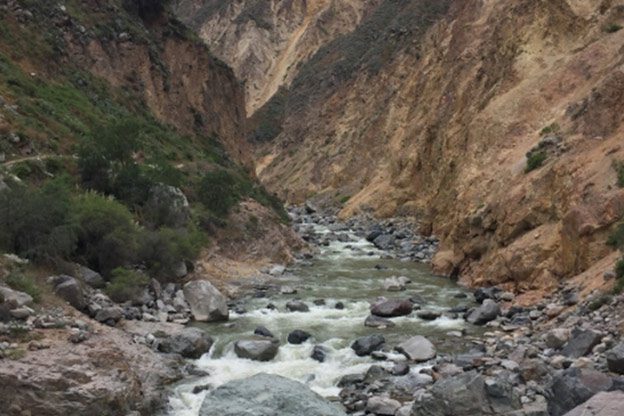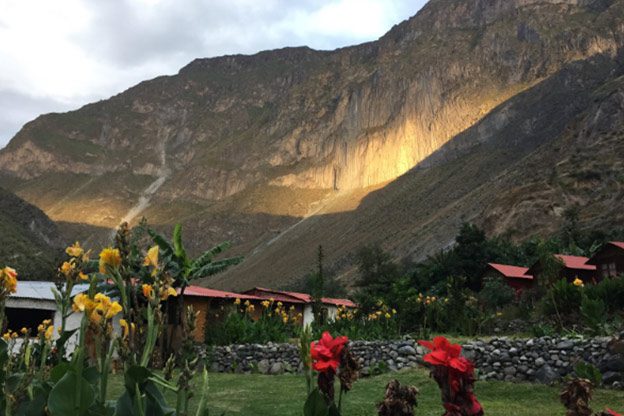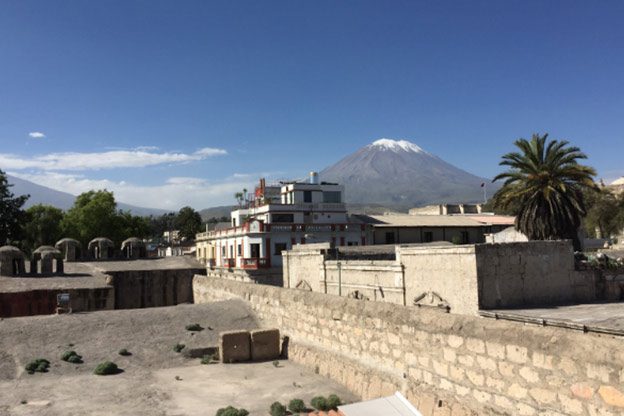 What to do:
Hike the Colca Canyon

Colca Canyon is an enormous valley flanked by tall mountains on all sides. It's got a huge array of biodiversity, with desert-like plants at the top and jungle-like vines at the oasis at the bottom. The total hike generally takes two days, depending on your tour company. I did this hiking tour with a guy I met at my hostel, and we had no trouble staying on the path and making it down to the bottom on our own. We just booked a ride there and back with a tour company and set out on our own. The views are spectacular and the oasis at the bottom is refreshing and rejuvenating after a hot and sweaty day of hiking. Just be warned that the three-hour morning hike back up is strenuous, as it's essentially a non-stop incline until you reach the top. Tours will usually include a stopover at some thermal bath hot springs on the way back, so that's definitely a plus for your aching legs.

Hike Volcán Misti

I didn't do this hike, as I was all hiked-out from previous treks on my trip. However, it seemed incredible. Arequipa is surrounded by two dormant volcanoes, and Misti is 5822 m above sea level at its peak. The two-day hike has been said to be some people's hardest hike of their lives, so make sure to prepare yourself before setting off. And, for the love of God, please don't do this hike without acclimatizing first. You will be miserable hiking it if you're suffering from altitude sickness.

Take a free city walking tour

I always say that taking the free walking tour is the best way to get started in a city. The free walking tour in Arequipa is great because it starts out at a great coffee shop, and winds you around the city, showing you some of the best restaurants and activities in the area. Make sure to tip your guide at the end.

Check out the Santa Catalina Monastery

This is one of those things that I thought would be really gimmicky and lame, but it turned out to be really cool. Within the city of Arequipa is what used to be an ancient monastery and nunnery. While it's no longer used for that purpose, you can take a cheap self-guided tour of the entire thing and see how the nuns used to live. It's a winding maze of a place, but it's really quite cool and some rooftops have spectacular panoramic views of the city.

Take a cooking class

At this point in your trip, you've likely already tried Peruvian favorites like ceviche and lomo saltado. There are a bunch of local cooking classes in Arequipa that can teach you how to make your own versions of these favorites, and they'll often send you off with a cookbook to bring home. I took a class on ceviche, and it was a really fun and social way to spend the way. My ceviche, I'm told, was overcooked, which still boggles my mind, because ceviche is, by definition, raw fish.
Read more great things you can do in Arequipa here!
Where to stay:
Arequipay Backpackers Downtown - I LOVED this hostel. Built in what looks like an old house, this hostel has all kinds of comfortable dorms and private rooms. It has great indoor and outdoor lounge spaces and even has a hostel bulldog that you can walk to get a discount from your stay. It was a really great place to meet other travelers and just relax after the long hikes that Arequipa has to offer. The one downside I could think of is that it's a bit of a walk outside of the city center, but nothing you can't manage. Not with those strong legs of yours!
Stay tuned for the fourth and last part of these series by Gilad from Anxious Abroad. The itinerary ends in Puno and Cusco! You can also check out 5 budget Peru tours to do especially in 2019!
Gilad is a traveler in his 20's who takes advantage of every opportunity to travel. He has Hypochondriasis, OCD and moderate anxiety, but doesn't let it stop him from experiencing the world, and in fact, has managed to turn his mental shortcomings into positives. His website Anxious & Abroad aims to show other nervous travelers and first-timers that travel isn't just for the carefree nomadic types, but can be fun and rewarding for any kind of person — neurotic, meticulous, anxious or organized.
Follow his adventures on Instagram and Facebook!
By Gilad.
Cover Photo ogwen.