These baked yuca fries are the ideal snack or appetizer: slightly salty, crispy on the outside and perfect for dipping.
Yuca is a tuber that can be found anywhere in Latin America, making it one of the most iconic food staples. In recent studies, the phytochemicals, resveratrol and yuccaols, that are found in yuca have been shown to have antioxidant properties, linking them to cardiovascular disease prevention. Usually, you can find yuca prepared either boiled or more often than not, fried. Here, I decided to bake yuca fries using canola oil spray due to its high heat tolerance. I also paired it with my cilantro chimichurri sauce.
Originally, chimichurri comes from Argentina, but making it with cilantro brings a flavor that many Latinos of various origins are familiar with. For the sauce I use canola oil because of its neutral flavor, which allows me to keep the Latin "zest" intact. Canola oil also has the highest amount of omega-3 fats of any cooking oil and is a good source of vitamin E.
Ingredients
For Cilantro Chimichurri
1 bunch cilantro, roughly chopped
2 cloves garlic
2 teaspoons dried oregano
2 tablespoons white wine vinegar
½ cup canola oil
½ teaspoon salt
For Yuca Fries
1 large yuca (about 1½ pounds with skin on)
6 cups water
Canola oil spray
Salt and pepper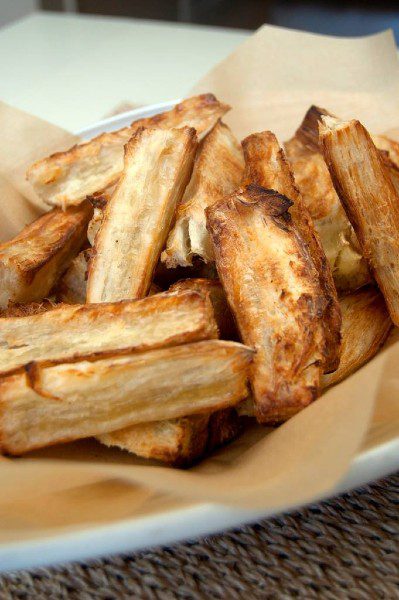 Directions
1. For chimichurri: Put all the ingredients in the bowl of a food processor and process until smooth and homogeneous.
2. For yuca: Slice the yuca into three equal-length portions. Holding each portion on its axis, carefully slice off the outer peel and discard. Chop each portion in half lengthwise and then into 8 wedges.
3. Put the yuca wedges, water, and salt in a medium saucepan over high heat. Bring to a boil, cover, and reduce to a simmer. Cook for 20 minutes until tender throughout. Drain and let cool.
4. Preheat the oven to 400 degrees F.
5. Place the cooled yuca on a large baking sheet and spray with canola oil to coat. Season with salt. Bake for 40 to 50 minutes, flipping once halfway through the baking process, until the fries are golden in color. Serve warm with a side of chimichurri sauce.
All photos courtesy of Manuel Villacorta.
This recipe was originally published in October 2015.
Now that you're here:
We're asking you, our reader, to make a contribution in support of our digital guide in order to keep informing, updating and inspiring people to visit Peru. Why now? In our near 20-year journey as the leading English-language source on travel in Peru, we've had our fair share of ups and downs-but nothing quite like the challenges brought forth in the first quarter of 2020.
By adapting to the changing face of the tourism and travel industry (on both local and international levels), we have no doubt we will come out stronger-especially with the support of our community. Because you will travel again, and we will be ready to show you the best of Peru.
Your financial support means we can keep sharing the best of Peru through high-quality stories, videos and insights provided by our dedicated team of contributors and editors based in Peru. And of course, We are here to answer your questions and help whenever you need us.
As well, it makes possible our commitment to support local and small businesses that make your visit an unforgettable one. Your support will help the people working in these industries get back on their feet once the world allows us to make our dream of enjoying everything Peru has to offer a reality again-from its mouthwatering gastronomy, thriving Amazon and archaeological wonders such as Machu Picchu.
Together, we will find a way through this. As a member of our community, your contribution, however big or small, is valuable.
Support Traveling & Living in Peru from as little as $1 - and it only takes a minute. Thank you!