A global favorite, Thai food has slowly but surely made its way into the Peruvian gastronomy scene.
Aji 555 is one of the most known Thai restaurants in Lima and while it dazzles with many dishes, serves up great ingredients and offers excellent service, there may still be some improvements needed.
This slideshow requires JavaScript.
I had read positive reviews about Ají 555, a Thai restaurant in Villa María del Triunfo owned by a Thai lady. So, when I heard they were moving to San Borja, I was thrilled by the news. Thai food is amongst my favorite cuisines and I am certainly not the only one who thinks that way. Thai food, in fact, ranks amongst the most loved cuisines in the world according to surveys done across the globe. It is fantastic that just like other foreign cuisines Thai restaurants are slowly finding their way into the highly competitive Peruvian gastronomic scene.
The Interior
Aji 555, Real Thai Cuisine is located in a house that is within the limits of Surquillo and San Borja. Far from taking you on a journey to Asia -except for the painted Thai dancers in the entrance wall-, it is like entering a private house with a bar at the entrance and some tables in the living room.
The Drinks
We took a table close to the small garden where they cultivate their own plants that serve as ingredients. A very nice waiter approached us and offered some house refreshments. We had a Thai Tea with Lemon (s./12), unlike regular ice teas, this was slightly bitter; a Tea Thai with Milk (s./15), an orange frothy tea that was refreshing, not heavy and delicious, and a Carrot with Coconut Milk Juice (s./15), that was very tasty and smooth as well.
We also tried their Chilcano with Kaffir Lime (s./12), a citrus fruit native to Asia, but available in the garden, and very much used in Southeast Asian cuisine. It is difficult to describe its taste as it is still citric and it gives the chilcano a special touch. We enjoyed it. We also had a Pisco Sour with Kaffir Lime (s./18), relatively small in size, slightly green in color and slightly bitter. Certainly different from the traditional pisco sour and with a particular taste that we enjoyed as time passed by.
The Food
It was time for food so we ordered the menu. Ají 555 has a large menu with all the typical dishes one may find in any Thai restaurant. There are the noodles, soups, rice dishes, the stir-fried, and of course, the curries. You can choose chicken, pork, meat or fish as the base for your order or simply go vegan. There are also food options for celiacs. The menu is available in English and there are photos of the dishes so you can't go wrong.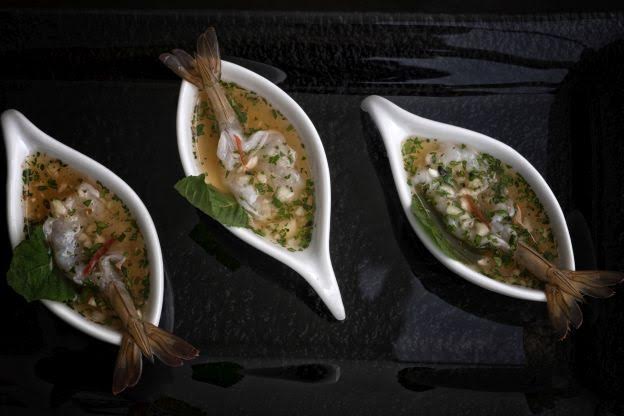 We started with some appetizers. We had the Raw Shrimp in Spicy Sauce (s./ 4.50), the sauce was citric and spicy, truly delicious. I could have had plenty of those! We then had the classic Green Papaya Salad with Shrimp (s./42), peanuts, carrots and cherry tomatoes that I did not find special. We then had the Deep Fried Wings (s./ 25), a plate of six chicken wings bathed in a spicy tamarind sauce that was okay.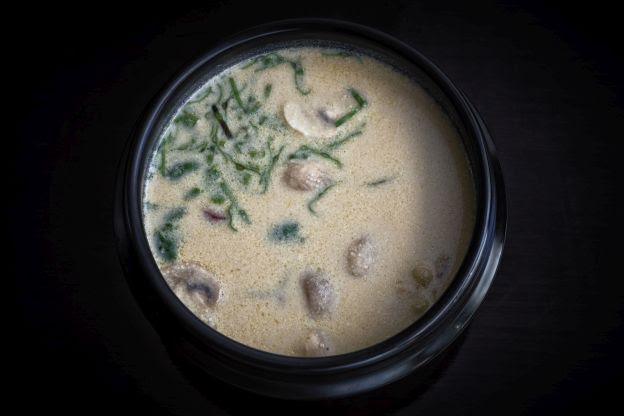 We then went on to the soups. We tried the classic Tom Yam Tale (s./ 55), a broth prepared with seafood, herbs, garlic, mushrooms, ginger, lemongrass, a bit of milk, kaffir leaves, and a bunch of spices that was truly delicious. It was perhaps too spicy, in my view, so do make sure you tell the waiter how much spice you want in your soup. The second soup we tried was the Tom Kah Gai (s./55), a white chicken broth cooked with Thai ginger, kaffir, lemongrass, sasha cilantro and coconut milk. This soup was just as good as the previous one, we loved it. Both soups remained among our favorite dishes.
We went vegan for a second and we had the Pad Pak Bung (s./39), a stir-fried mix of veggies, mushrooms and tofu bathed in a delicate soy sauce that was pretty good with all the flavors of the wok in your plate.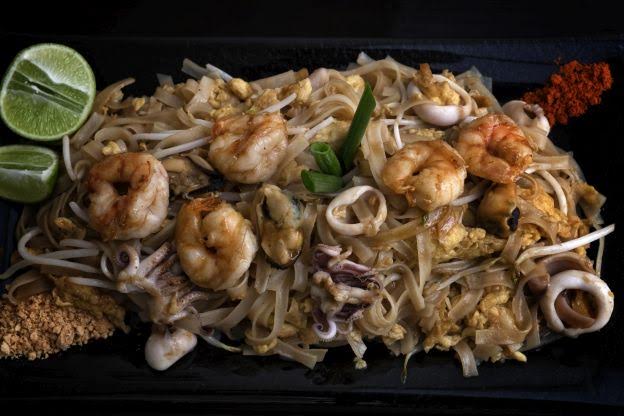 Another classic in Thai cuisine are the noodles.
We had the Pad Thai Gung (s./49), rice noodles that came in large quantities, mixed with all kinds of seafood (fairly large in size), fried tofu, cashews, peanuts, asparagus, and with a tamarind base. It is a popular dish amongst Aji 555 customers, we were told.
It was time for the curries so we had the Pla Chu Chee (s./49), fried fish covered in red curry, kaffir lime, and coconut milk, and the Chicken Green Curry (s./42), a thick greenish curry with few pieces of chicken, both somehow disappointing.
The Winning Plate
Our next and final dish, the Keh Massaman (s./69), a lamb curry with chopped pumpkin and jicama –a Thai tuber similar to the yacón- and cooked with lots of wonderful spices, made the visit all worthwhile. The lamb was tender and very tasty while the thickness and flavors of the curry were perfect; all in all, it was superb and definitely the best dish we had. All curries come with a generous bowl of white rice.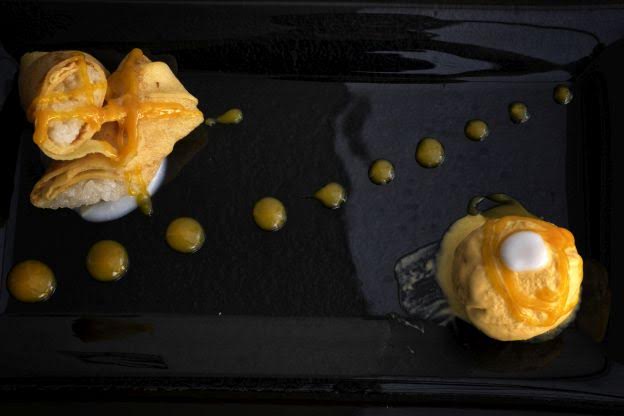 In case you are a rice lover, you can still go for more if you order the Crepe with Sticky Rice (s./ 35), a very small crepe filled with sticky rice and sauce that comes along with a refreshing and delicious scoop of homemade mango ice cream. Rice is such an Asian staple that we also found it in the second dessert we had, the Kao Niew Mawang (s./ 35), a round-shaped cake of glutinous rice covered with fresh slices of mango.
The Summary
I honestly expected more of Ají 555 -from the décor to the food, passing through the cutlery and other details-, plus the prices we found way above average. On a positive note, service was excellent, portions were generous, and the quality of the ingredients was excellent. I will still come back for those dishes I liked and perhaps should try others. If you are a fan of Thai food, be aware their charming Chef Manager will soon be offering cooking lessons.
Aji 555 Real Thai Cuisine
Av. San Luis 2879 San Borja
Tel. 6771571
Opening hours – Tuesday to Sat. 1 – 3.30, 7 – 9.30, Sunday – 1 – 4 pm
Appetizers – s./ 4.50 -36
Salads- s./ 35-45
Soups – s./ 19-65
Curries – s./ 42-69
Fish – s./ 45 – 120
Stir-fried – s./ 35 -48
Rice /26-49
Noodles – s./ 36-49
Additionals – s./ 4- 12
Tom Yam Tale (Cover photo: Marco Simola/Traveling & Living in Peru)
Comments
comments