Eight years ago an exclusive restaurant with a provocative name, Carnal, opened its doors to the public. Ever since, this high-end restaurant specializing in top quality meat has not stopped welcoming demanding customers, and in particular, meat lovers.
Photo: Carnal interior/Maria Alejandra Baraybar

Photo: Carnal hierbabuena lemonade/Maria Alejandra Baraybar

Photo: Carnal interior/Maria Alejandra Baraybar
In fact, for several years in a row, Carnal continues to appear as the No. 1 best meat restaurant in Peru, according to the prestigious Summum food awards. Its success and fame has even crossed borders when another establishment opened up in Santiago de Chile. But as we were soon to discover, Carnal has more than meat to offer.
The décor
Located in a privileged corner in front of the beautiful Huaca Puccllana, Carnal is an elegant and high-end restaurant with pristine white-table cloth tables and an army of impeccable and well-trained waiters looking at every detail so that your time at Carnal is a memorable one. The setting is ideal for a business lunch or a romantic evening. There is an attractive bar and lounge area, and a terrace where you can enjoy some drinks and snacks.
The food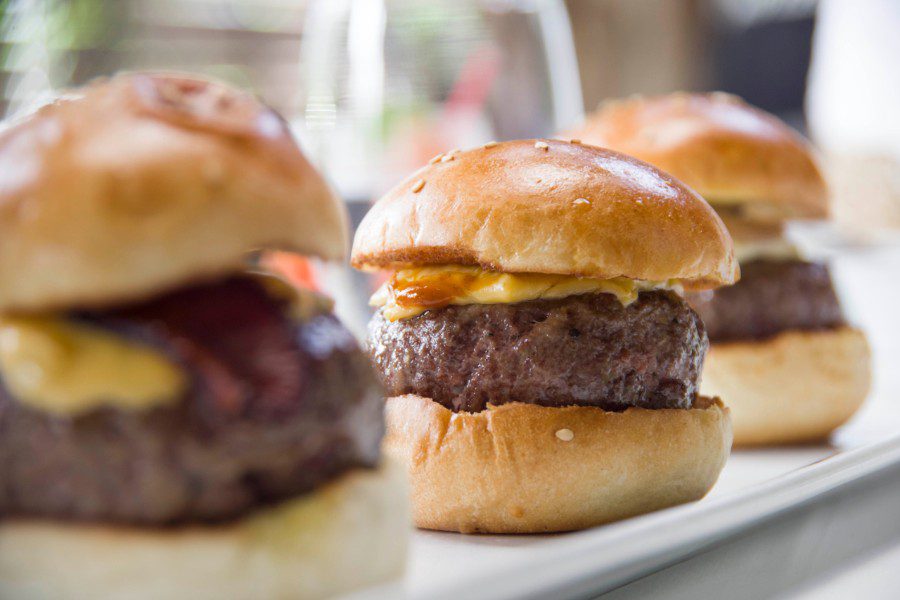 Carnal is known as a prime steakhouse where you will find prime and high choice certified American Angus Aberdeen meat, including filet mignon, ribeye, T-Bone, or the impressive Tomahawk. However, there are also plenty of other non-meat options, including fresh fish, octopus, lobster, and even caviar along with the multiple side-vegetarian options you can order.
As soon as we sat down, a lovely basket with homemade bread, crocantini and grissini was brought to us along with a variety of homemade butter and Maras salt mixes (S/. 10 pp). The flavored butters (goat cheese, oregano, garlic, truffled, blue cheese), as well as the salts deserve a special mention as they were each incredibly tasty and yummy.
For starters we had the Salmon Tartare (S/. 47), a widely demanded dish amongst Carnal regulars. This starter consisted of a fresh salmon, shallots, dill and seaweed oil compact layer sitting on an avocado base. The salmon was incredibly fresh and savory, and complemented very well with the creamy avocado base, while the toasts that come along were incredibly crunchy and delicious. A wonderful start this was.
We then tried the Waygú Sliders (S/. 45), another highly popular starter amongst customers. This starter consisted of three mini burgers of an Angus and Waygu blend. Each mini burger came with a different topping: there was the bacon and cheddar cheese, the Swiss cheese and caramelized onions, and the American cheese with BBQ sauce, the latter being my favorite. They were okay but did not wow me.
We also tried one of their salads, the Carnal Chopped Salad (S/. 35). This salad comes with a mix of lettuce, chonta (Amazonian palm heart), asparagus, avocado, cherry tomatoes, corn and fennel, and a very nice vinegar sauce. We enjoyed it.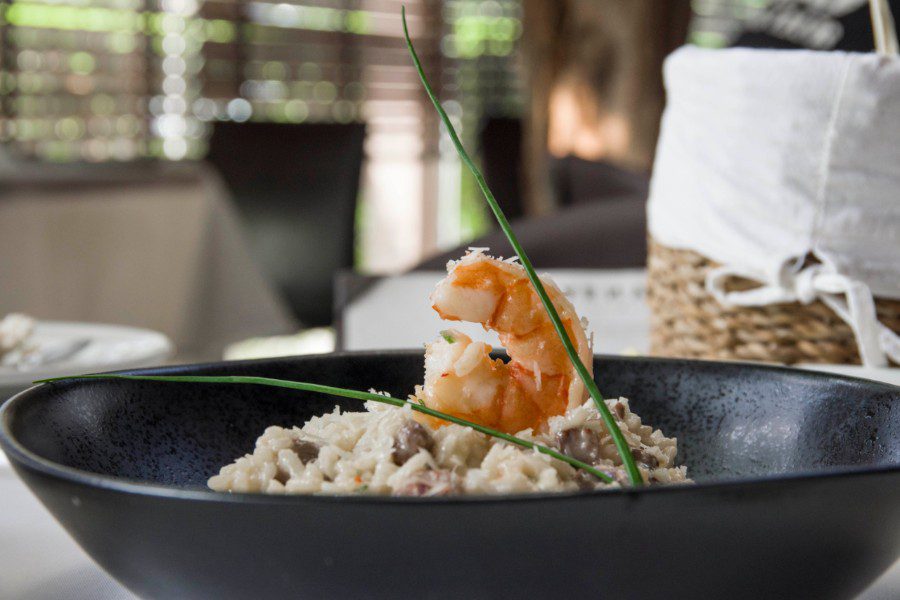 Amongst 'Other Specialties' where you can have pasta, salmon or even lamb, we found an appealing Surf and Turf Kobe Truffled Risotto (S/. 75). This was a nicely-grained risotto with waygú meat slices, shrimp bites, and plenty of parmeggiano cheese. I enjoyed the truffle oil flavors of this savory risotto.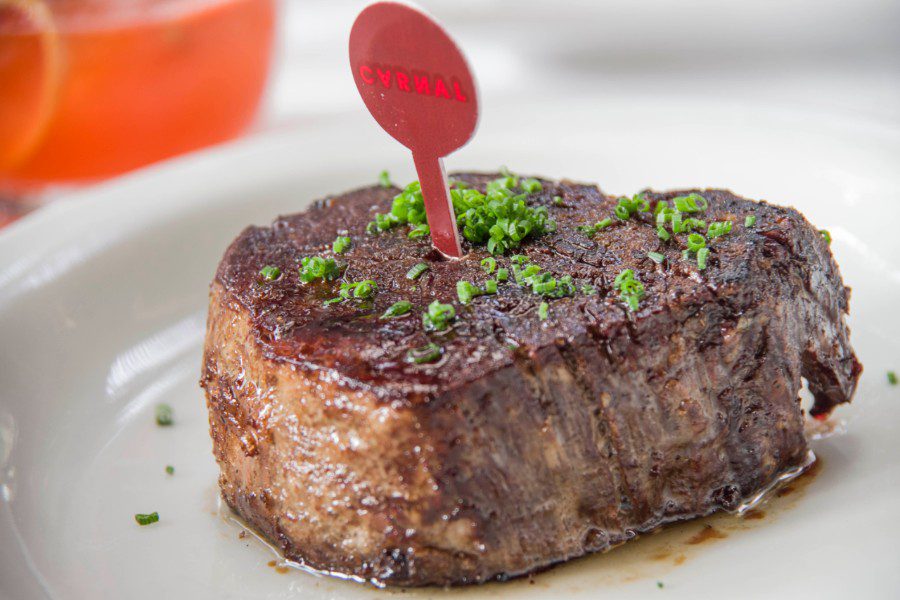 The time arrived to try the house specialty: their prime meat cuts. We tried a Filet Mignon (S/. 98), 250 grams of Angus meat cooked medium rare following our request that looked quite appealing with its red colors and crispy outer layer obtained thanks to the use of a broiler at 1800 Fahrenheit degrees, we were told. At Carnal, the meat is not grilled but rather broiled which makes it look and taste different. The filet was of high quality, a lean clean cut, and therefore, not much meat juice on my plate. But then we had an Outside Skirt (S/. 108 ), 350 grams of skirt meat topped with chives that we enjoyed more as it was juicy and flavorful. I sprinkled a little of that Maras oregano salt, and it raised my meat to another level.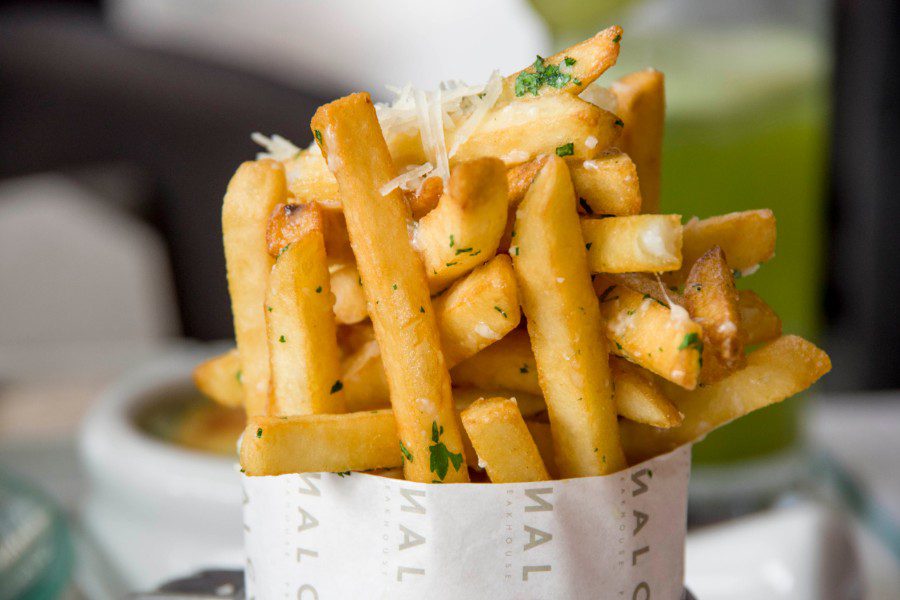 To accompany the various dishes, there are a variety of side dishes ranging from the classic French fries to a potato gratin, mashed potatoes, mushrooms and American corn cream among others. We opted for the Truffled French Fries (S/. 25), a nice portion of French fries with truffled notes that were quite savory without being invasive. We also had the Creamed Spinach (S/. 19), creamy baked spinach with a crispy layer that was smooth and delightful.
Desserts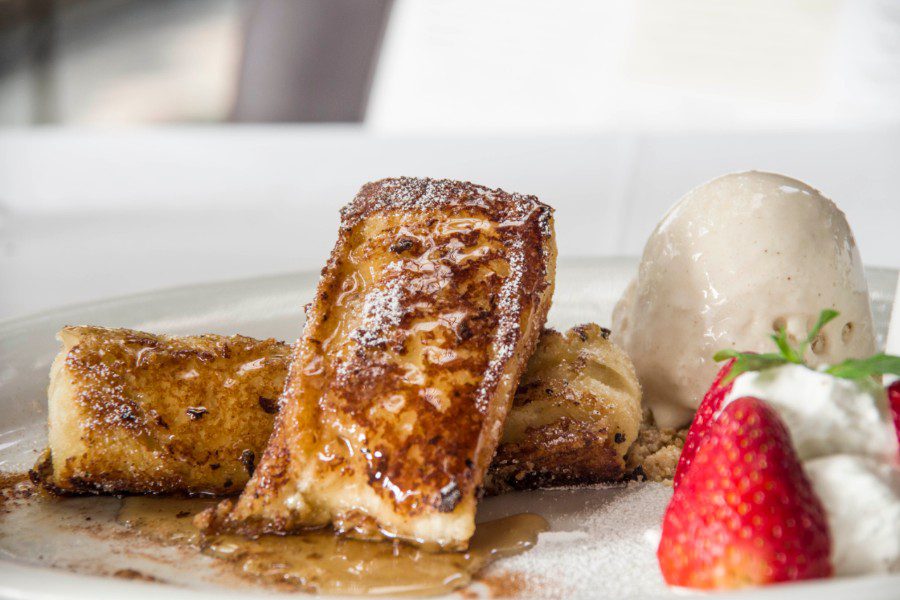 It was time for desserts and, once again, there is quite a selection. We opted for the French Toast (S/. 30), this soaked brioche in vanilla cream, maple syrup, strawberries and cream, was incredible. The brioche was soft, savory, and beautifully crispy in its outer layer; it was so good you could easily eat it in one-go and forget about the rest. The maple syrup was wonderful and not overly sweet, and the vanilla ice cream added freshness to this likable dessert. Every spoonful was a joy, and I confess having a hard time putting my spoon down.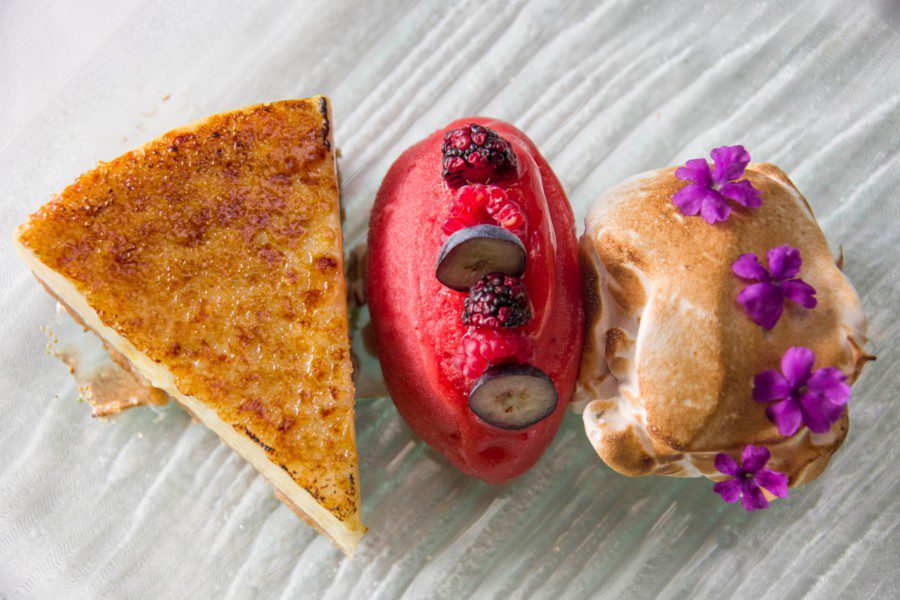 But then the impressive Brulee Lemon Pie (S/. 30) arrived and we knew we would just fall for it. This was a generous slice of lemon pie with a caramelized top, a scoop of soft merengue, and tucked in between these two, an intensely red colored scoop of wild berries sorbet. The pie was excellent as I enjoyed its texture and the perfect level of acidity and sweetness it had. The beautiful crispy top layer similar to a crème brulee gave this dessert a very special and attractive look and a crunchy texture that played well with the lemon pie. The sorbet was simply delicious and refreshing. Once again, I could not stop eating until it was all gone. So don't tell me I did not warn you against falling into earthly pleasures at Carnal.
The drinks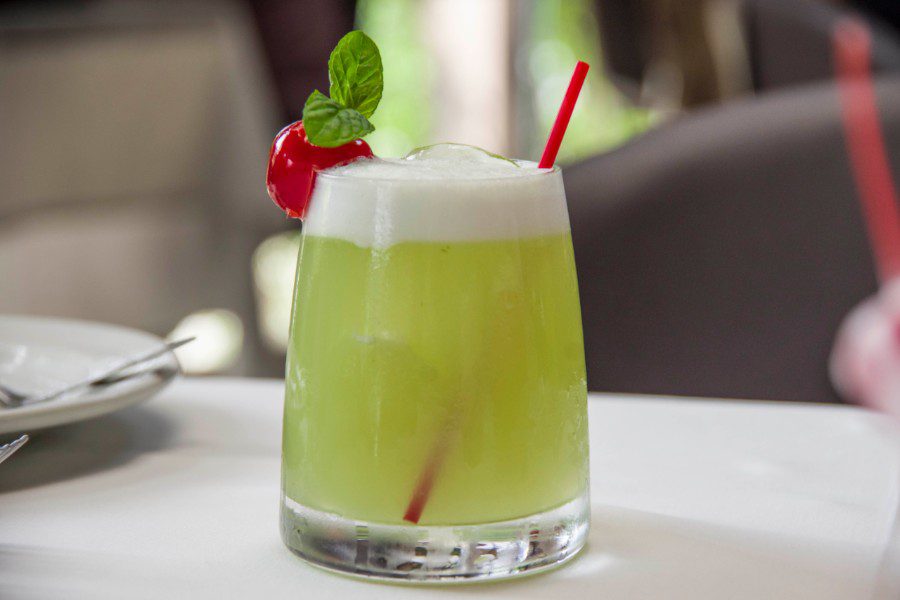 Carnal has an attractive bar that looks ideal for after-work drinks, a night cap or whenever you feel to stop-by. We tried a Carnal Sour (S/. 34), similar to a pisco sour but with camu camu (Amazonian fruit) and lychee. The taste is that of a pisco sour but with the lychee giving it a special, unique and very pleasant flavor. This drink was a total success and I loved it.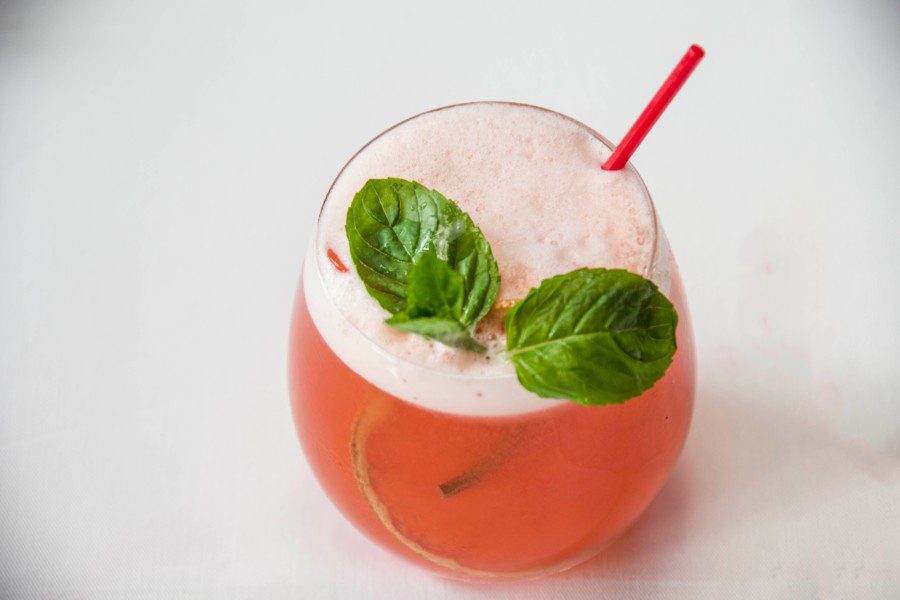 Another favorite was the Carnal no. 5 (S/. 45) with gin, basil and lime, a fashionable drink nowadays in Berlin we were told. This green colored cocktail was light, refreshing and so delicious that you risk having it in a-go.
Our final drink was the Carnal no. 1 (S/. 43), a beautifully intense orange color cocktail served in a cute glass that has vodka, aperol and lime. The taste was slightly bitter, it had character and it was enjoyable.
Final remarks
Carnal surprised us as it was not only a place for meat-lovers, but rather a restaurant serving top quality food, providing excellent service, and making sure customers come back again and again. After all, you only live once and why not succumb to the earthly pleasures?
Photo: Interior

Carnal Sour

Interior

Chopped salad
Elías Aguirre 698 Miraflores
Telf. 243 3088-9
Parking – yes valet parking
Opening hours – Monday to Saturday 12.45 – 4, 7.30 -.., Sunday only lunch
Starters and appetizers – S/. 36- 95
Salads – S/. 35- 48
Sandwiches – S/. 39 – 59
Raw bar – S/. 45 – 245
Angus Steaks –S/. 98 – 218
Other specialties – S/. 42 – 75
Desserts – S/. 30
Cocktails – S/. 29 – 49
Wine by the glass – S/. 26 – 65

Cover photo: Outside Skirt/Maria Alejandra Baraybar
Now that you're here:
We're asking you, our reader, to make a contribution in support of our digital guide in order to keep informing, updating and inspiring people to visit Peru. Why now? In our near 20-year journey as the leading English-language source on travel in Peru, we've had our fair share of ups and downs-but nothing quite like the challenges brought forth in the first quarter of 2020.
By adapting to the changing face of the tourism and travel industry (on both local and international levels), we have no doubt we will come out stronger-especially with the support of our community. Because you will travel again, and we will be ready to show you the best of Peru.
Your financial support means we can keep sharing the best of Peru through high-quality stories, videos and insights provided by our dedicated team of contributors and editors based in Peru. And of course, We are here to answer your questions and help whenever you need us.
As well, it makes possible our commitment to support local and small businesses that make your visit an unforgettable one. Your support will help the people working in these industries get back on their feet once the world allows us to make our dream of enjoying everything Peru has to offer a reality again-from its mouthwatering gastronomy, thriving Amazon and archaeological wonders such as Machu Picchu.
Together, we will find a way through this. As a member of our community, your contribution, however big or small, is valuable.
Support Traveling & Living in Peru from as little as $1 - and it only takes a minute. Thank you!