Traveling & Living in Peru's last visit to Colonia & Co. was back in August 2017. Since that time it has remained a comfortable and unpretentious place to enjoy conversation, excellent coffee, and nourishing, good food, as well as a popular spot with locals and tourists. Colonia & Co. continues to be one of my personal "comfort zones" and escapes in Barranco. I "caffeinate" often here.
Pasta dish

Palta caprese

Details

Bread

Colonia & Co

Interior

Details

Interior

Poke bowl

Fresh pastas

Crema de zapallo
The premises have been reconfigured a bit over the past couple of years. This includes a major transformation of the front section of Colonia & Co. into a spacious coffee bar area with an ultra-long bar. Many people come to enjoy coffee in this comfortable and lively area, and it happens to be a part of the restaurant that I spend a lot of time. If coffee's not your thing, it's also a great place to enjoy wine, beer or a cocktail. One of the small rooms inside was renovated to become an intimate art gallery which exhibits and showcases art and photography of local and international artists, most who are friends of the owner. There are 3 cohesive dining areas which flow into one another, yet still feel distinct. All the areas have an abundance of plants, fresh flowers, interesting artwork, and photography.
Despite the ways that the restaurant has changed over the years, I'm grateful that the charming bohemian/shabby chic/vintage decor is still there. I love the mix of elegant with natural, the high ceilings, and those cool floors! The back patio area has lots of natural light, and it's an area I often gravitate towards when I want to enjoy a meal and a quiet conversation with a friend. It's also an area where I've held small gatherings such as intimate book club meetings, and even a one-on-one embroidery class. Bosco Mágico has remained on the premises in the front selling their wonderful gelato.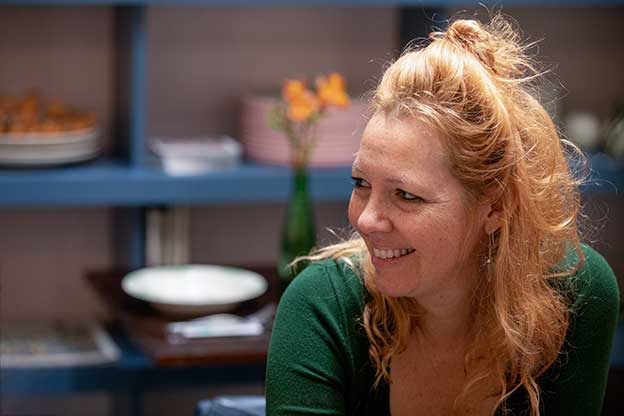 Much of the success to the continued popularity of Colonia & Co. goes to the owner, Jackie Becker, and her friendly and helpful team. Jackie is a "renaissance" woman: a mother of two boys, an entrepreneur, a multi-tasker, a coffee devotee, art lover, food enthusiast, and has a great "eye" for detail, decor, and design. She manages to do it all.
Colonia & Co. offers two menu cards, one with breakfast/brunch options and the other for starters and main dishes. On the weekdays breakfast/brunch is offered until 12:00 p.m. The breakfast/brunch menu is available until 5:00 p.m. on the weekends.
The restaurant has continued to incorporate local and native Peruvian ingredients into many of their menu options. They also prepare their homemade English muffins, brioches and granola on the premises. The other bread served here is supplied by the artisanal German bakery of Los Siete Enanos which provides the multigrain breads.

Colonia & Co.'s relatively new chef, Xavier, is very passionate about Italian cuisine due to his background working in Italian restaurants. This has influenced his cooking as well as the current menu with several new Italian-inspired dishes. All of the pasta at Colonia is now made fresh on the premises by Xavier.

The food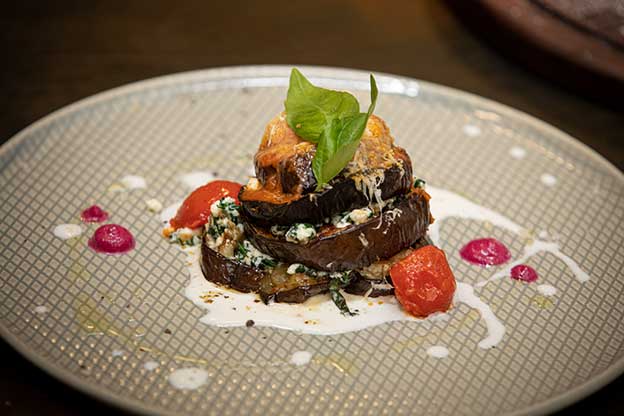 We began with the Timbale de Berenjena (S/. 22) which was excellent. This is a brand new dish that is not on the menu yet. Several slices of oven roasted eggplant were stacked with a ricotta cheese/spinach mixture and roasted in the oven along with cherry tomatoes and basil. This was definitely a table favorite.

Next up was the Crema de Zapallo (S/. 25)…it was glorious. This squash soup was silky, creamy and full of flavor and accompanied by crostini and bocconcini (small mozzarella cheese ball) as well as multi-grain toast. The perfect "comfort food" dish to deal with this chilly weather.

The Cappelletti de berenjena ahumado (S/. 30) was a pleasant surprise. These artisanal cappelletti were homemade by Xavier and the 12 little peaked "hats" of pasta were filled with a wonderful smoked eggplant mixture. The pastas were bathed in a light pomodoro sauce with fried basil leaves as a perfect contrasting texture. Addictive! So much so, a couple of us have returned on a couple of occasions and ordered this dish.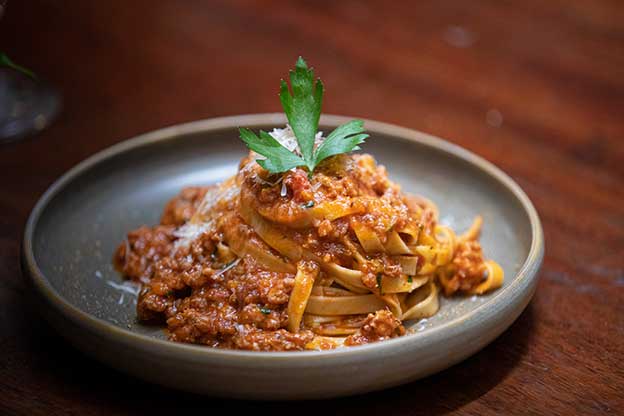 Also new on the winter menu for Colonia & Co. are their Tagliolinis of the Day/Pastas of the Day (S/. 32). The day of our visit, we sampled the Ragú de Chorizo, a generous serving of homemade al dente linguine with a hearty and generous sauce prepared with chorizo sausage. I liked the way some of the sauce was chunky and some was smoother. The high-quality chorizo is from Tito's.

Riding the popularity wave of poke bowls, Colonia & Co. offers their version. The Poke Bowl (S/. 28) consists of sliced mushrooms, pea pods, sliced red cabbage, cubed cucumber, arugula, smoked trout, avocado, Japanese rice with black sesame seeds, hard-boiled free range eggs, and fried seaweed strips served with a light, citrusy ponzu dressing. This was a well balanced, healthy and flavorful salad option.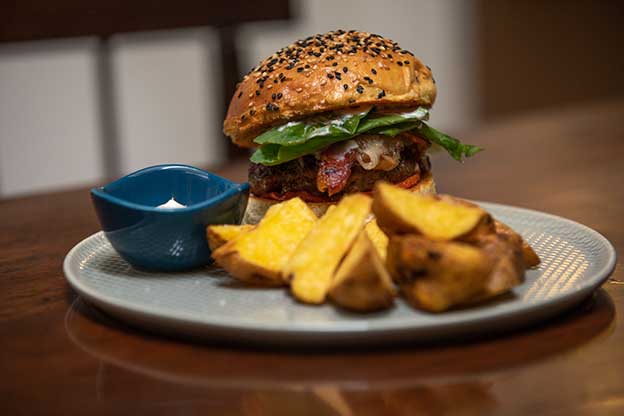 The Hamburguesa (S/. 28) was surprisingly good. The burger prepared with asado de tira beef arrived with a hearty slice of bacon, caramelized onions, aged goat cheese, sundried tomato, and arugula served on a homemade bun. The burger was accompanied by wonderful fried potato wedges as well. This burger would be ideal with one of their Blur Homebrewing artisanal beers.

Colonia & Co. is still one of my favorite breakfast/brunch spots in Lima. They serve 13 delectable options, including one of my favorite Eggs Benedict in town. During the weekdays you can order breakfast/brunch up until 12:00 noon. The brunch menu is available all day up until 5:00 p.m. on Saturday and Sunday.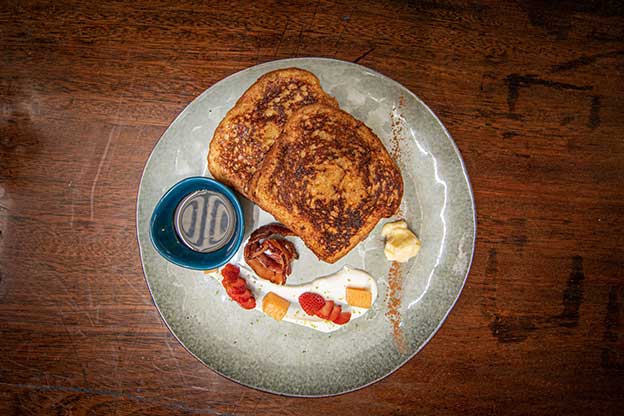 The last dish we sampled is ideal as a breakfast/brunch or a dessert option. The French Toast (S/. 22) is everything you can ask for…. the homemade brioche bread is sliced thick, dipped in an egg batter, fried until golden and slightly crispy, served with a slice of bacon (but really should be 2 slices, in my opinion), with Greek yogurt, seasonal fruit and butter. The french toast is also accompanied by a chancaca sauce, but it's so good on its own with just a smear of the butter.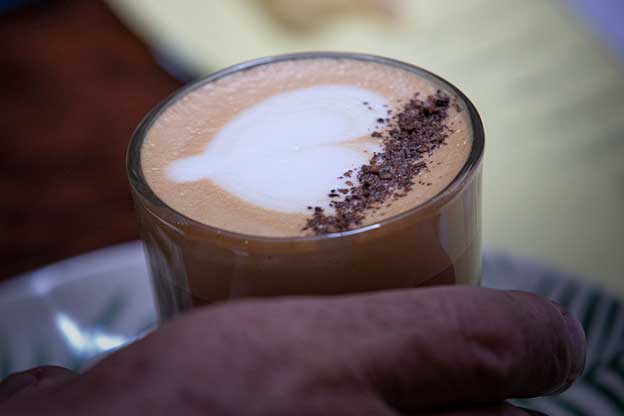 Coffee continues to be serious business at Colonia & Co. They still have their Slayer espresso machine, as well as their own brand of coffee, called Curva Tostaduria. They work directly with the local coffee farmers and roast their own coffee. The coffee is rotated according to the region. I occasionally purchase their coffee for my home and I'm never disappointed. We sampled two of Colonia's new signature coffees. The first one was La Chapa (S/. 15). This has been on the menu for a few months but quickly has become one of my favorites. The concoction of espresso infused with the creamy and slightly sweet all-spice milk both tastes and smells amazing. The chapa is a Peruvian pepper that inspired this coffee beverage. The flavor is very reminiscent of allspice.

The Orangina Latte (S/. 15) is a new addition. A glass with iced orange latte along with a glass beaker with espresso arrives at the table. The espresso is poured into the glass tableside to mix with the creamy orange mixture. The combination of milk, orange syrup and espresso reminded me of a caffeinated orange creamsicle bar as soon as I took a sip of it. I enjoyed every bit of this beverage, even the dehydrated orange slice.

You might consider ordering one of the desserts at Colonia & Co. to accompany your coffee. The dessert menu changes frequently, but you can typically find some sweets from La p'tite France, occasionally one of my homemade artisanal desserts (lemon poppyseed cake, blueberry buttermilk muffins, S'mores, carrot cake), and a couple of other options.
Colonia & Co. also offers a small, but nice selection of wines. The day of our visit they had just received some new German wines. We sampled the Sommerpalais, a wonderfully crisp, not too sweet, fruity Riesling with floral notes. I liked it so much I bought a bottle to enjoy at home.

The motto at Colonia & Co. is:
Good food
Good coffee
Good company
I wholeheartedly agree!

Colonia & Co.
Prolongación Av. San Martin 131, Barranco
Phone: 987 761 231
Hours: Tuesday-Sunday: 8:30 a.m.-10:00 p.m.
Closed Monday
Brunch served all day on Saturday & Sunday
Dog-friendly
Instagram

Starters: S/. 18-26
Sandwiches: S/. 18-28
Main dishes: S/. 26-38
Non-alcoholic beverages: S/. 7-14
Espresso bar: S/. 7-15
Filtered coffee: S/. 8-14
Signature coffees: S/. 14-15
Teas: S/. 10 (small pot)
Beer: S/. 12-18
Wine: S/. 25-28
Cocktails: S/. 25-28
Daily dessert menu available
Breakfast/Brunch menu:
Sweet: S/. 18-22
Sandwiches: S/. 18-20
Savory: S/. 14-28

Cover photo: Cappelletti de berenjena ahumada/AmaraPhotos
Now that you're here:
We're asking you, our reader, to make a contribution in support of our digital guide in order to keep informing, updating and inspiring people to visit Peru. Why now? In our near 20-year journey as the leading English-language source on travel in Peru, we've had our fair share of ups and downs-but nothing quite like the challenges brought forth in the first quarter of 2020.
By adapting to the changing face of the tourism and travel industry (on both local and international levels), we have no doubt we will come out stronger-especially with the support of our community. Because you will travel again, and we will be ready to show you the best of Peru.
Your financial support means we can keep sharing the best of Peru through high-quality stories, videos and insights provided by our dedicated team of contributors and editors based in Peru. And of course, We are here to answer your questions and help whenever you need us.
As well, it makes possible our commitment to support local and small businesses that make your visit an unforgettable one. Your support will help the people working in these industries get back on their feet once the world allows us to make our dream of enjoying everything Peru has to offer a reality again-from its mouthwatering gastronomy, thriving Amazon and archaeological wonders such as Machu Picchu.
Together, we will find a way through this. As a member of our community, your contribution, however big or small, is valuable.
Support Traveling & Living in Peru from as little as $1 - and it only takes a minute. Thank you!