There's nothing more enriching than delighting your palate in an outdoor place that is a cross section between history and culture. The Huaca Pucllana restaurant, which was inaugurated 18 years ago, is located inside the archaeological site of Pre-Inca cultures of Lima, which was built by the Wari and Ychsma more than 1500 years ago.
A new proposal and the chefs behind the magic
The leader of this story is the owner and founder Marilú Madueño, who is an expert in creating typical dishes and contemporary versions full of ingredients native from Perú.
Madueño brings this new proposal alive hand in hand with chef Juan Luis Ugarteche, who has been with the restaurant for a year and a half.
The idea is to develop seasonal specialties, in addition to offering the restaurant's iconic choices such as salted pork loin, burst crab, rice with duck risotto, rocoto relleno, among others.
Juan Luis stands out for his experience and creative qualities that have greatly contributed to Huaca's success. Under his expertise, new dishes from the coast, mountains, and jungles have been added to the menu.
He studied cooking at the Los Andes Institute and worked in several restaurants with renowned chefs from Lima.
A top restaurant in many respects
The restaurant's innovative contribution not only comes from the creativity for the The cocktails
of the dishes but also for responsible culinary practices, using top ingredients without generating waste. Juan Luis tells us that they recycle the inputs and make 100% use of them, which is beneficial for the environment. They even have a mini-garden from which they extract the edible flowers they use for decoration, chili peppers, aromatic flowers, etc.
La Huaca is on the "Peruvian Top" list among the country's best restaurants. As if it were not enough, it has the SUMMUM award, a prize that recognizes talent, creativity, and innovation.
The cocktails
We had the pleasure of starting this adventure with a nice aromatic cocktail, a Chilcano (S/ 22), with macerated pisco and lemon verbena, the latter much used by our ancestors as a medicinal plant.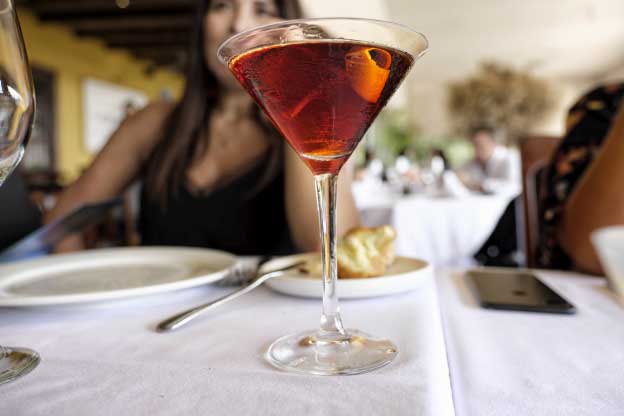 Then we tried a must, the classic Captain (S/ 24) that fuses our traditional pisco with red vermouth. The union of these two strong and dry flavors along with the aroma of the orange go well together. You might say that it's love at first sight.
As an exotic and aromatic fruit that has a flavor between acid and sweet, lime is an excellent choice to fuse with pisco. The delicious Sour de Lima Simple (S/ 22), Double (S/ 32) works well with these flavors. Another great drink is the Mojito (S/ 20), made with macerated ginger which is mixed with pisco. This drink is characterized by its aroma and light spicy flavor.
Appetizers
To accompany the culinary archeology we tried the chef's recommendation, a rich onion bread and mini ciabattas which is served with a spread of butter and classic yellow pepper. It was a real delight!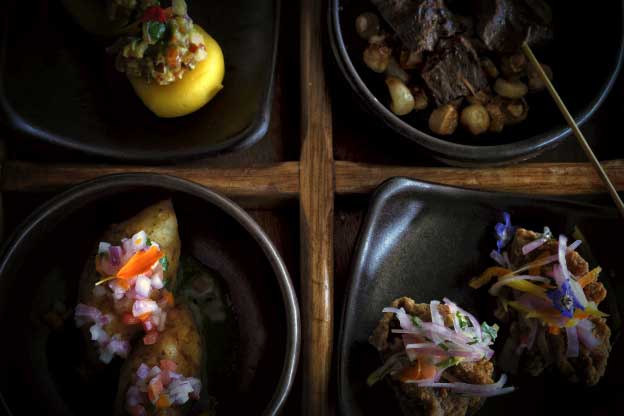 Not only does the place tell a great story, but the dishes also seek to communicate it through their decoration. The Tokapu (S/ 32) is inspired by geometric figures of the Pre-Inca Culture (ornamental Inka Design). It's great for sharing with one or more others. It comes served in a bowl with 4 squares, and you can choose 4 accompaniments. We chose the following:
· Causitas, with our typical yellow potatoes, yellow pepper, topped with trout tartare, and avocado. The taste and texture are delicious, with a taste that combines both acid and spicy.
· Potatoes stuffed with meat and creole willow and culantro emulsion gives it a different and special flavor, it combines very well.
· Guinea Pig "chicharrón" served with fried plantains and criolla sauce: super crispy on the outside. The guinea pig meat is very soft and tasty, the accompaniment makes the difference, the flavor and the smooth texture of its banana plantains complement the crunchy cuy.
· Anticuchos, skewered beef hearts marinated with dry peppers,
served with fried corn and potatoes, very popular in our country, made with pieces of meat marinated with a very exquisite sauce with different typical seasonings, fried corn also had a leading role, highlighted by its texture.
· Sea bass tiradito (S/ 46), a mix of chili pepper and rocoto, unlike the others it has the orange color of the mixture, in the middle, we have a scallop foam with nitrogen, white, as part of the decoration contributing to making everything even creamier. Additionally, we find corn, crispy quinoa, avocado dices that in addition to giving color to the dish help to cleanse the palate.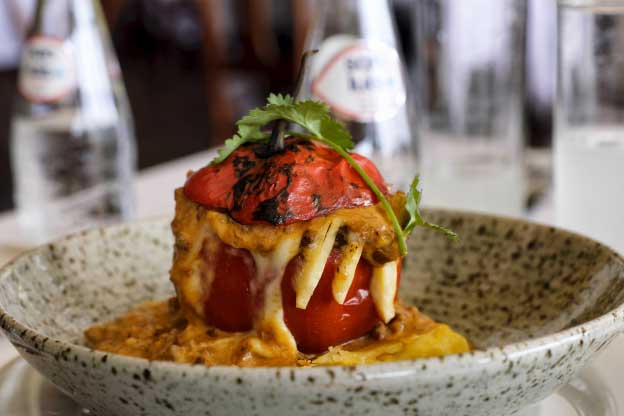 · Stuffed Rocoto (S / 49), with thin loin and gratin cheese, typical dish from Arequipa and if it's not itchy, it's not the real one, accompanied by a delicious cake of native seasonal potatoes, serrano cheese and olluco slices, they serve it warm and with melted cheese, what else can you ask for !!!!
Main dishes
The afternoon became cooler after a sunny morning and it was time to try the basic dishes: the Amazonian Sudado (Amazonian Sea Bass Stew) S/ 62. The fish that we ordered was cachema, white meat, tasty and very soft accompanied by cassava, onion, tomato, and cilantro.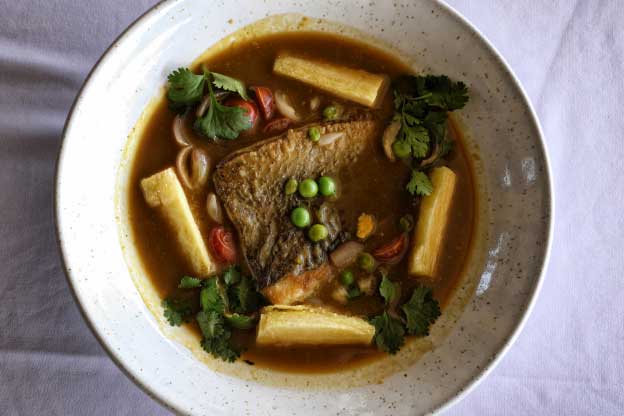 This dish was undoubtedly the most impressive for how it was prepared. Here is how it's done:
The sweat broth is made with tiger milk and with a yucca ferment, which after grating is extracted into a liquid that is poisonous if not fermented and boiled first. After this is done, it becomes a beneficial substance for the body. It is also known as black pepper, it does not contain any salt and is characterized by having a fairly intense and concentrated flavor (umami, known as the fifth flavor).
In order to get this concentrate, the restaurant has a social responsibility agreement with the Bora Indigenous Community in the Amazon. This income allows the community development and growth.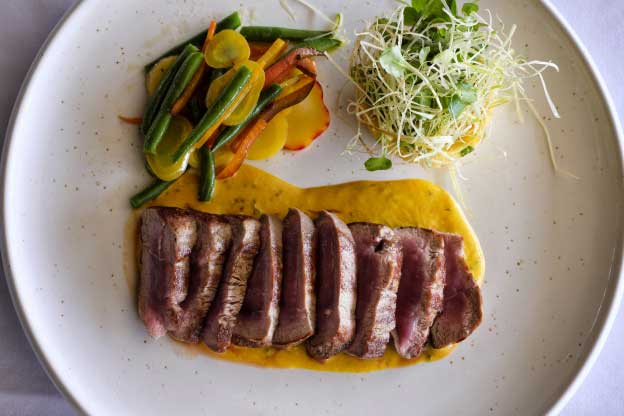 Medallions of Grilled Alpaca with mustard and muña sauce (S 56), served with a soft semi-sweet corn souffle and cooked vegetables such as sautéed ollucos, peppers and chopped beans with a mix of flavors, an innovative and creative proposal. Alpaca is a very healthy and beneficial meat because of its high protein and iron content, as well as because of  its low fats and cholesterol.
Desserts
After experiencing the incredible flavors of Perú that satisfy even the palates of the most demanding gourmets, we had a great expectation for the desserts, created by Andrea Massaro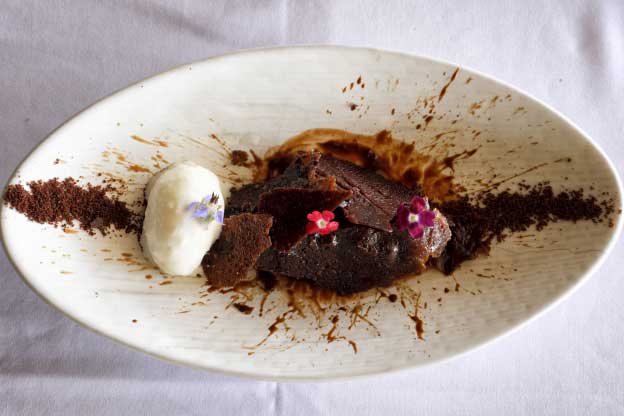 Our first recommendation is the Choco Coco, with different cocoa textures (grated and in slices), a refreshing coconut ice cream covered with fudge, which is placed on top of a brownie. This is ideal for real chocolate lovers.
A beautiful presentation delighted us with Suspiro a la Limeña a traditional Limean dessert which is served in three pots on a rustic wooden trunk. It has a base of cake covered with port syrup, which is a consistent and sweet delicacy that makes this delight even more enjoyable. The classic Arroz con Leche mixed with pieces of strawberry gives it a different, fresh and pleasant flavor. To close this trio, we tried the Choco Lucuma, a mousse with the mixture of two intense flavors, bathed with grated cocoa that creates a mix of textures on the palate.

General Borgoño cdra. 8, Huaca Pucllana, Miraflores
Monday – Sunday 12:00 pm – 12:00 am
http://www.resthuacapucllana.com
Now that you're here:
We're asking you, our reader, to make a contribution in support of our digital guide in order to keep informing, updating and inspiring people to visit Peru. Why now? In our near 20-year journey as the leading English-language source on travel in Peru, we've had our fair share of ups and downs-but nothing quite like the challenges brought forth in the first quarter of 2020.
By adapting to the changing face of the tourism and travel industry (on both local and international levels), we have no doubt we will come out stronger-especially with the support of our community. Because you will travel again, and we will be ready to show you the best of Peru.
Your financial support means we can keep sharing the best of Peru through high-quality stories, videos and insights provided by our dedicated team of contributors and editors based in Peru. And of course, We are here to answer your questions and help whenever you need us.
As well, it makes possible our commitment to support local and small businesses that make your visit an unforgettable one. Your support will help the people working in these industries get back on their feet once the world allows us to make our dream of enjoying everything Peru has to offer a reality again-from its mouthwatering gastronomy, thriving Amazon and archaeological wonders such as Machu Picchu.
Together, we will find a way through this. As a member of our community, your contribution, however big or small, is valuable.
Support Traveling & Living in Peru from as little as $1 - and it only takes a minute. Thank you!