At Mercado 28, you'll find Peruvian, Nikkei, Italian, and Spanish specialties among others. There's also coffee shops, pastry outlets, ice-cream parlors, and much more. On this occasion, we visited La Patarashkita, a food stand specializing in jungle cuisine.
The day has finally arrived: Lima now has a proper food market, just like other major cities around the world, where foodies can try a great variety of dishes at very convenient prices. What's more: the market is eco and pet-friendly.
La Patarashkita, which is located in Lima's new food market, may be new in Miraflores, but it's already been around in the jungle city of Tarapoto for many years. This family-run business is headed by Doña Eli who spends her time working with famous chefs that come from the capital to learn about the mysteries of the Amazon and try her old-time recipes.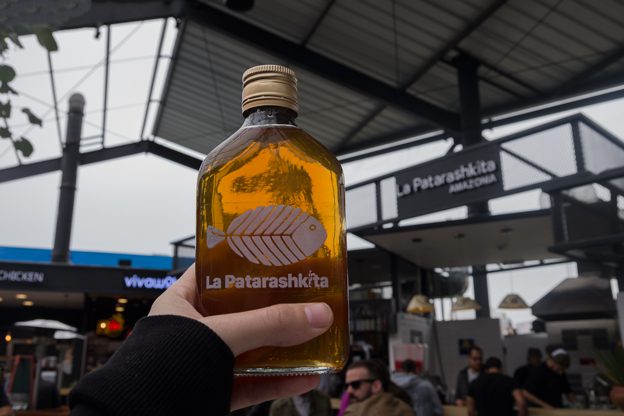 We decided to make a visit to La Patarashkita and try a taste of the jungle for ourselves. Our host, Cindy Reátegui, daughter of Doña Eli, showed up with a small bottle of Llama Llullo (s./15), also known as Amazonian whiskey, and a few eco-friendly glasses. I am certainly not a fan of whiskey but was ready to try this rare beverage. I was pleasantly surprised by its smoothness and enchanting taste. This propolio macerate mixed with honey and alcohol was not only easy to drink but has medicinal properties as well.
They also have other refreshments with fruits from the region such as camu camu, cocona, a local grape, passion fruit, and chicha. We tried a glass of Camu Camu (s./6), which was beautifully intense in color, and refreshing and full of flavor.
The first dish that we tried was Canastitas de Doña Eli (s./15). These four perfectly crunchy patacones (sliced fried bananas) come filled with peanut butter and a wonderful chalaquita, finely chopped onions, cocona juice, and bits of bacon, and spices. They were a wonderful start to our meal.
For our next course, we tried the Tarapoto Salad (s./20). This big bowl of lettuce, chonta (heart palm fettucini, typical from the jungle), heart palm chopped in pieces, bacon, coconut, and majambo (a white nut belonging to the cacao family). The majambo's neutral taste added a lot of crunchiness to this generously-served salad.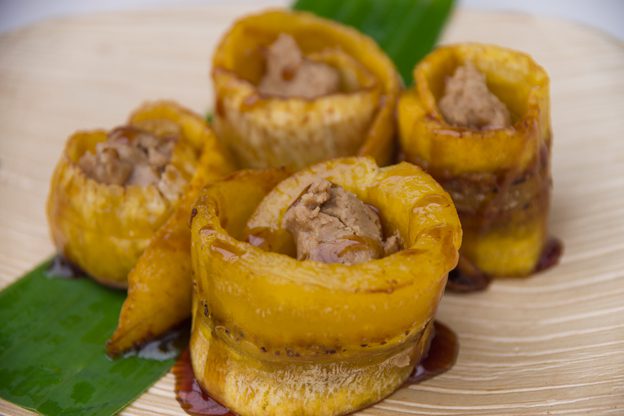 We then tried the Elvis Charapa (s./10). These were four pieces of rolled-up bananas filled with peanut butter and cacao honey. I simply adored this starter. It was the perfect mix of saltiness and sweetness, which was brought out by this special honey made from the cacao fruit membrane and produced in the jungle. There are so few ingredients to this dish, yet such a wonderful outcome!
The next course was Chaufa Mi Selva (s./25), a super tasty fried-rice bowl with plenty of bacon, sweet fried plantains, and local spices. This chaufa was certainly out of the ordinary. It had a delicate smoky flavor thanks to the cecina which was cooked in chucchumbo wood, an Amazonian tree that actually grows on the family farm in Tarapoto.
An Amazonian meal would not be complete without a juane, the typical dish made of rice, hen, egg, and spices wrapped in a bijao leave and left to boil for an hour. We tried the Juane de Gallina (s./25), and once again, it was nice and tasty.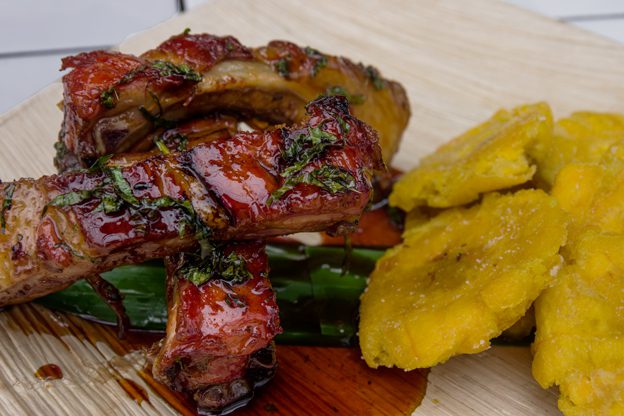 We then tried the Smoked Ribs (s./32). The meat of the ribs was tender, juicy and tasty, and the smoky cacao-flavored honey that covers them enhanced the flavors of the meat to the degree that I could not stop sucking each and every rib I got hold of. This dish comes with several crunchy, soft and super tasty patacones, which is a type of fried plantain. I could easily come back for this dish alone.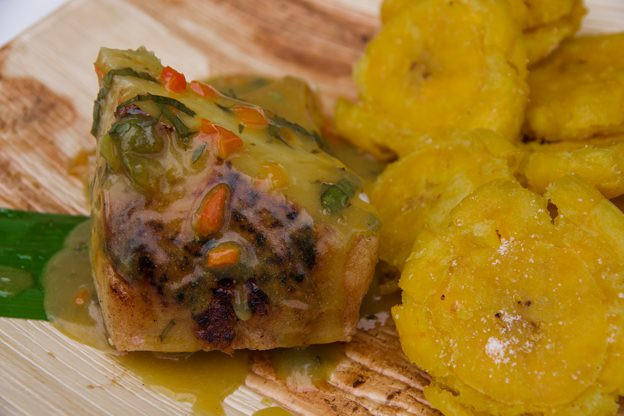 Our last dish was the Grilled Paiche in cocona cream (s./35), white fish filets covered with a delicate cocona-based sauce with patacones on the side. The fish meat was tender, juicy, and so tasty that it didn't even need sauce. The patacones were soft and crunchy, just like the ones that we tried in the previous dishes. The verdict for this dish? Yes, I would certainly recommend it.
They don't currently have any desserts on their menu, but come Summertime they will be offering ice-cream palettes with the typical jungle flavors like aguaje, popauzu, cocona, grape, and others.
La Patarashkita pleasantly surprised me all throughout, and it takes the food from the jungle to a whole different level. The quality of everything we tried was excellent, the portions were generous and the prices are unbeatable. All the products and ingredients, we were told, are brought directly from the jungle. So, if you want to immerse yourself in this new chapter of Amazonian cuisine, don't miss out this place in your next visit to Mercado 28.
La Patarashkita
Mercado 28 – Balboa Strip Mall
Vasco Nuñez de Balboa con 28 de Julio – Miraflores
Opening hours – Sunday to Wednesday 11-10 pm, Thursday to Saturday 11 -11 pm
Beverages – s./6
Starters – s./ 10 -20
Main dishes – s.-/ 25 -35
Comments
comments