This was the third time I visited Loreta, a welcoming business-like cafeteria, and restaurant that may just surprise you.
The Vibe
I was first enchanted by their premises in La Molina that has this vintage and charming flair, very American in style. Then, I visited their San Isidro place, smaller in size, with a décor that reminded me of bars around the US. A casual look with small wooden tables and tall vintage bars, a few wooden dividers, an iron brass ceiling brought from the USA and a few art posters.
The Drinks
Loreta is more than a cafeteria as, beyond coffee and desserts, one can also find a range of hot and cold dishes you can order along with a beer, a glass of wine or one of their wonderful homemade beverages. If there is one thing that struck me after visiting Loreta the first time, it was their lemonades, in particular, the Cinnamon Lemonade as not only I have never seen such an offer before, but it was tasty and refreshing as it could be.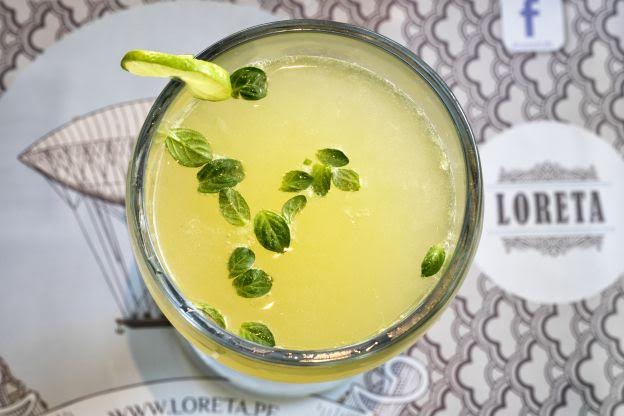 Just as good were the Lemongrass Lemonade and the house Lemonade, Loreta (S/12 ), a ginger-based drink which my colleagues particularly adored. All three come in huge glasses and, for sure will take your thirst away.
The Food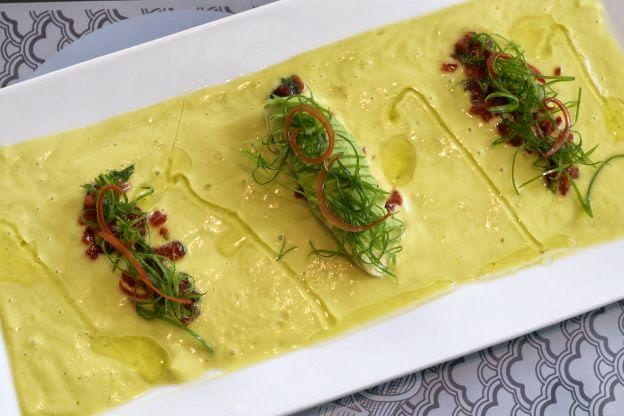 It was time for food and we started our visit with some tiraditos. We had the Tiradito Apaltado (S/ 32) that consisted of several pieces of sea bass fully covered with a light green avocado sauce. The size of the dish was already impressive, and the taste was definitely enjoyable and refreshing. It was nice to taste the big slices of fish and feel its freshness at every bite. For someone who does not like avocado, I have to say I was taken by surprise as I appreciated the sauce which was light and full of flavor. We loved this dish.
We also had the Tiradito Ají Amarillo (S/32), once again, presented in a big tray with plenty of big slices of charella fish, this time, covered in an intense yellow cream sauce with scattered small red peppers and corn. The flavors were fine but difficult to surpass the Tiradito Apaltado.
Loreta has a range of salads to offer in case you want to eat light. We ordered the Tuna Salad (S/ 29). This one comes with plenty of American lettuce, artichoke, avocado slices, tomatoes, olives, and a boiled egg along with two pieces of English-style cooked tuna fish. A thyme based sauce comes along for you to pour into your plate. The tuna fish was fine but the salad we found a bit bland.
We ordered a few warm dishes. On previous visits, I tried their pasta and lasagnas which I loved. Loreta like almost everything they sell makes their own pasta, and they sell it too. This time we had the Fettucini al Pesto (S/30) that one can order with meat or without. Just make sure you tell the waiter how cooked you want your pasta, otherwise, you may risk that it is not al dente as you may like. I liked the dish, it was not only abundant but the pesto sauce was quite nice and the meat was juicy and enjoyable.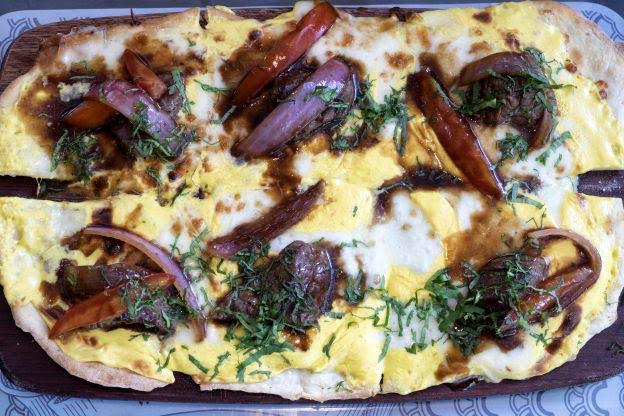 Loretta also has a range of thin-layered, homemade pizzas on their menu. We tried the Pizza Perucha (S/39) which as odd as it may sound, it had lomo saltado and lots of ají amarillo sauce. To be honest, the idea did not attract me at all as I thought this mix was pushing it too hard. Surprise, surprise, it turned out to be a total success as we enjoyed every single bit of this delicious and surprising pizza.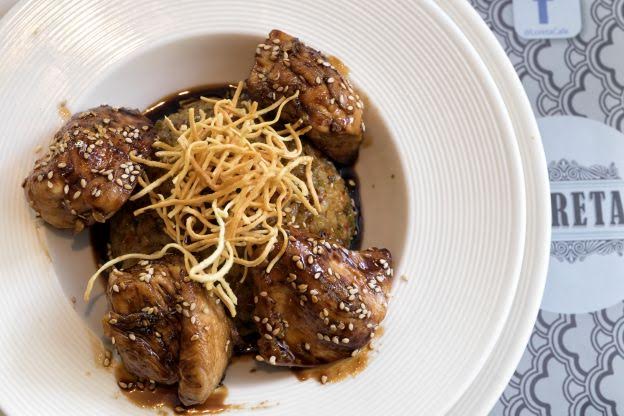 Another dish we all appreciated was the Thai Rice (S/35). I have to say, I had it before and did not like it too much, this time, however, the rice was crunchy, moist and full of intense flavors while the Terikyaki chicken pieces were nice too. Although far from the original dish you would find in Thailand itself, it was still tasty and enjoyable.
Our last dish was the Quinoa Chaufa Rice (S/32), a popular dish, we were told. Colorful as it was, we found it lacked some taste.
Loreta has a range of 'specials' which we did not try this time like the Grilled Salmon (S/38) or the Lomo Saltado Risotto (s./37) for which I will definitely come back.
The Desserts
We did not have desserts this time, but I can assure you they are worth a try. I previously had the Chocolate Cake (S/12) and their Brownies (S/6.50) and they were both very yummy. What I appreciate is that they also have small versions of both desserts and sandwiches in case you are not that hungry.
Final Thoughts
Overall, it was a pleasant experience although with some hiccups in relation to service to which our host promised will be attended to. If you are around the neighborhood, I would definitely recommend you make a stop as you will be pleasantly surprised, just like we were.
Victor Andrés Belaunde 208, San Isidro
Opening hours – Monday to Friday 7 to 10 pm, Saturday 8 – 3 pm
Parking – yes
Delivery –limited
Hot and cold beverages – S/11-13
Wine and cocktails – s./ 11-79
Sandwiches – S/ 11-24, mini S/15-32
Pizzas – S/ 33-39
Starters – S/ 15-32
Brunch – S/5.50 – 25
Specials –S/ 32-38
Delivery – only
Desserts – S/ 12-17 and mini-versions S/2.50 – 6.50
Comments
comments