If you are looking for a simple yet unique meal when eating out, Lima is one of the world's best cities to find it. It should therefore come as no surprise that Belgian fries have made their way to Peru's capital city at establishments such as Original Fries.
Interior

Chicken tacos

Cheese sticks
The Fries
Marcel, the restaurant chef and brand partner explains that they import their potatoes from Belgium because Peruvian potatoes have a more gritty texture than Belgian ones. When you taste them, you understand what he is referring to: Belgian potato fries are lighter, crisper, and more addictive. And Original Fries makes their fries even more tempting because they offer more than 20 sauces to choose from, including Jack Daniels barbecue, limoneldo (mayonnaise with dill), garlic sauce, curry, as well as spicy options.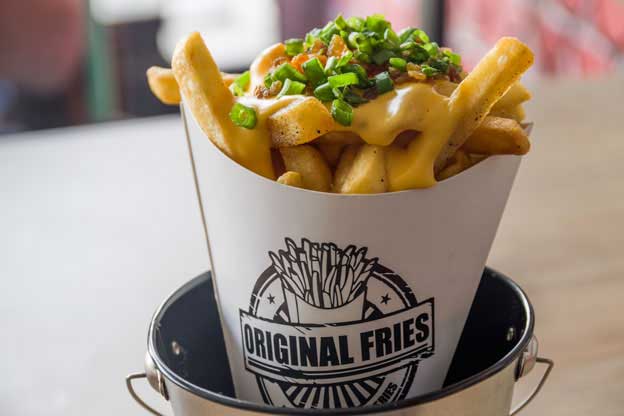 Because the restaurant has kept with the European style of street food, it can take about 20 minutes per order. This is because they fry their potatoes to order, meaning that they'll be fresh every time. The restaurant offers six presentations, and we tried the most popular: the Cheddar and bacon, cheddar and chive, and the Mexicana, which includes nachos, pico de gallo, and guacamole.
Each portion includes 200 grams of potato fries seasoned with toppings and five sauces (three standard and two to choose from). Other menu options are the Charapa with fried plantain, jerky, and cocona chili, the Caesar, the Original, and the Gaucha, which includes two kinds of sausages, a mix of Peruvian and international flavors to represent the new menu. They recently remodeled the place and changed the menu to make it easier to order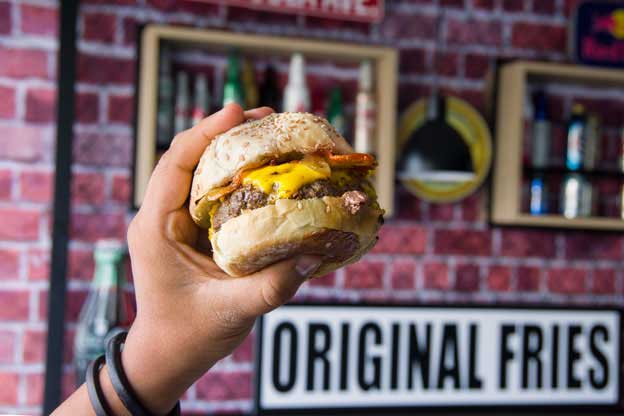 Meals
Every meal comes with Belgian fries, meaning that you can try them with any order. Though there are only four options right now, the management is working on adding to the menu. Right now you can find chicken tacos (S/ 15), with pico de gallo, guacamole, cabbage, crispy chicken, and natural yogurt that gives the mix a fresh touch (no beans). The menu also has a salad, chicken fingers, and hamburger with a 200-gram beef patty (S/ 20) which is very juicy, and which is placed on a very soft bread. It's served with caramelized onion, cheddar, and bacon. Because this burger is well-portioned, extra juicy and tasty, we recommend that you try it without the sauces: the burger speaks for itself.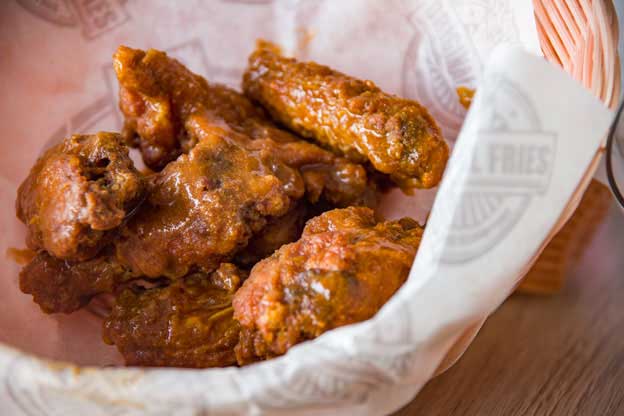 Sides
Even though Original Fries is popular for their fries, they have several sides that are worth a try. We sampled the mozzarella sticks (S/ 8) that don't feel too greasy, are lightly crunchy and offer a good portion of mozzarella cheese. They also have onion rings (S/ 8) and buffalo wings (S/ 11), that are spicy but tolerable, and are just as addictive as the fries. Along with all of these options, you can also order Thai wings.

Finally, for those who want something very spicy, there is a chilli cheese (S/ 17.50). In fact, Marcel told us that they want to start offering dishes for lunch such as Tex-Mex cuisine which is less common in Peru. "We want to offer something different to the customer than what you find in other restaurants," Marcel explained. It is also possible that in the future the restaurant will offer soups and fish.
The place
Original Fries used to be just for to-go orders but now the restaurant has a couple of tables and very attractive decorations. Considering the restaurant's less ideal location on a second floor, they're doing very well. It is popular with students and other savvy influencers such as those with followings on Instagram. Many people use their delivery app to order the restaurant's fries but there are plans to open a new location in Lima, which will be good new for Fry lovers throughout Lima.
Original Fries
Av. Primavera 2221, 202 – Surco
[email protected]
Monday to Sunday, 12.00 – 23.00

Belgian Fries: S/ 11
Sides: S/ 8 – S/ 17.50
Meals: S/ 15 – S/ 20
Drinks (sodas or water): S/ 3

Cover photo: The Mexicana/Maria Alejandra Baraybar