Statera is a well-accomplished attempt in bringing together the rich biodiversity found across the three regions of Peru: the coast, the Andes and the jungle. In this establishment, you will find a whole array of Peruvian native products prepared using ancient and modern techniques, and presented in novel and sublime ways.
A world-class chef
Peruvian Chef André Patsias always knew his life would be between pots and pans. Continuous research and exploration are key elements for this young Chef, and his forty-eight trips across Peru prior to the opening of Statera, are only the beginning. After finishing school in Lima, he took off to Lyon, France to pursue his dream of becoming a chef. From there on, he worked with prestigious chefs in world acclaimed restaurants in Spain, Sweden, and London. Back in Peru, Astrid y Gastón and Central were necessary stops to reconnect with his Peruvian roots before opening up his first restaurant, Statera which in Latin means equilibrium.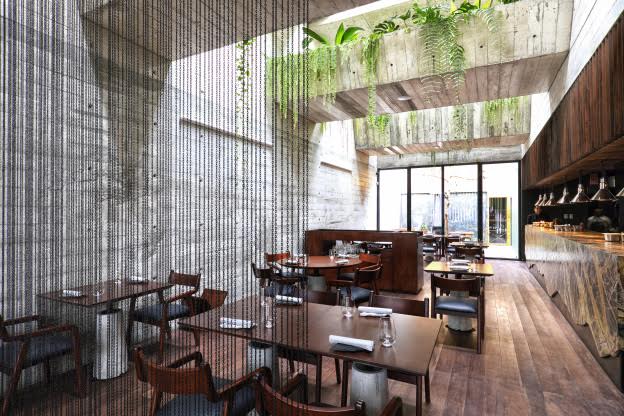 Decor
Statera has a minimalist and elegant décor with the browns, blacks and greys largely predominating. The lush vegetation hanging from the balconies on the ceiling, adds green into the attractive scene. On one side, a large beautiful block of black and brick colored marble separates the open kitchen from the main room. At the back, a gorgeous tree stands firm on a small terrace, and close by are the graceful washrooms where every detail has been taken care of.
The food
The menu is not large, but certainly very interesting, attractive, and available in English. As the dishes passed by, we noticed the lovely sand, grey, and black colored ceramic tableware that perfectly matches with the entire decor.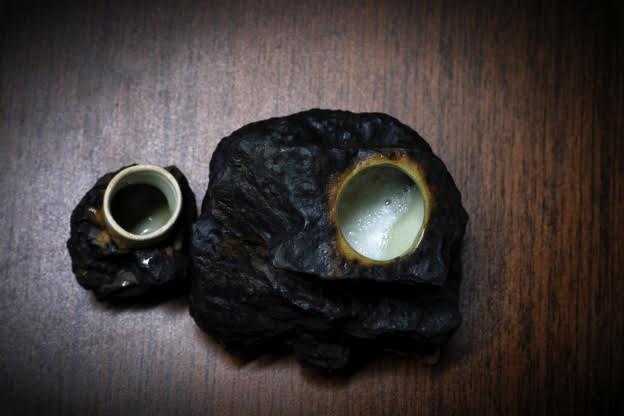 We started with a house cocktail, the Sea Rocks (s./39), a blend of fine whisky, sherry, lime, a seaweed infusion and cabuya (also known as maguey), a native Peruvian plant from the Andes. This drink was served in a funny shape ceramic vase that represented a balanced pile of rocks that is also the restaurant's logo. When the waiter opens the lid, you will see foam that represents the ocean. The taste of the cocktail was pleasant and somehow similar to a whiskey sour.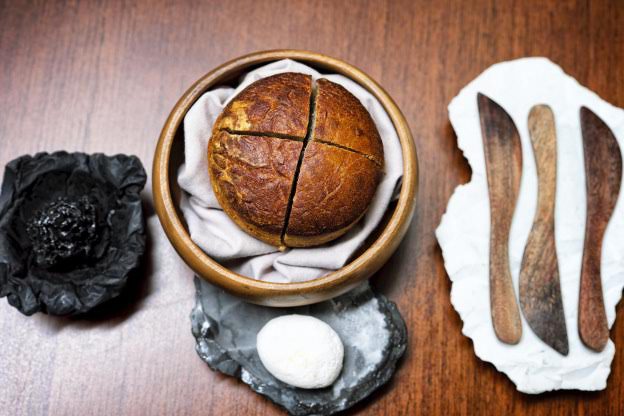 The first part of our meal to arrive at our table was the Sour Dough Bread (s./14). This incredibly tasty piece of large round bread made was of tunta, a naturally frozen white Andean dry potato, similar to the chuño. Along with it, and served in a cold stone pot, came a smooth, creamy, slightly granular, and wonderfully tasty black butter made from aguaje, a fruit from the Amazon. This was quite a treat and not to be missed.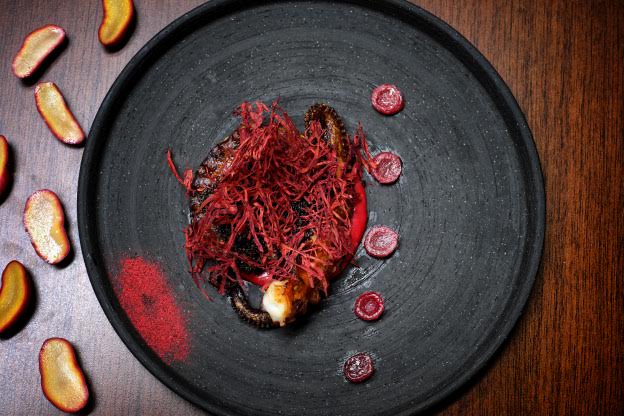 For starters, we tried the Andean Octopus (s./59), a beautifully served dish with a good-sized piece of grilled octopus totally bathed in an intense cherry-colored-cream sauce, with black crunchy quinoa and Andean cereals, and on the side, a line of lovely red-colored ollucos (Andean tuber) added beauty to this dish. The octopus meat was cooked to perfection, and it was tasty. The quinoa and the cereals added a joyful crunchiness while the ollucos certainly played their part. This dish is a good representation of the coastal and Andean flavors, making it a delightful experience.
We also ordered the Vegetable Salad of the Day. This salad normally comes with fish (s./45), we were told, but as we had a vegan on the table, we opted for the salad alone. The salad is a fantastic mix of vegetables, tubers and Andean cereals that comes with an incredibly tasty yellow creamy tiger's milk made of cactus, yellow chili and lime, making this dish, a gift from heaven, and my personal favorite.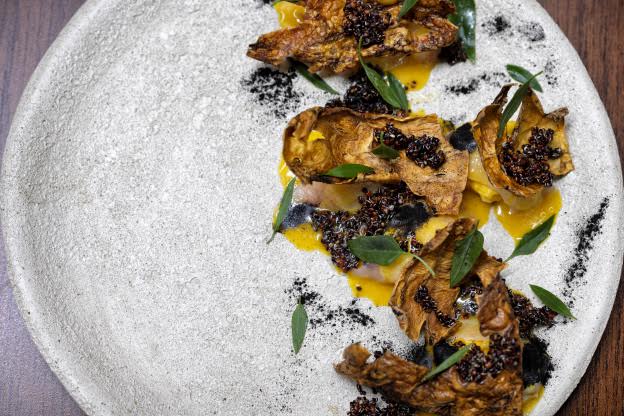 Then came the Beef and Roots (s./45), a very popular dish amongst clients, we were told. The dish consists of several pieces of tender beef sweetbreads covered with a sweet and sour yellow sauce, crunchy red and black quinoa, and the final touch of cacao nectar sauce poured into your plate. This dish is beautifully presented and is a good way of convincing those that are not into the inner parts to easily change their mind.
Our first main course was the Northern Coast Lamb (s./68). This dish consists of a thirty-six hour roasted piece of lamb cooked with chicha de jora and a barley reduction, a white beans puree from the mangroves in the Peruvian coastal north, and cushuros also known as the Peruvian caviar. The meat was certainly tender and agreeable, and the puree with the cushuros, had a slight sweet and enjoyable taste.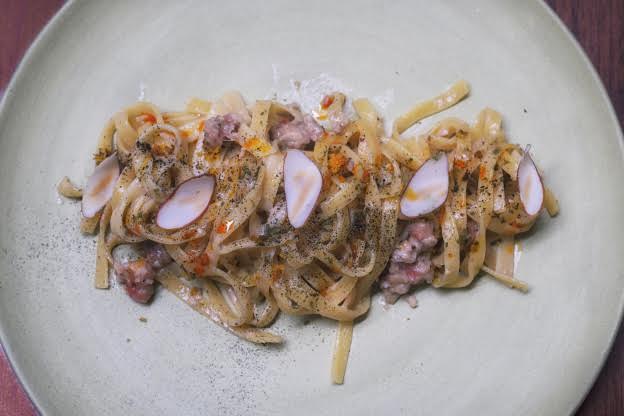 We also tried the Tagliatelle Sea and Forest (s./55). The tagliatelle were al dente, and mixed with a wonderful spicy cream, wild pig meat from the Amazon, sargassum (marine algae), and chestnuts. As a pasta lover, this dish certainly made it for me.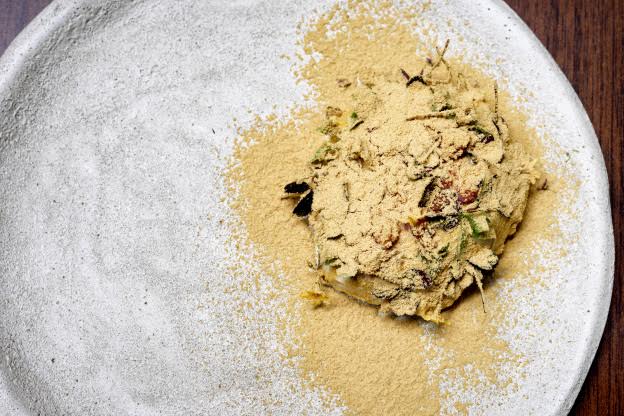 For dessert, we opted for the Amazonic Dessert (s./34), a creamy mousse-type mix of Amazonian fruits such as camu camu, copoazú, arazá, and cocona to which carob tree sand is playfully added. This dessert is not overly sweet, and it is quite refreshing and light. I would say, an ideal way to end your meal.
Final thoughts
Statera was amazing as the flavors were fantastic, the presentations divine; there was excellent service, and all this under a lovely setting. Statera has been well received and is doing well. I have no doubt that it will make it to the big league sooner than later.
Menu
Starters – s./39 -59
Main courses – s./55 – 118
Desserts – s./ 30 – 34
Hot and cold beverages – s./8 – 18
Cover Photo: Marco Simola/Traveling & Living in Peru
Comments
comments