With 10 establishments in Peru and seven abroad, Tanta has become a point of reference for Peruvians and visitors alike who want to enjoy and discover the treasures within Peruvian cuisine. Yet Tanta also offers fusion dishes, based on Peruvian classics, yet influenced by culinary traditions from around the world. 
It started in 2003 as a bakery in Chacarilla. Business went so well that they expanded into cuisine and take away. After that, they started opening one new establishment after another; first here in Lima, then the rest of Peru, and then abroad. It should come as no surprise that this restaurant is successful, considering that the owners and creators of Tanta (meaning bread in Quechua) are acclaimed chefs Gastón Acurio and Astrid Gutsche.
We visited the Tanta location at Larcomar, a pleasant and relaxed establishment within a mall that overlooks the ocean. There's indoor seating on one of their terraces, or as well as at the bar, which is where we sat. Actually, although I have been many times to Tanta before, this was the first time I tried their cocktails and beverages, and they were amazing!
The Drinks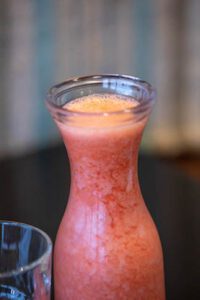 We had a Piscopolitan (s./22), a pisco-based cocktail with pineapple syrup, cranberry juice, and passion fruit. This salmon-colored drink was fantastic; it was refreshing and certainly full of flavor. Next was the Moradita (s./22), made with pisco, purple corn beverage, pineapple syrup, and orange and red wine. The result was a beautifully intense purple colored drink, easy to drink and tasteful as well. We also had a classic Pisco sour (s./24), which unlike the previous drinks, was strong; you could feel the pisco go straight to your head. For those that want to keep away from alcohol, I recommend you try the Travieso (s./15), a strawberry, passion fruit and lemon juice that was superb; or otherwise, the Hierbaluisa Lemonade (s./10) which was also nice and refreshing.
Tanta has a big selection of foods for all tastes and times of the day. They offer breakfast, brunch, lunch or dinner. You will find all kinds of appetizers, salads, soups, sandwiches, pasta, rice-based dishes, and stews. You may also want to take a look at their Pizarrita (cardboard) as they have some interesting specials, such as Spicy penne with vodka and sausage, or Tongue stew for those that are up to it. Mind you, their pizarrita changes every fifteen days and introduces new dishes.
The Food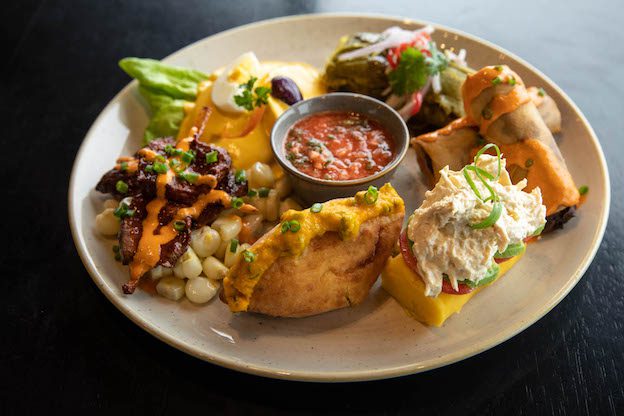 Since there were four of us at the table, as a whole we got to sample a wide range of dishes. We ordered a Jarana Criolla (s./56) which seems to be very popular among clients. This dish is fairly big, and consists of one papa rellena, one causa topped with lots of chicken and mayonnaise, beef tequeños, papa a la huancaína, two anticuchos (cow heart skewers) with corn kernels, and one tamalito verde. Everything was delicious although my favorite was the tamalito verde, and the spicy sauce that comes along is worthwhile trying as well. This large dish, for sharing with several others, is a perfect introduction to Peruvian cuisine.
Many customers come specifically for the Lomo saltado (s./46), a classic within Peruvian cuisine. The dish was generously served, with several big pieces of medium-rare steak, wonderful big and yummy yellow potato fries, crunchy onions, and tomatoes, coriander, and rice with corn kernels. The juices of the meat mixed with different spices and ingredients made this dish truly succulent and worthwhile ordering.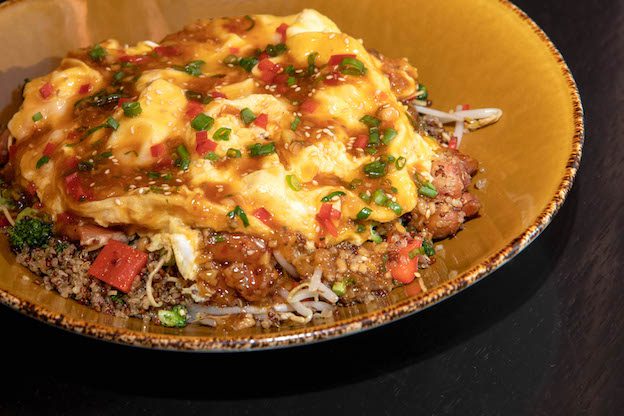 The Quinoa Airport Chaufa (s./32) is a newcomer in Tanta's menu. It is a mix of red and white quinoa, broccoli, Chinese beans and onions, fried pieces of chicken, a spicy garlic sauce, and topped with a juicy tortilla. The flavors of the chicken were fantastic, and the juicy tortilla added moistness to this wonderful quinoa and vegetable mix. We loved it and it was my favorite.
The Desserts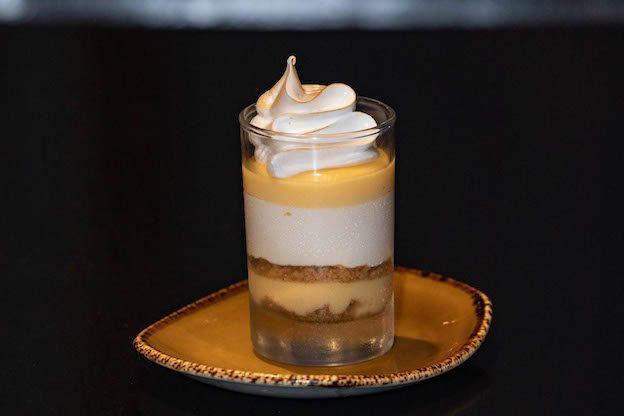 At Tanta, regardless of what dessert you choose, you can't go wrong. We tried the Tropicana (s./13), a light vanilla round sponge cake, with a coco mousse base, passion fruit and mango flavors; the Esfera de Chocolate (s./14), a round chocolate mousse with caramelized almonds and coconut pieces; and a Lemon pie (s./12) which immediately became my favorite. It comes served in a small glass, has a crunchy vanilla base, key lime mousse, and merengue. It was not too sweet as some lemon pies tend to be, but it was just perfect: smooth, sweet, with the right levels of acidity, simply superb.
The whole Tanta experience was excellent. It is good to confirm that no matter the years it has on the market, the successful expansion of the brand, and the popularity it has, the quality remains optimal; surely it has a lot to do with the fact that like in all of Gaston Acurio´s restaurants, the products are bought directly from the farmers making sure they are top quality and paid at a fair price. With this formula in mind, everybody wins, including you next time you pay them a visit.
Larcomar, Miraflores
Opening hours – Monday to Sunday 8 – 12 pm
Cocktails – s./ 21 – 32
Beers – s./ 14- 26
Cold beverages, juices – s./ 7 – 18
Tapas – s./ 7 – 56
Salads – s./ 29 – 36
Pastas s./ 28 -39
Main Dishes s./ 32 – 46
Sandwiches – s./ 26 – 34
Comments
comments