Whether you choose to get there by way of the Inca Trail, take the train, or to take your time by visiting beautiful projects, here is how you can get to this wonder of the world in highest possible class.
Early birds: get yourself to Incapunku, the sun door.
This enchanting sanctuary radiates profound energy, and nowhere is this as apparent than during the dawn at the Inkapunku (The Sun Door). For those who are open, the rising sun filtering through the complex's ancient stone buildings can be a deeply spiritual experience. In my opinion, this is the best time and place to enjoy silence and peace at Machu Picchu. The mysticism of at the Puerta del Sol cannot be put into words, it has to be sensed.
Are you ready to book your trip to Cusco? Check out our travel page for the best deals to Peru
The Intipunku his was probably a look-out for controlling access. Because of this, it offers a view of the whole complex. It's also the entrance gate to Machu Picchu when hiking the Inca Trail. To get to this sacred spot, you need to walk one kilometer south from Machu Picchu.
Take a moment to smell the flowers: orchid mania
Peru is one of the few places in the world that's classified as mega-diverse. And it lives up to these terms for its geology, geology, geography, biology, and culture. With all of this diversity, it's easy to overlook one of its most beautiful treasures: the variety and quantity of its native orchids. It lays claim to more than 10% of the total number of species in the world (around 30,000).
With great dedication and effort,
Inkaterra Asociacion
has built an admirable sanctuary at the
Inkaterra Machu Picchu Pueblo Hotel
. They've actually created an orchid trail, which is a result of a collaboration with the "Centro de Investigacion y Conservacion de Machu Picchu".
At the sanctuary you can see 372 native species, consisting of 80 genera, at least 15 of which are newly discovered. Despite our meager knowledge of the subject, we have visited a couple of times. It's the most fantastic if you can organize your visit for when the orchids are in flower. The most intense colors and shapes intertwine with the rainforest foliage; it seems like there's something new around every corner.
Lastly, a word of advice about the trail: approach your walk with calmness, so as to see beauty in its purest form. And don't forget to take a camera.
High-Class Inca Trail: champagne, massages, delicious cuisine and hot water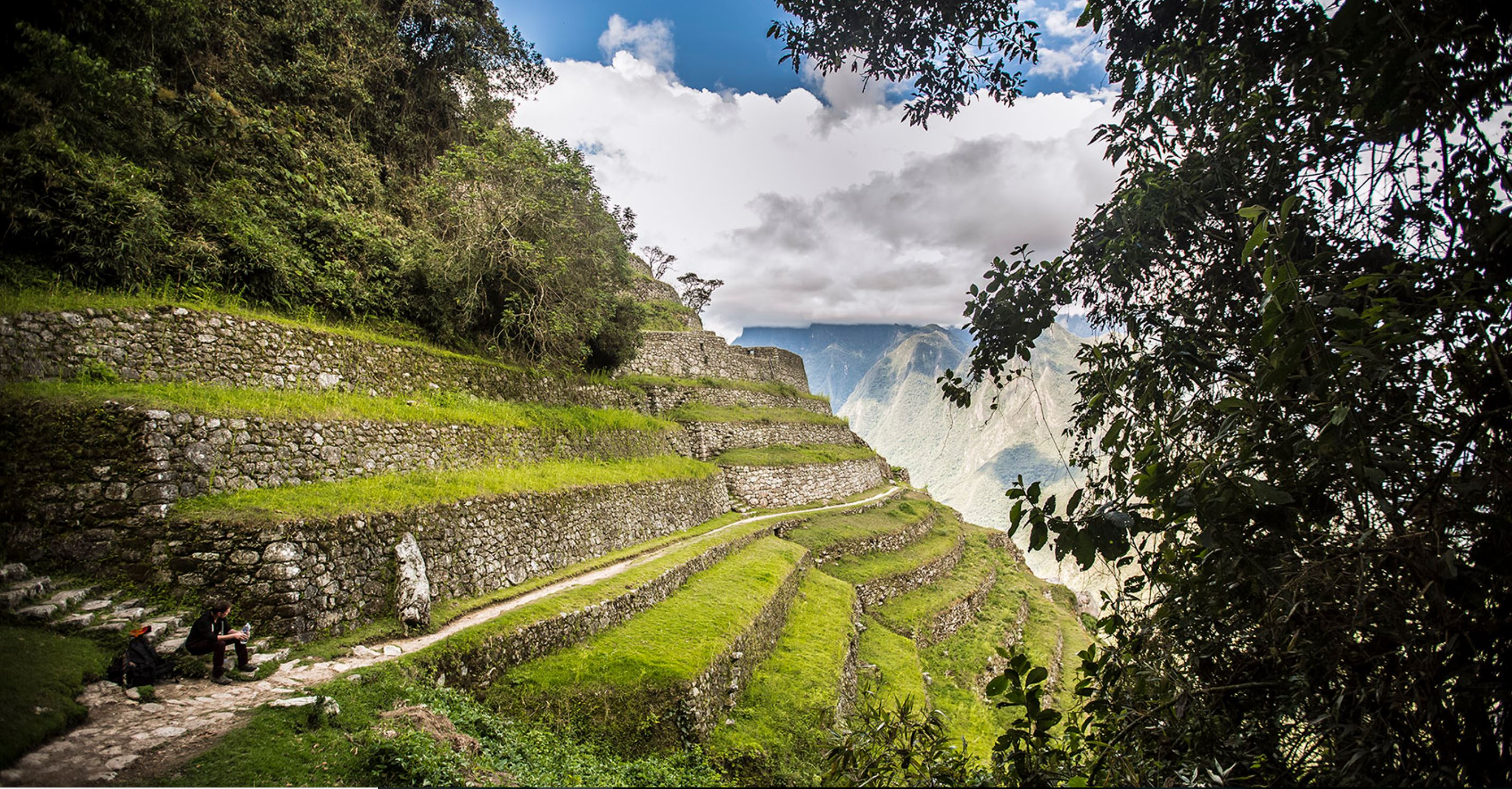 The Inca Trail is not an easy hike. With each step you'll discover what your body is capable of, while at the same time marvelling at the wonders created by nature and by our ancestors.
This route, which once linked Cusco and Machu Picchu, can be traversed in four days and three nights, or three days and two nights. If you can afford it, it's much better if you choose one of the luxury options in which all you have to do is walk and enjoy the flowers and wildlife.
The trail's 40 kilometers contain significant climbs and descents, as well as stairs and bridges. You walk by day and spend your nights at specially prepared camp sites in insulated tents. But the luxury doesn't stop there. You'll enjoy gourmet food as well, which is prepared by a private chef. If that's not enough, there's even a masseur to help walkers relax at the end of the day. As far as beverages go, you'll can even drink champagne to make cheers for the completion of a good walk.
How to hike the trail with luxery
In the 1990's, at the request of a Virtuoso Adventure Specialist, LimaTours operated the first luxury Inca Trail hiking program to Machu Picchu, which includes gourmet cooking, massages, hot-water showers, chilled champagne and personal coca leaf reading sessions with a master Andean shaman.
Today, under the
PureQuest
active travel brand continues providing for who wish to go over the top, when hiking to the top. To find more out about this option visit
their website
.
Take the best train (not that one, the other one)
PeruRail's Hiram Bingham train
If you thought you had seen everything in this world, you've missed this: a luxury train journey from Cusco to Machu Picchu, aboard the Hiram Bingham train, named after the explorer who "discovered" Machu Picchu.
The Victorian-styled coaches have only 42 seats, and their design is inspired by coaches brought from Singapore. The design is similar to those of the Orient Express that ran from Paris to Istanbul 1833 and 1977. From the journey's views, to the service, it's a luxerious experience at its finest. There's beautiful details everywhere, from art nouveau vases, to embroidered linen, glassware and crockery.
For those who want to make a cheers, the bar is always open, with background music and musicians playing creole rhythms. Everything is tasty and as exquisite as the journey itself. We suggest you don't go to sleep as this is a once in a lifetime experience.
How to book your ticket
The Hiram Bingham train departs every day from Monday to Saturday. It stops at Ollantaytambo for a few minutes. The journey takes four hours. You can take the outbound service, stay for a night in the village or the sanctuary and return the following day. The journey includes a guide, transport and entrance to the sanctuary, as well as tea at the Sanctuary Lodge Hotel. Book your ticket
here
.
One step up: the Inca Rail Presidential Class
There is no better way to get to a wonder of the world than to do it in a wonderful ride. The Presidential Class is a refined train with private wagons that hold exclusively private groups of maximum 8 people. During the amazing journey, you can share with your companions an exquisite menu, enjoy a courtesy bottle of champagne, free bar and the best wines of the region. The inside is elegantly decorated and has comfortable seating, large spaces and windows that become beautiful pictures thanks to the incredible mountain scenery, vegetation and Andean sky. Enjoying this journey with your loved ones is an experience you will always cherish.
YOU MAY ALSO LIKE
PERU WILL CONSTRUCT A CABLE CAR SYSTEM IN MACHU PICCHU
PLACES YOU SHOULD VISIT BEFORE MACHU PICCHU
THIS IS HOW MUCH IT WILL COST YOU TO TRAVEL TO MACHU PICCHU
Cover art: Scott Montgomery
Now that you're here:
We're asking you, our reader, to make a contribution in support of our digital guide in order to keep informing, updating and inspiring people to visit Peru. Why now? In our near 20-year journey as the leading English-language source on travel in Peru, we've had our fair share of ups and downs-but nothing quite like the challenges brought forth in the first quarter of 2020.
By adapting to the changing face of the tourism and travel industry (on both local and international levels), we have no doubt we will come out stronger-especially with the support of our community. Because you will travel again, and we will be ready to show you the best of Peru.
Your financial support means we can keep sharing the best of Peru through high-quality stories, videos and insights provided by our dedicated team of contributors and editors based in Peru. And of course, We are here to answer your questions and help whenever you need us.
As well, it makes possible our commitment to support local and small businesses that make your visit an unforgettable one. Your support will help the people working in these industries get back on their feet once the world allows us to make our dream of enjoying everything Peru has to offer a reality again-from its mouthwatering gastronomy, thriving Amazon and archaeological wonders such as Machu Picchu.
Together, we will find a way through this. As a member of our community, your contribution, however big or small, is valuable.
Support Traveling & Living in Peru from as little as $1 - and it only takes a minute. Thank you!