The new Curador promises to become a favorite spot for wine and pisco aficionados in Lima. We stopped by for a visit and guided tasting. Here's what we found.
We quickly learned that there was more to Curador than meets the eye as we walked in. Being both a store and bar, it has many details and features that will draw your attention and spark your curiosity.
We met with sommelier and restaurateur Andres Orellana, one of the co-founders of Curador, whom we met last year, when we visited La Niña.
He guided us through some of their wines and piscos and told us a little bit more about this new proposal.
Let's break it down.
First impressions
It's impossible to talk about Curador without first mentioning the place itself.
It is conviniently located in the heart of Miraflores, making it an ideal place to walk to from your hotel to spend an evening. Also, there are many other bars and restaurants nearby as well, including La Niña, in case you feel like doing some bar hopping later into the night.
The decor makes the most out of the restored Tudor style house, one of the few remaining in Miraflores. The designers leaned into its awkward shaped spaces to turn them into pieces of a cohesive visual experience.
The result is a cozy yet sophisticated design that merges bare industrial and classic bistro style references to create an intimate, even romantic, atmosphere.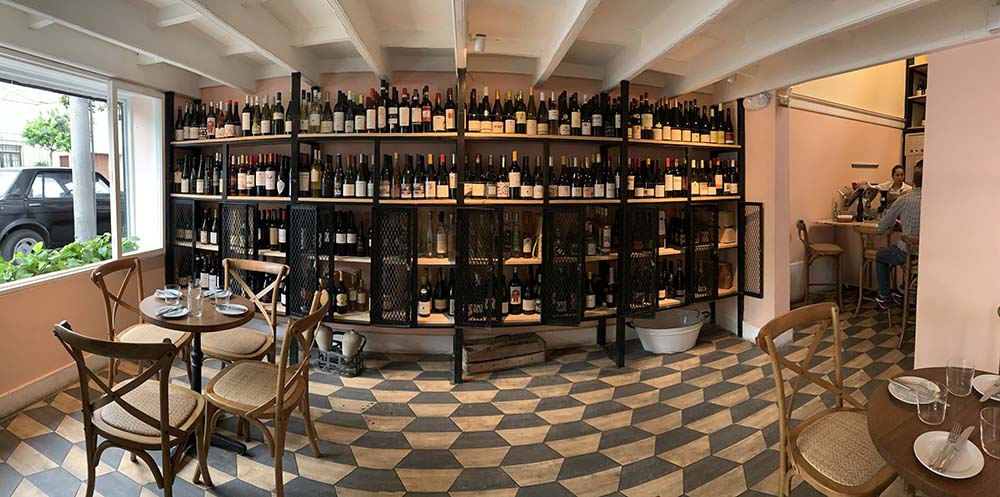 Photo: Livinginperu.com

Photo: Livinginperu.com

Photo: Livinginperu.com

Photo: Maria Alejandra Baraybar

Photo: Livinginperu.com

Photo: Maria Alejandra Baraybar

Photo: Livinginperu.com
A bar and store with private wine tastings and wine-centered events
Curador is both a wine bar and wine store. This means that you can stop by to pick up something special on your way to a dinner or weekend lunch (see opening hours below) or stay to taste their selection of over 120 different wines.
Their stock also includes some Peruvian distilled spirits such as pisco, caña alta, and distilled agave; and gourmet chocolate, coffee, and other things.
Aside from their Peruvian brands, they import products from Argentina, France, Italy, Spain, Chile and Uruguay (although Orellana would like more of the latter).
They are working on an event calendar cenetered around wine and spirits and anyone can request a private wine or pisco tasting experience.
Aside from Andres, the sommelier team includes Juan Carlos Tejada (Dominican Republic), Marcela Garcia de los Rios (Mexico), and Diego Cruz Gates (Peru).
Juan Carlos Tejada, Andres Orellana, and Marcela Garcia de los Rios (Photo: Maria Alejandra Baraybar)

Andres Orellana and Diego Cruz Gates, co-founders of Curador (photo courtesy of Curador)

Andres Orellana (photo courtesy of Curador)
What to expect from your visit to Curador
The sommeliers at Curador will ask about your preferences and suggest different flights (samples of selected wines or piscos) for you and your party based on your likes and budget.
Here's what stood out for us:
Curador is a great place to get a real taste of what Peruvian wine producers are working on
Peruvian wine certainly has a long way to go before it can compete with other Latin American products. However, it is really worth getting to know how it is evolving and what local producers are putting forward.
That was what our first flight was about: a current selection of Peruvian wines (S/ 42).
Curador has 20 different wines from Peru, and the three that we sampled paint a clear picture of what is happening in the local production scene. Instead of trying to follow what other producers do in different regions, Peruvian producers are leaning into what sets them apart. And, in the process, they are discovering new profiles and a unique personality that is worth getting to know.
Here are the wines what we tried:
We started with a 2013 Torrontes by Saint Lizier (S/ 78 per bottle and S/ 18 per glass), from Palpa (Ica).
The first thing to notice is that this is not a young wine. It has the signature Torrontes aroma but a taste that has gracefully aged into something else. We found it earthy, with a flavor that lingers in your mouth.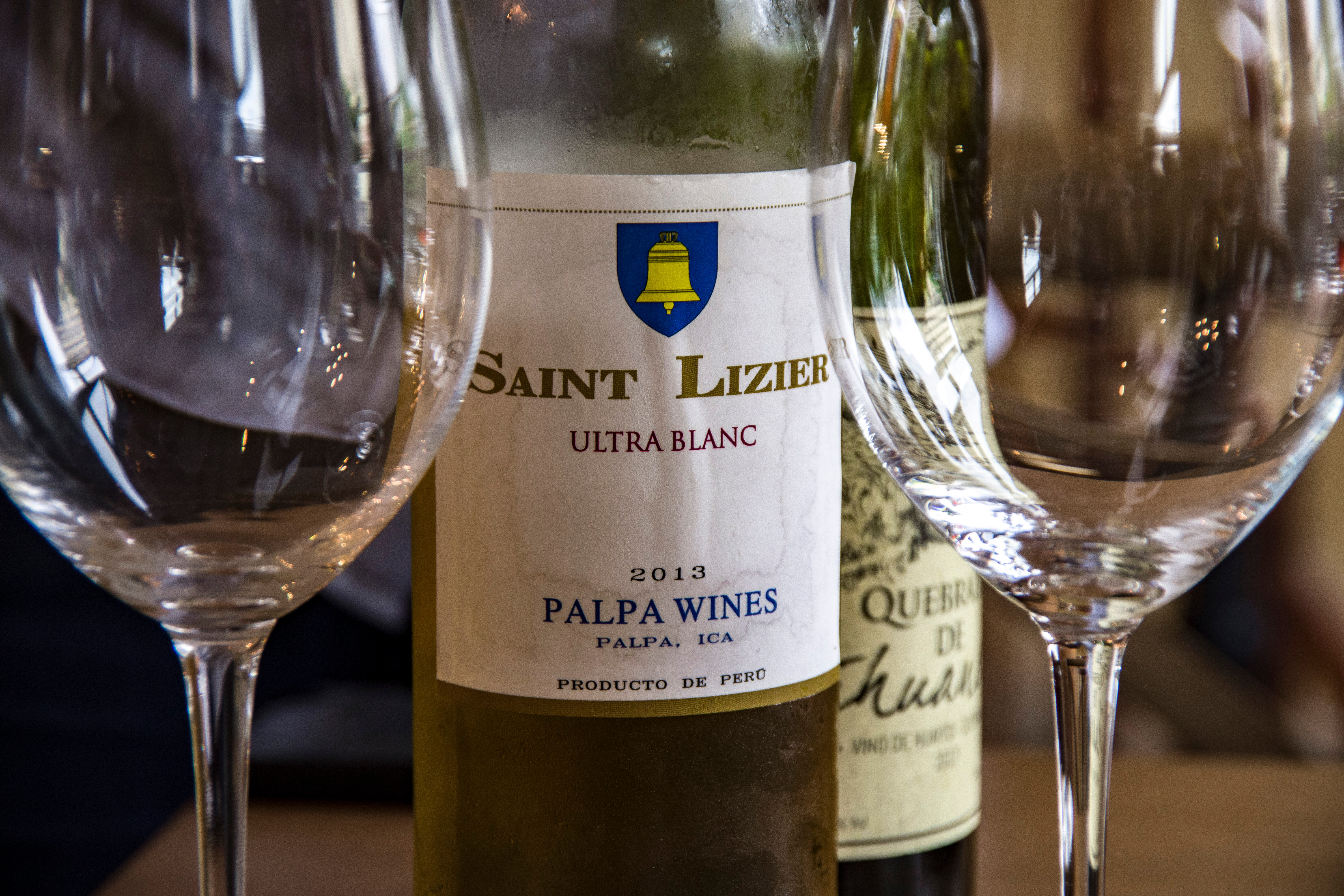 The second one was a 2017 Quebrada de Ihuanco (S/ 95 per bottle S/ 22 per glass).
This was one of the first natural wines that used pisco varietals for wine, which adds a different layer to an already interesting product.
This wine is produced in the highlands of Cerro Azul, Cañete. The hard conditions of the area give this wine a very unique profile, one that according to Andres "speaks loudly of its terroir."
Because it uses pisco grapes (quebranta to be more exact), which have a thinner skin than other varietals, the tannins are less astringent.
The third one was a 2019 Joyas de Murga (S/ 170 per bottle and S/ 40 per glass), which has delicate flavor for a red wine, with notes of strawberry and raspberry. Andres recommends enjoying it in the summer, after letting it chill for a bit.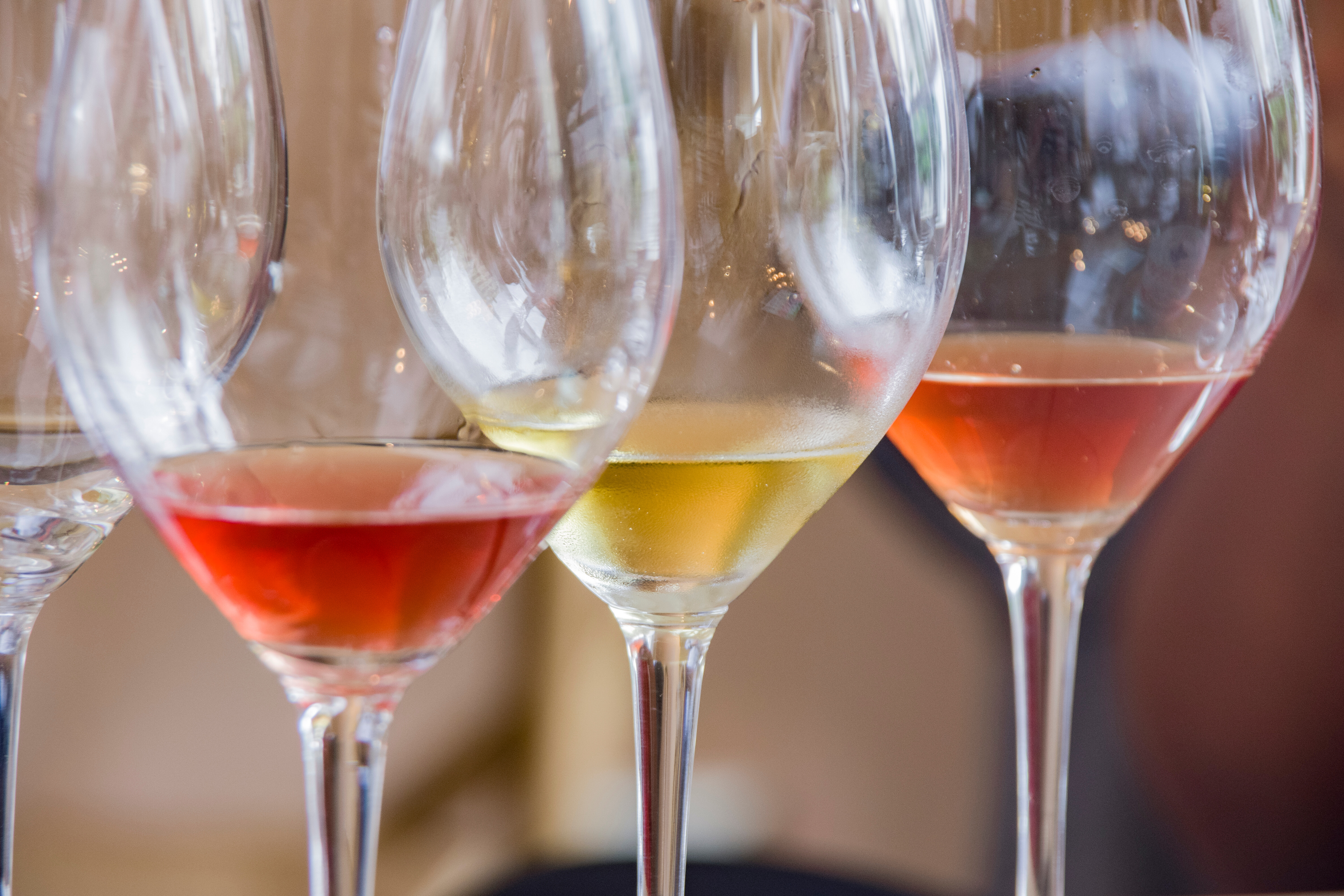 If you are curious about organic and natural wines from Europe and Latin America, Curador also has an interesting selection
Our second flight was the Funky wine selection, which you can get for S/ 50.
Not only are they all natural wines but Pét-Nat at that as well, which stands for Pétillant Naturel.
This means that the wine is bottled before fully completing its first fermentation.
The process allows the natural sugars from the grapes to produce carbon dioxide, giving it a sparkling quality.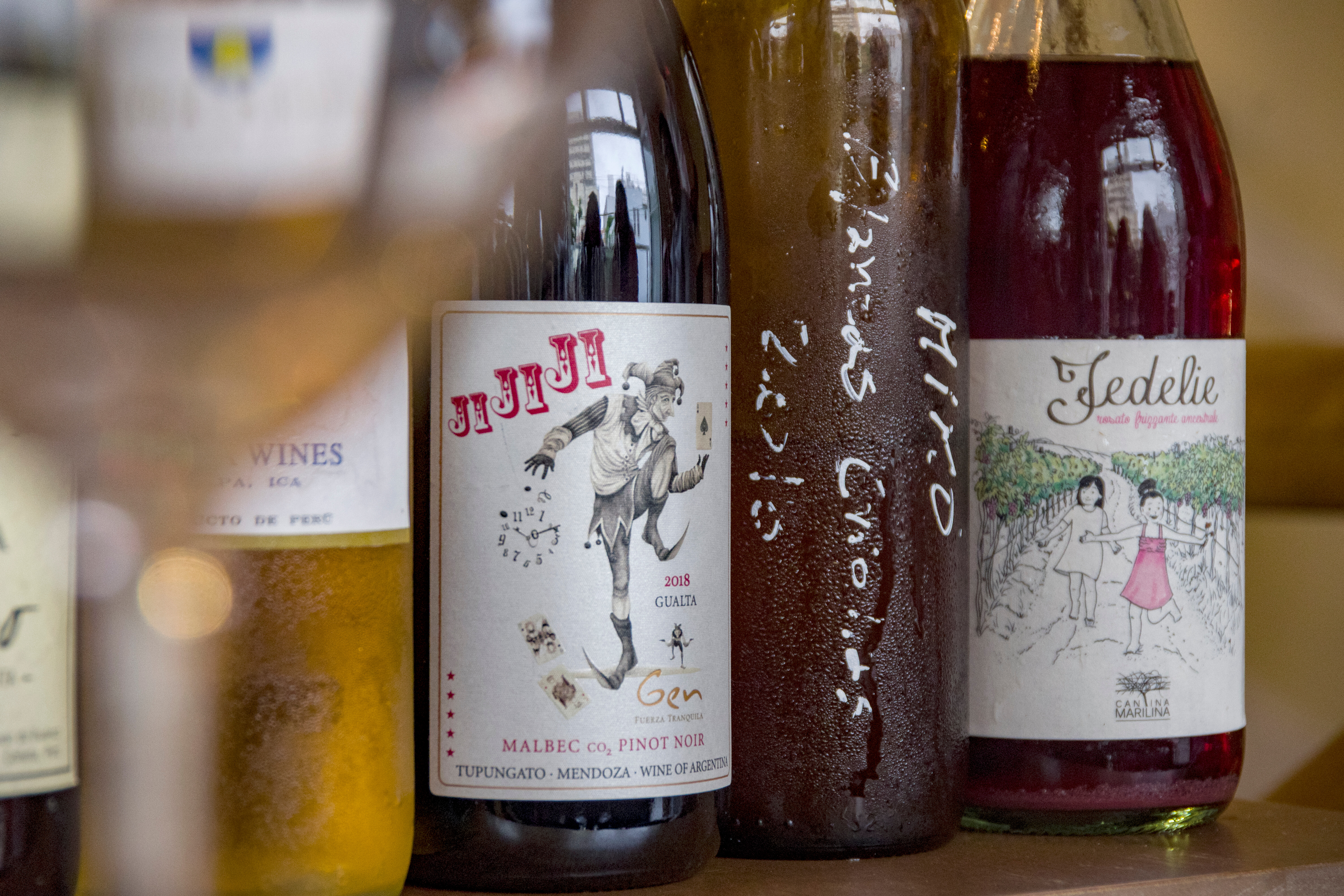 This flight included a Fedelie from Sicily, a rosé Nero D'Avola by Cantina Marilina (S/ 140 per bottle and S/ 35 per glass); a 2018 Mimo Blancas Criollas orange wine (S/ 170 per bottle and S/ 40 per glass), a white wine blend produced as a red wine; and a 2018 Jijiji by Gen Del Alma (S/ 155 per bottle). The interesting thing about Jijiji is that is not really a blend but a co-fermentation of Malbec and Pinot Noir grapes.
Photo: Maria Alejandra Baraybar

Photo: Maria Alejandra Baraybar
Tell your sommelier what you like and let them surprise you with some unique recommendations
After one of our reviewers mentioned her preference for white wine, Andres was kind enough to bring a third flight that included some of their "expressive whites".
We tried a 2015 Joseph Drouhin Chardonnay from France (S/ 128 per bottle and S/ 30 per glass), a 2018 Malbec-Tanat rosé blend by Casa Petrini from Tupungato, Argentina (S/ 95 per bottle and S/ 35 per glass), a Terra Sur Sauvignon Franc (not currently in their menu).
Our last wine was a 2017 Poligonos Zuccardi Cabernet Franc (S/.220 per bottle and S/ 52 per glass).
But that was not all…
If you want to know more about pisco, you will not be disappointed
Regarding their pisco selection, Andres says they have "tried to cover the most interesting things produced in Moquegua, Arequipa, Tacna, and also Ica." With that in mind, he chose some of his favorite piscos for us to try.
If you don't know much about pisco, this is a great place to learn more about it and also to pick something to bring back home for friends and family.
We started with an Don Reynaldo Albilla (S/ 100), followed by a Limited Edition Honores Mosto Verde and Negra Criolla blend, from the valley of Majes in Arequipa.
The last one was a very sophisticated Bellavista Torontel (S/ 200) that had citrus and fruity notes.
You will also find very good (albeit limited) options of food to accompany your flights
We had a chance to try some of their tapas and signature dishes.
Curador has its own bakery, which is always a plus in our book no matter what.
A restaurant with its own bakery? 100% yes!
A pharmacy with its own bakery? Count us in!
An airport with its own bakery? We are onboard!
A stadium with its own bakery? Baguette me there now!
You get the idea…
Anyway, they also have a nice selection of Spanish hams and Peruvian cheese which are great to accompany any of your flights or pisco choices.
Their signature main course is the carrillera con pure de pituca (beef cheek with puréed taro).
We found the meat was very soft and tasty. The gravy was also good but it was more on the tangy side. This made a very good complement for the meat but it also overpowered the more subtle flavor of the puréed taro in the background.
On the sweet side, we tried an apple tart with vanilla icecream that is great to share with someone right before moving on to some pisco tasting or finishing up the night.
Photo: Maria Alejandra Baraybar

Photo: Maria Alejandra Baraybar

Photo: Maria Alejandra Baraybar
Plan your visit to Curador
Address: Calle La Libertad 212 – 220, Miraflores.
Hours:
Tuesday thru Thursday from 4:00 pm to 12:00 pm.
Friday thru Saturday from 12:30m to 1:00 am.
Sundays from 7:00 pm to 11:00 pm.
Contact:
Phone: +516912529
You can find them on Facebook, Instagram.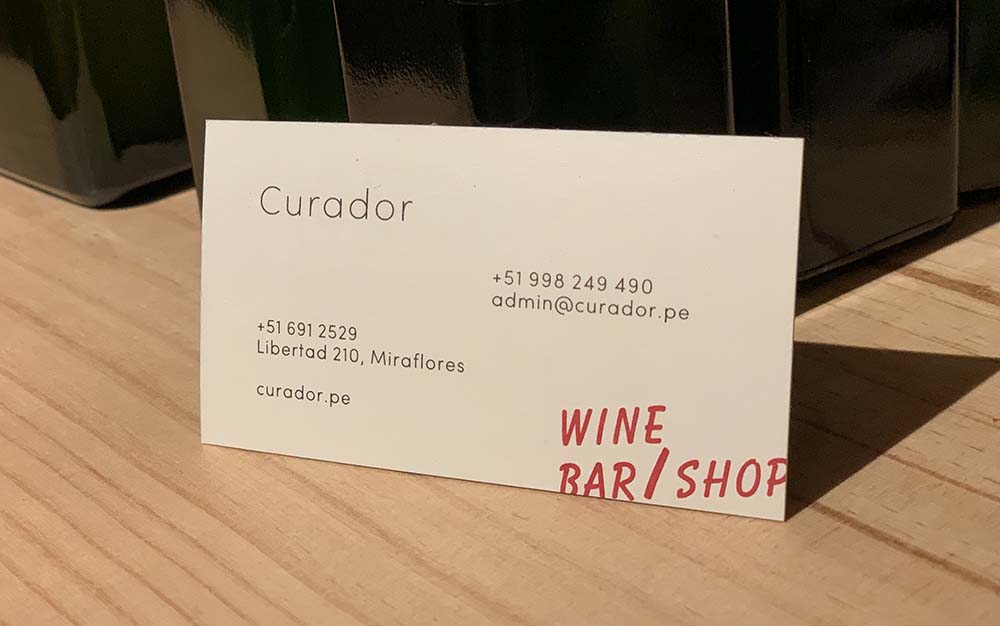 Cover photo: Maria Alejandra Baraybar
Don't Miss:
Mercado 28: Experiencing Peru's First Gastronomic Market
Pisco-pedia: The Essential Pisco Guide
Now that you're here:
We're asking you, our reader, to make a contribution in support of our digital guide in order to keep informing, updating and inspiring people to visit Peru. Why now? In our near 20-year journey as the leading English-language source on travel in Peru, we've had our fair share of ups and downs-but nothing quite like the challenges brought forth in the first quarter of 2020.
By adapting to the changing face of the tourism and travel industry (on both local and international levels), we have no doubt we will come out stronger-especially with the support of our community. Because you will travel again, and we will be ready to show you the best of Peru.
Your financial support means we can keep sharing the best of Peru through high-quality stories, videos and insights provided by our dedicated team of contributors and editors based in Peru. And of course, We are here to answer your questions and help whenever you need us.
As well, it makes possible our commitment to support local and small businesses that make your visit an unforgettable one. Your support will help the people working in these industries get back on their feet once the world allows us to make our dream of enjoying everything Peru has to offer a reality again-from its mouthwatering gastronomy, thriving Amazon and archaeological wonders such as Machu Picchu.
Together, we will find a way through this. As a member of our community, your contribution, however big or small, is valuable.
Support Traveling & Living in Peru from as little as $1 - and it only takes a minute. Thank you!