A new film focuses on the inequities experienced by porters on Peru's Inca Trail to promote industry-wide changes. But first, it need your support.
What I came to see clearly after repeated visits to Machu Picchu and the Inca Trail is this:  There are truths about the trekking tourism industry that have yet to be told widely and to the tourists who visit these world-class landmarks. These truths are held by the porters of Peru's Inca Trail, most of whom belong to the nearby Quechua-speaking communities. Many porter voices will point to one problem – there is a lack of fair and equitable treatment of porters on the Inca Trail.  
I know this is hard to hear as a tourist. I'm one who suffered silently with this notion over the past decade. I came to Peru several times as a tourist during that period of time and, because of my love for trekking, I have taken people to the Inca Trail multiple times through my mountain trekking enterprise, Peak Explorations. When I finally decided to make Peru as my home base, I realized I was now in an ideal position to investigate the inequities that I kept hearing about within Cusco's trekking tourism industry. I then decided to do actual interviews of porters – in Ollantaytambo, Urubamba, Cusco and various mountain villages that surround these cities. I did this work as a volunteer with a few locals who believe that an industry-wide change must come to support the betterment of the lives of the porters.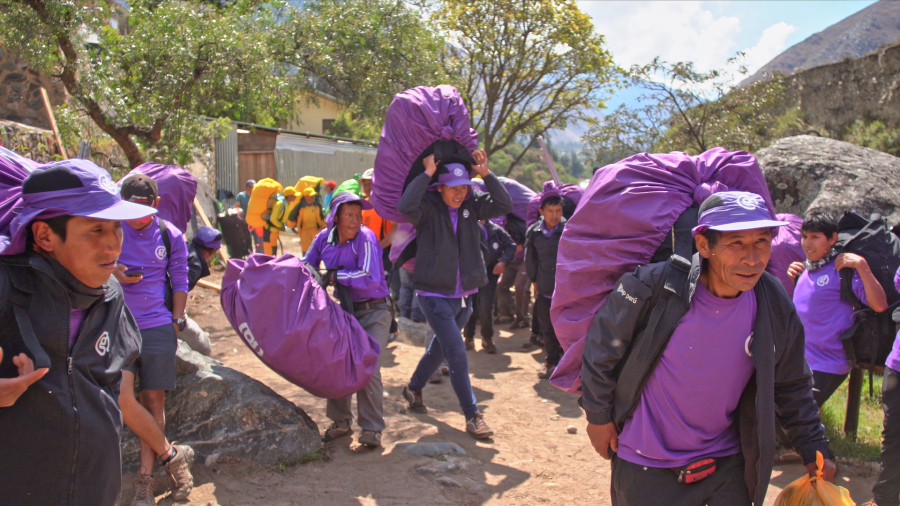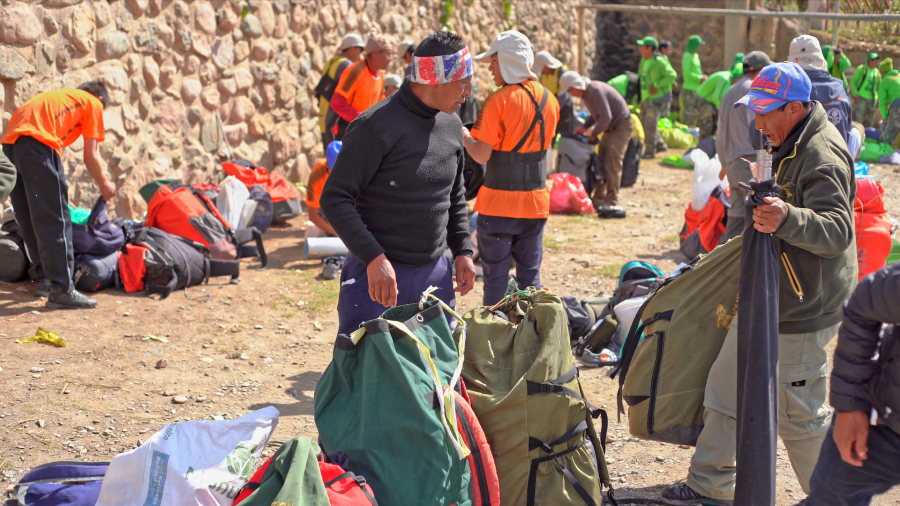 The volunteers and I conducted our research through The Porter Voice Collective (PVC), a global advocacy group that uses storytelling to create change. Launched in July of 2019, PVC aims to advocate for equitable treatment of porters in Peru, Nepal and Tanzania, where most porters are employed to carry the group gear and tourists' luggage. PVC's mission is to listen to, celebrate, amplify and elevate the porter voices in all three regions.
Since then, the Peru-based volunteers and I have unraveled a number of disturbing facts about the working conditions for the porters of the Inca Trail: porters sleeping in the filthy toilets, caves or outside wrapped in plastic bags along the trail; porters eating unhealthy and insufficient food; porters being underpaid or not paid at all; porters forced to wear uniforms to market companies which erases their Quechua heritage and identity; porters carrying more than 25 kilograms; porters who have worked 20 or 30 years and had not received any funds for medical treatment for illnesses or injuries that they sustain as a result of working as a porter for most of their lives; repeated violations of the provisions of the currently existing Porter Laws, and more.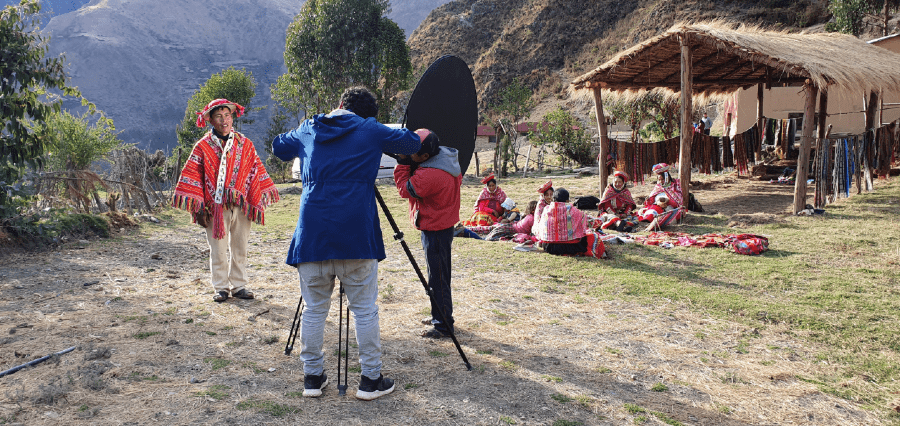 We also discovered that women porters are on the rise – a new phenomenon in the industry that carries with it its own issues in the form of gender discrimination and sexual harassment. The situation is compounded by the precarious situation that the porters find themselves in should they decide to speak their truths. We learned from the porters we have interviewed thus far that local and foreign companies have routinely silenced their voices by way of threats to their livelihood or even safety.
Because we discovered that the gravity of the situation is dire for all porters, PVC has launched a crowdfunding campaign to create the film, "KM 82," which will tell the true stories of porters on the Inca Trail. This film will serve as the platform to inform tourists of the real working conditions for porters on the Inca Trail so they can advocate for a new form of industry called Workforce Equity Tourism. Workforce Equity Tourism is a type of tourism that ensures the fair and equitable treatment of the workforce as part of the broader notion of responsible and equitable tourism.
I hope people in and outside of Peru will rally behind the porters to support a film that is wholly theirs – a film that will speak their truths as they forge ahead towards fighting for their right to have a decent working life.
Cover photo taken by author.
Click here to support the all or nothing campaign for KM 82 (which ends on January 3, 2020).
To learn more about The Porter Voice Collective, you can visit the website here.
Media reference: She Explores podcast
Now that you're here:
We're asking you, our reader, to make a contribution in support of our digital guide in order to keep informing, updating and inspiring people to visit Peru. Why now? In our near 20-year journey as the leading English-language source on travel in Peru, we've had our fair share of ups and downs-but nothing quite like the challenges brought forth in the first quarter of 2020.
By adapting to the changing face of the tourism and travel industry (on both local and international levels), we have no doubt we will come out stronger-especially with the support of our community. Because you will travel again, and we will be ready to show you the best of Peru.
Your financial support means we can keep sharing the best of Peru through high-quality stories, videos and insights provided by our dedicated team of contributors and editors based in Peru. And of course, We are here to answer your questions and help whenever you need us.
As well, it makes possible our commitment to support local and small businesses that make your visit an unforgettable one. Your support will help the people working in these industries get back on their feet once the world allows us to make our dream of enjoying everything Peru has to offer a reality again-from its mouthwatering gastronomy, thriving Amazon and archaeological wonders such as Machu Picchu.
Together, we will find a way through this. As a member of our community, your contribution, however big or small, is valuable.
Support Traveling & Living in Peru from as little as $1 - and it only takes a minute. Thank you!