For over two decades, Kapallaq has been pleasing customers with its varied food options. With seventy- five dishes in their menu, you will surely find something that will please you. Kapallaq is mainly known for its seafood specialties, but over time and after many travels around the world, it has been incorporating new additions such as pastas, meat or even, Hawaiian pokes.
[Best_Wordpress_Gallery id="494" gal_title="El Kapallaq 2018"]
The charismatic owner gives us a tour
Luis Cordero Larrabure, owner and a well-known chef, recognized recently by Congress for his contributions to Peruvian cuisine, greeted us in his new establishment – the third of its kind after the one in Reducto and the memorable one located in Petit Thours Avenue. After a conversation-filled tour of the establishment, given by none other than the restaurant's owner, we were more than ready to indulge ourselves into the flavors of the Peruvian fusion, Mediterranean and Basque specialties offered at Kapallaq. [caption id="attachment_158811" align="alignnone" width="624"]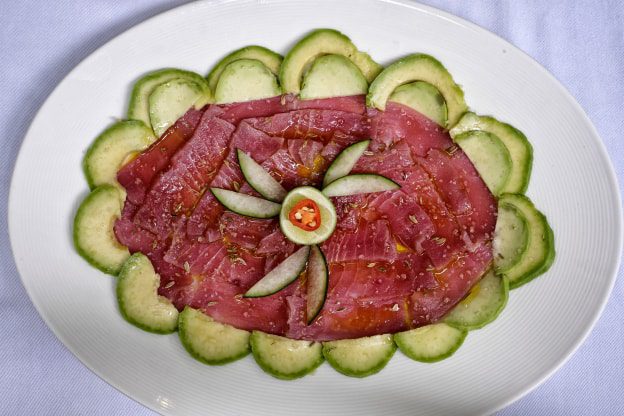 Tuna Carpaccio, fennel and olive oil (Photo: Marco Simola/ Traveling & Living in Peru)
[/caption]
The meal
We started with the
Tuna Carpaccio, fennel and olive oil (s./56)
. This dish consisted of a large tray covered with beautiful intensely red tuna cuts, sliced cucumbers and avocados surrounding the tuna, fennel, Italian olive oil, and thick salt. The tuna was super fresh and enjoyable, and the fennel and wonderful Italian olive oil gave it the necessary touch. We then tried the
Tiradito de Sales (s./52)
, a dish that comes in a large tray with several slices of charella fish, fine olive oil, and thick salt. We noticed the black colored salt from the volcanic island of Hawaii that Luis brings himself and the pink salt from the Andes region. While we appreciated the freshness of the fish, perhaps a little bit less salt would have been better. [caption id="attachment_158812" align="alignnone" width="624"]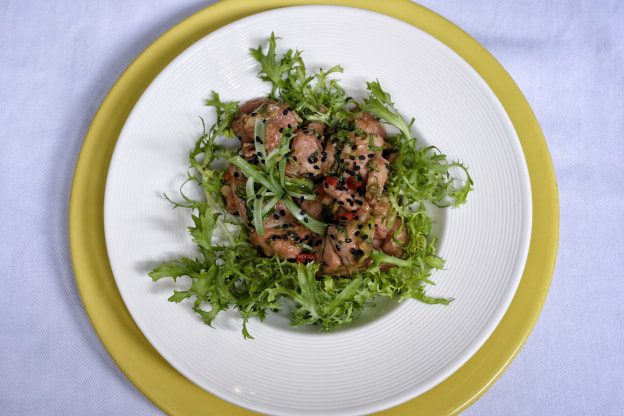 Poke Wok (Photo: Marco Simola/Traveling & Living in Peru)
[/caption] The next dish is close to Luis' heart, he tells us while showing us photos of himself surfing a huge wave in Hawaii. A long-time surfer and a Hawaiian beach lover, Luis has brought to his restaurant the
Poke Wok (s./52)
, a traditional Hawaiian dish. The Poke Wok at Kapallaq consists of fresh big tuna pieces bathed in a splendid oyster sauce, and white rice with black sesame seeds that comes along in a bowl. I found the tuna extremely fresh and savory, and the whole mix, very delicate and full of flavor. I truly enjoyed it and it immediately became my favorite. [caption id="attachment_158814" align="alignnone" width="624"]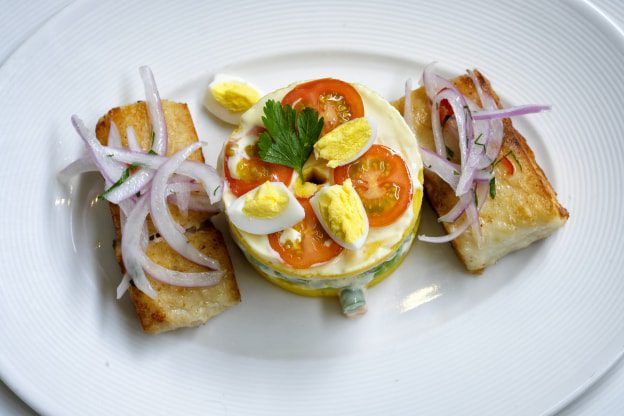 Kapallaq Causa (Photo: Marco Simola/Traveling & Living in Peru)
[/caption] Making sure to try one a traditional Peruvian dish, we made sure to order the
Kapallaq Causa (s./40)
. This potato-based starter is served with vegetables and mayonnaise, and on each side, two pieces of fried grouper. The grouper was so tender and delicious that I left the causa for my colleagues to enjoy. The
Crunchy Octopus Chicharron (s./52)
is a classic amongst Kapallaq customers. It is not common to find deep fried octopus on restaurant menus. The octopus was crunchy on the outside and tender on the inside; my colleagues enjoyed it. We tried one of their stews and had the
Shrimp Limeño Squash Stew (s./80)
. This dish was cooked and served in a big ceramic pot. One could smell the flavors coming out from the pot. For the stew, two types of Peruvian squash were used, paria cheese, and big-sized shrimps. This dish is so big that you can easily share between two or more people. [caption id="attachment_158813" align="alignnone" width="624"]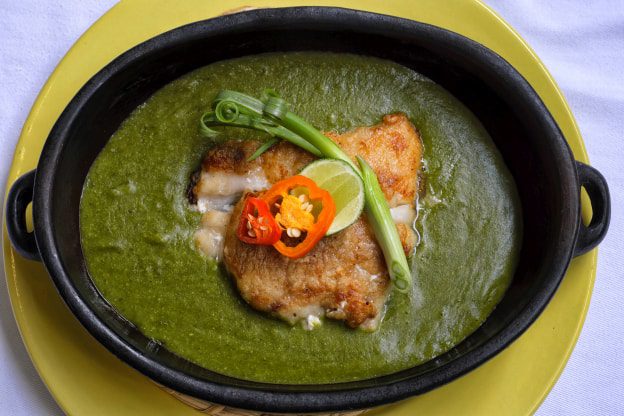 Fish Espesado (Photo: Marco Simola/Traveling & Living in Peru)
[/caption] I am a big cilantro lover and I was told the next dish would have plenty. It was the
Fish Espesado (s./62)
, that consists of a large portion of a wonderful creamy squash stew, green in color, and with fried pieces of grouper on the inside. It is served in a bowl of nicely grained white rice, with corn kernels, and green peas. I loved this dish and did not stop until I saw the bottom of the pot. This dish won a prize in China, Luis told us, and I can totally see why. We passed on to the desserts. Looking at their dessert menu, we found several traditional Peruvian desserts and some Mediterranean classics. We tried two from the list of fourteen, and we were more than pleasantly surprised. All desserts are homemade, we were told. We first had the
Chocolate and Orange Crocante (s./28)
, a bitter chocolate fondant that was to die for. It was creamy and incredibly tasty, and could not avoid having a flashback to my days in Switzerland, where I lived in a small town up in the vineyard region and where people from all parts of the country would stop by to buy to visit the local chocolatier. This dessert is sinful and not to be missed. With Christmas around the corner, a
Christmas Pudding (s./20)
has been added to the menu. This dessert consisted of a loaf of paneton – the traditional northern Italian sweet-bread eaten for Christmas- converted into a delicious pudding with almonds and raisins, slightly bathed in rum, and topped with maraschinos. Although not a huge fan of paneton, I enjoyed this dessert immensely as it had the right texture, quite nice flavors, and it was not overly sweet, but just perfect. [caption id="attachment_158815" align="alignnone" width="624"]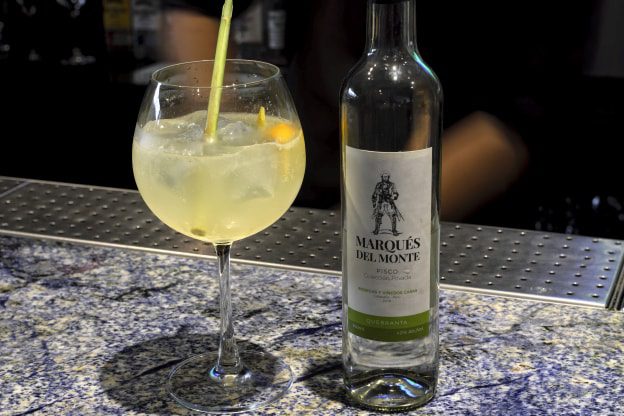 Ginger Chilcano (Photo: Marco Simola/Traveling & Living in Peru)
[/caption] The three drinks we had –the
Ginger Chilcano (s./25)
, the
Lime Chilcano (s./28)
and the
Gin Tonic
(s./30)
were all pleasant and enjoyable, although the team's favorite was the Ginger Chilcano with the aromas of the ginger coming out deliciously strongly. Interesting to note is that Kapallaq has a three-course menu for $ 23, targeting mainly tourists that may want to learn how to prepare pisco sours and cebiche, and enjoy the menu. Kapallaq lies in the high-end of pricey restaurants, but the portions are generous and the fish is fresh. And don't be surprised to watch the chef going from table to table to make sure his customers are having a good time.
El Kapallaq
Av. 2 de Mayo 784 San Isidro, Tel. 517 99 32
[email protected]
www.elkapallaq.pe
Opening hours – Monday to Sunday 12.30 – 5 pm, evenings open for private events Parking – yes Menu Starters – s./ 40 – 62 Salads – s./ 35 – 52 Soups – s./ 57 – 75 Rice-based dishes – s./ 52 – 80 Stews – s./ 59 – 80 Pastas – s./ 45 -72 Meat – s./ 65 – 75 Desserts – s./20 -30