From the same mind behind El Pan de la Chola, a new trendy cafe joins the scene in San Isidro.
Last Wednesday, we visited La Chola Dasso. This very trendy cafe in San Isidro, on Calle Miguel Dasso, is Jonathan Day's new project. After the success of El Pan de la Chola, Jonathan felt he wanted to do something different to offer a bit more room and more variety to the customers.
And that is how his new cafe was born, describing it as if it was his new baby. Jonathan is very happy with the success his new venture has seen in its one year of life. When asked the difference between La Chola Dasso and El Pan de la Chola, he says, despite being siblings and supporting each other a lot, there are many differences—more dishes, different bread, more beer, and wine.
In the center of the CBD in San Isidro, but away from the busy banks and offices, La Chola Dasso offers you healthy and yummy dishes where the produce speaks for itself, offering you a very unique experience.
I have to say, you can easily forget you are in Lima. The industrial decoration, with its open kitchen and big ceilings, marries perfectly with the kind of food and craft beer La Chola Dasso offers you. It's a place that caters to all kinds of tastes and colors, as Jonathan says.
The Food
We started the lunch with something very non-traditional. It was more of a breakfast item, aptly named Porridge (S/.18). You will be surprised at how delicious a simple dish like porridge can taste, but its mixture of oats and barley flakes, cashews, granola, and coconut milk, topped off with some pears, black sesame seeds, and olive oil blew our minds. You won't be disappointed with this dish. Our photographer actually suggested Jonathan put it in a jar and sell it take away!!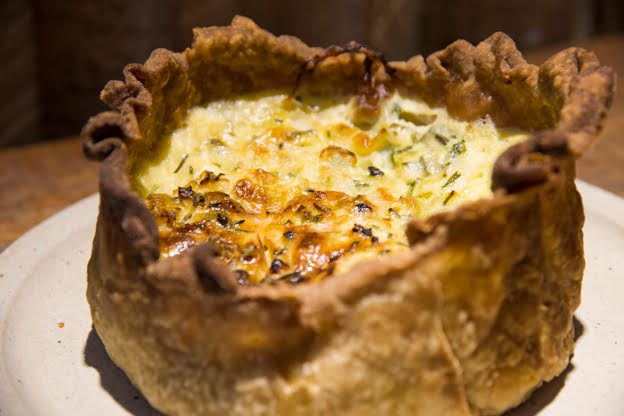 After that amazing start, we had El Quiche de la Casa (S/.12), which is the house quiche, made from leak, herbs and a beautiful cheese from Tacna (a southern Peruvian city near the border with Chile). The pastry was soft and the flavors worked nicely together—a great snack!!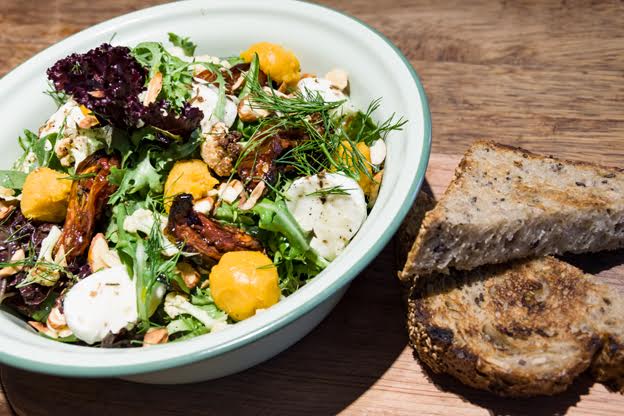 We followed the quiche with the Salad of the Day (S/.25), which I have to say was delicious. On the day we ordered it, it was a variety of lettuce, rocket, chickpeas, almond flakes, toasted cauliflower, bocconcini, all served with a dressing made of toasted sesame and tahini. The salad was accompanied by two slices of artisan bread. It was surprisingly tasty. The flavors played well together, the texture of all the ingredients was music, and the bread made it feel like a complete meal. I am a salad person so I am probably biased, but if you want to have a healthy, filling meal, I don't believe you will be disappointed or feel hungry after finishing one of La Chola Dasso's salads. This is the only gluten-free dish the restaurant has on offer.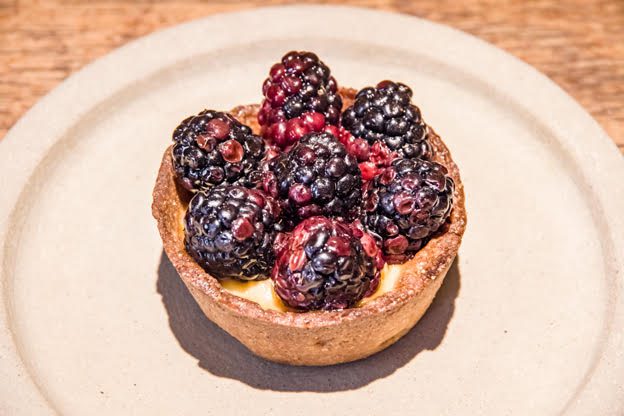 To end the lunch, we had two different sweet options. The first was a Tartaleta de Zarzamora (S/.10) and a blackberry tart filled with custard cream and topped with fresh blackberries and freshly made pastry. It was very enjoyable.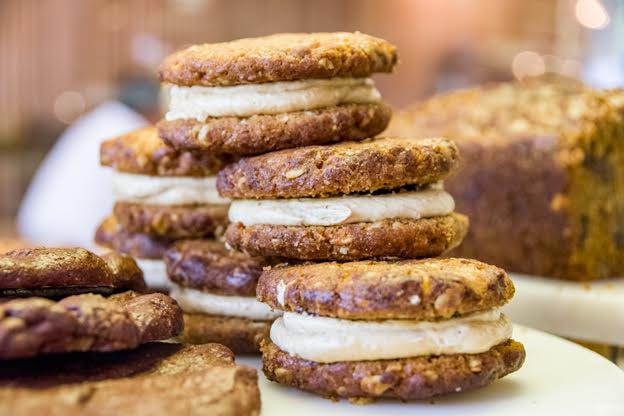 The second option was the Galleton de Mantequilla de Mani (S/.9), basically a peanut butter cookie. If you love peanut butter, you will love this. The dough is made with oats and peanuts while the middle is a combination of peanut butter cream and a layer of blueberry jam—delicious. It was something new and different. I would really recommend you to try it.
The Drinks
We had the House Lemonade (S/.9), which had a refreshing hint of mint.
We finished the afternoon with a flight of craft beer. I have to admit that beer is not my alcoholic beverage of choice, but I did enjoy the Degustation Board (S/.24). It consisted of 8 small tasting glasses, each filled with one of the artisan beers La Chola Dasso has on its menu, all of which come from Cusco's La Cerveceria del Valle Sagrado, a beer company that specializes in artisan beer. As they only sell their beer in 50-liter barrels, this Cusco brewery's beer is usually only available at exclusive cafes and restaurants.
On the tasting board, you will find the following beers:

Blueberry Sour Wheat Beer (very mild, I liked this one very much)

Doña Elsa Wheat Beer (another one I greatly enjoyed)

Roja con Ayrampo (an Andean fruit)

La Chacra de mi Padre Farmhouse Ale

Be Kind Pale Ale

Porter del Valle

Buho Negro IPA

Doble IPA del Valle (very strong, like drinking spirits)

Overall, I found the cafe to be a place where you can find healthy, innovative food that also showcases the fresh quality of the produce without compromising in flavor. La Chola Dasso is a place that will satisfy either a family gathering or a business meeting. It's also where you could find a DJ on a Saturday night and a chef, like Diego Muñoz, doing a pop-up the next morning. I was very impressed with what Jonathan Day is achieving with this new project.
The Menu and Prices

Coffees, Teas, and Herbal Teas: S/.7-9 soles
Craft Beer: S/.8-24 soles
Juices and Lemonades:S/.9-15 soles
Breakfast: S/.15-18 soles
Savory Dishes: S/.12-28 soles
Sandwiches and Toast: S/.8-22 soles
Sweets: S/.7-12 soles
La Chola Dasso
Miguel Dasso 113, San Isidro
Hours: 7:00a.m. to 11:00p.m., every day

Comments
comments