A sixty-year-old deli turned seafood restaurant La Preferida may have been better off sticking to their deli fare.
The 1st thing that surprised me about La Preferida in Miraflores was that it had a whole back room with tables apart from the seafood/deli sandwich bar you find in the entrance. The 2nd thing that surprised me is how fast, and how full, it eventually got. This surprised me mainly because, to say the least, I was disappointed.
When I arrived I was greeted by the son of the original owner, Duyo Maric. He was a very kind man, treated everyone that arrived as an old friend, & sometimes they even were! The restaurant has been open for nearly 6 decades & has developed strong bonds over time with their clientele. The restaurant was originally a deli/bodega where they would sell sandwiches and later developed into a seafood restaurant.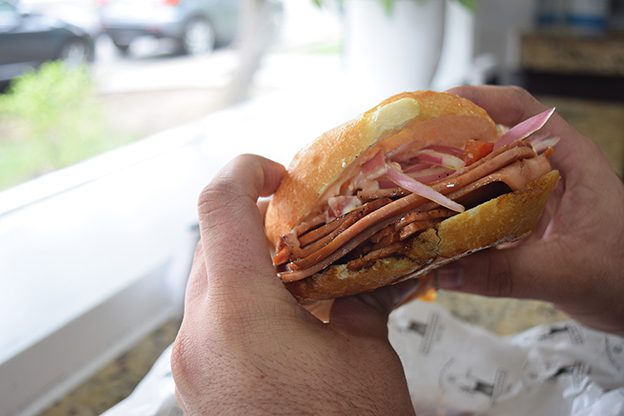 Turkey Sandwich (Photo: Joseph Diaz Romero) 
Now, about the food. The good news is their deli sandwiches are "good". I haven't tried all of them but their original glazed ham recipe is delicious, but it's hard to go wrong with a homemade ham slathered in sugar & spices. The turkey they took slices off of was nearly completely burnt and the silverside (pejerrey) sandwiches weren't fresh, like most of the seafood here.
It's nearly sacrilegious to not keep your seafood fresh if you're a seafood restaurant.
It makes everything else have an overtly unpleasing fishy taste. In the seafood bar, apart from not being fresh, everything was covered in so much mayonnaise that not only did it not have flavor but it saturated your mouth with a thick layer of lipids. I tried their vegan mushroom ceviche option. It was just mushrooms in lime juice, void of flavor. We stuck mainly to cold food since it was the best way to determine if all the seafood was fresh or not. The tuna tiradito acevichado was again, stinky tuna with more mayonnaise than you asked for lacking any flavor besides lime & vegetable oil.
Along the walls, you can see that they won the "Best Causa" award from the 2009 Mistura Peruvian food event. We tried their crab causa. It was over 70% avocado, under 10% crab (which was about 5% crab 5% golf sauce) and 20% potato.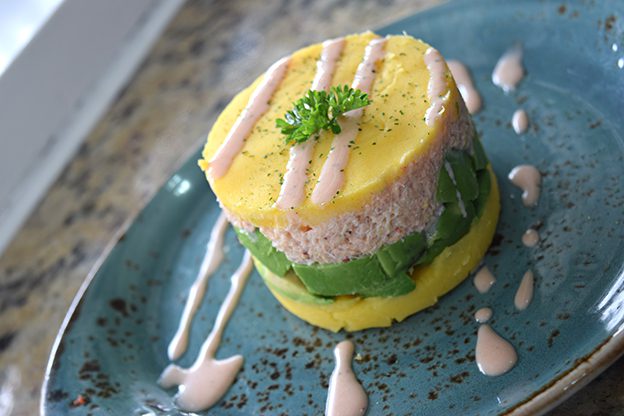 Crab Causa (Photo: Joesph Diaz Romero)
Not only is the food less than impressive, but the price is outrageous. The crab causa costs s/. 24. You could find one during the weekend at the Festival de Madres Surquillanas (every weekend at the 1st Surquillo Market) that is 5x better and it costs s/. 10, and they overload theirs with mayonnaise too but it doesn't JUST taste like mayonnaise. Albeit I didn't try their hot food, I did get a whiff of things coming out of the kitchen though. A few of their tacu-tacu's were burnt, though anything they stir-fried seemed interesting and exploding with steam.
All in all, I don't recommend this place.
The food isn't great, it's expensive for what it's worth, the atmosphere is welcoming but that's not why I go to a restaurant. There are plenty of seafood restaurants in Lima that are mouth watering, traditional, and innovative. This just isn't one of those places. There are a lot of people who go though, maybe it's because of client fealty, or maybe they know something I don't.
La Preferida
Calle Julián Arias Araguez 698, Miraflores
Hours
Monday to Sunday  8:00 a.m. a 5:00 p.m.
Comments
comments