With an updated menu (including raclette, for cheese lovers) and outdoor patio, Las Bolena continues to be an elegant and ideal spot for brunch or tea with pastries.
The first time the team of Traveling and Living in Peru stepped inside Las Bolena TeaRoom & Restaurant was in March of 2016 (a month after they opened). Since that time, I have been a somewhat regular customer here. I also met one of my best friends at Las Bolena several years ago, so I also have sentimental feelings when I dine here.
Shakshuka/Maria Alejandra Baraybar

Festive macarons/Maria Alejandra Baraybar
Fast forward well over three years and the food at Las Bolena continues to be delicious and the prices are still moderately reasonable. Though the menu has been updated and revised, you can still enjoy their late afternoon tea time as well as lunch and dinner. Now Las Bolena has a varied weekend breakfast and brunch menu which is continuing to grow in popularity.
Brief History
Details/Maria Alejandra Baraybar

Exterior/Maria Alejandra Baraybar
The name of the restaurant is inspired by the extravagance and grandeur of the 16th century sisters and aristocrats, Anne and Mary Boleyn. The owners of Las Bolena are the sibling duo, Alvaro Cornejo and Ana Lucia Cornejo. Ana Lucia previously studied hotel and tourism and gained several years of work experience in Europe. Alvaro is the executive chef at Las Bolena and is a graduate of the Cordon Bleu in Lima. He has worked in several other Lima restaurants as well as the Ritz Carlton in Naples, Florida. Alvaro is also a partner and general manager of the newly opened, Porcus, in Miraflores.
Decor and Premises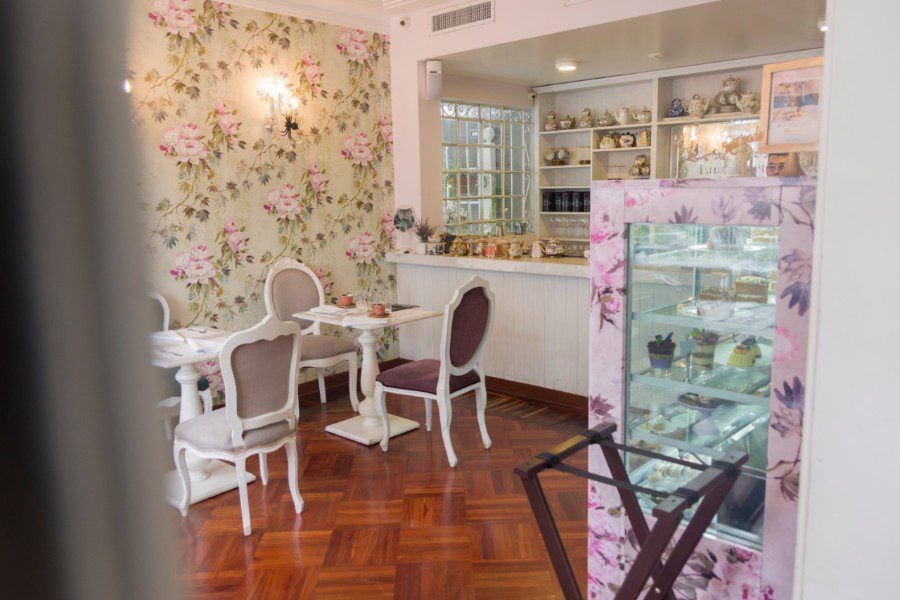 Las Bolena is situated in a restored home and the entire premises are elegant both inside and outside. The original main dining areas on the first floor are distinctly different. The one dining room is abundant with gorgeous floral wallpaper, crystal chandeliers, and a view of the gardens. Many people refer to this room as the "girly" area because of its popularity among mothers and daughters, women enjoying tea and baby showers.
The other room is more sober and refined in decor. There is now another elegant dining area available on the second floor as well, which is ideal for private groups. The charming and spacious outdoor terrace and patio area has recently been revamped and now has intimate and comfortable seating for up to 35 people. As always, this area is dog-friendly.
Cocktails and Beverages
Tea Tonic/Maria Alejandra Baraybar

Bramble/Maria Alejandra Baraybar
We began with a light refreshing cocktail named Bramble, a concoction of Citadelle Gin from France, raspberry liqueur, and lime. Besides this cocktail, Las Bolena offers both classic and house cocktails (a few prepared with tea), as well as an array of gin and tonics, wines, spritzes, and beer. Refreshing non-alcoholic beverages are also available. One of my favorite cocktails prepared at Las Bolena is the Tea Tonic prepared with Bombay Sapphire Gin, tonic, and Grandma's Garden Tea (a fruit infusion of strawberry, blackberry, raspberry, raisin, apple and flowers).
Teas remain a big part of the success at Las Bolena and they continue to offer at least 30 varieties of teas (flavored green teas, black teas, fruit and herbal infusions). All of their teas are available hot or iced. Part of the charm and glamour of Las Bolena is receiving your tea in one of their many antique teapots and china sets. Daily tea is served from 4pm-7pm and can be enjoyed with their special tea time menu.
Food
There are approximately 24 brunch options available, ranging from sweet to savory.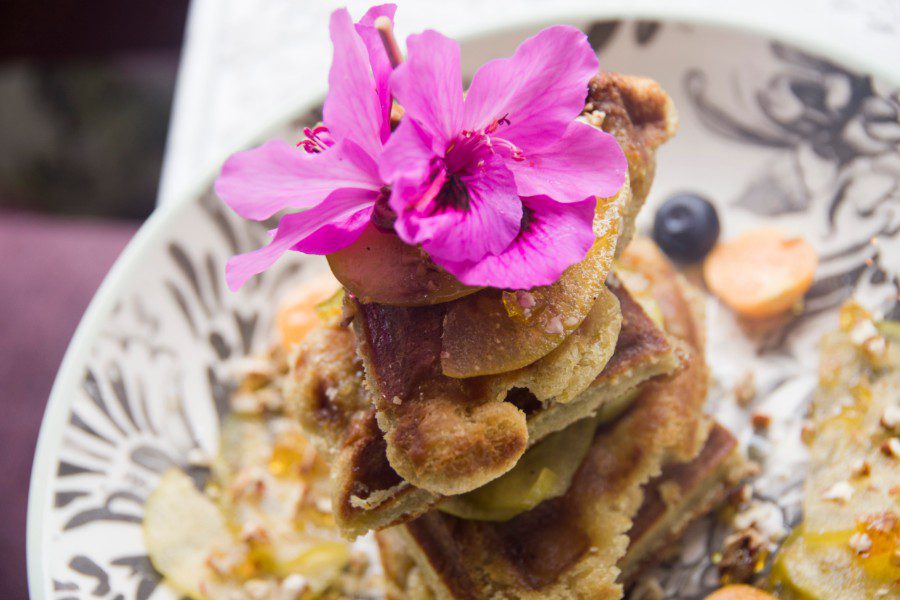 We began with the sweet options. The Waffle Belga (S/ 20) is very impressive with its stacked layers of waffles (four), interspersed with thin apple slices that have been sautéed in cinnamon, sugar and butter. There are three waffle options as well as four pancake selections available.
There are two french toast options available.The Tostadas Francesas Clásica (S/ 19) is an absolute delight! Two thick slices of brioche bread (made on the premises) bathed in a delicious egg batter are fried until slightly crispy and perfectly cooked. The warm French toast is then served with a light dusting of powdered sugar, maple syrup, sliced seasonal fruit, berries, whipped cream stars, mint and a beautiful flower. This is one of the best versions of French toast I've had in Lima. Spectacular simplicity.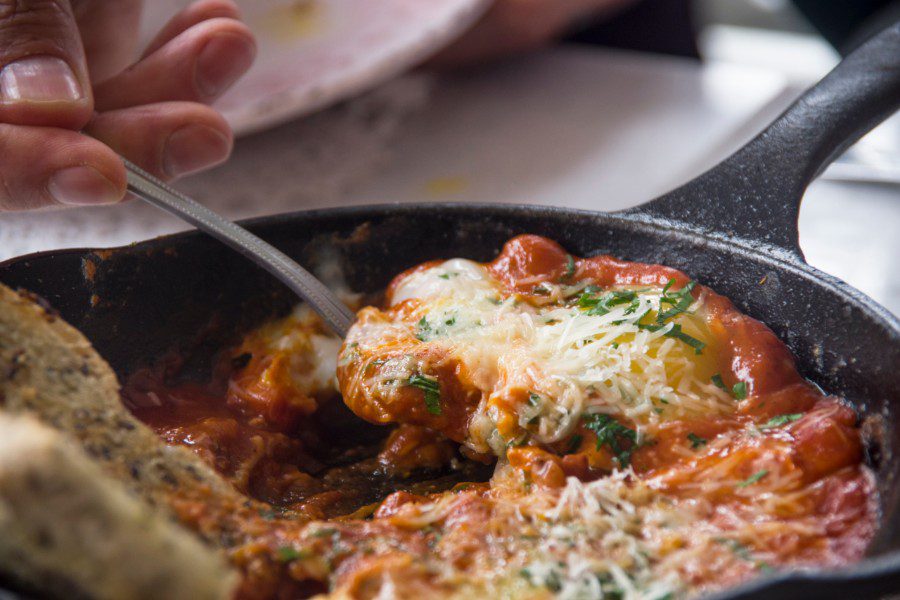 The Shakshuka (S/ 22) at Las Bolena is highly satisfying. This is a wonderful version of the popular North African dish. A cast iron pan of two eggs poached in a robust and aromatic tomato sauce prepared with cumin, peppers, garlic, olive oil, bold Calabrese pork sausage, herbs, and spices and accompanied by house-made rustic toasts. The sauce is so good that you may want to request extra toasts for dipping.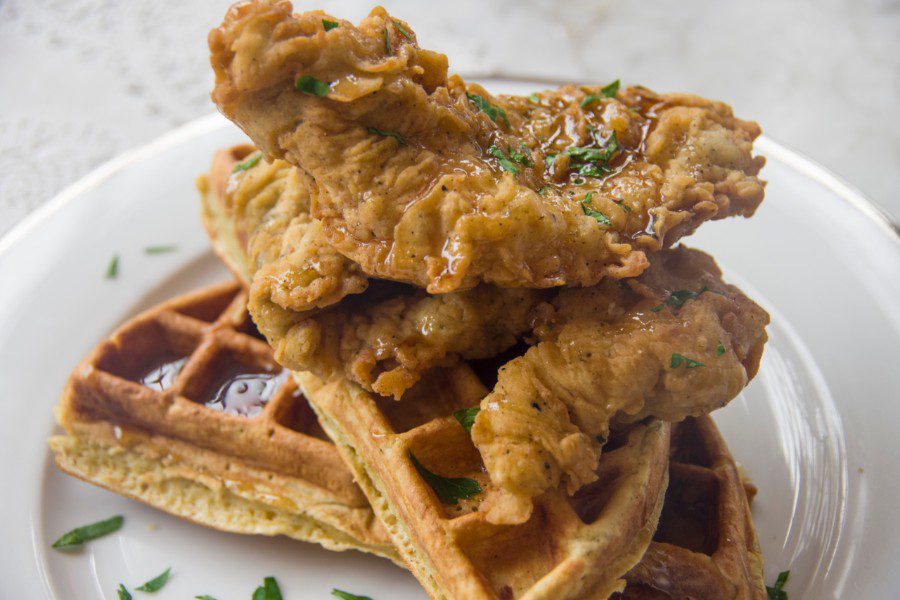 I was eager to sample the Waffle de Pollo Crocante (S/ 23). It was simply amazing! Two crisp waffles topped off with a generous portion of fried chicken breast which proved to be crunchy on the outside and moist inside. The batter contains flour, cumin, paprika, garlic, salt, and oregano. This dish is served with maple syrup. I enjoy savory and sweet combination dishes and this totally met all of my expectations.
Speaking of brunch, a few of my other personal favorites for brunch options at Las Bolena would also be their Croque Madame: a grilled ham and cheese sandwich served with white country bread, topped off with grated cheese, a white sauce and a fried egg. Their Huevos Benedicto are always a hit as well. Las Bolena also offers Bottomless Mimosas (S/ 65) on their brunch menu.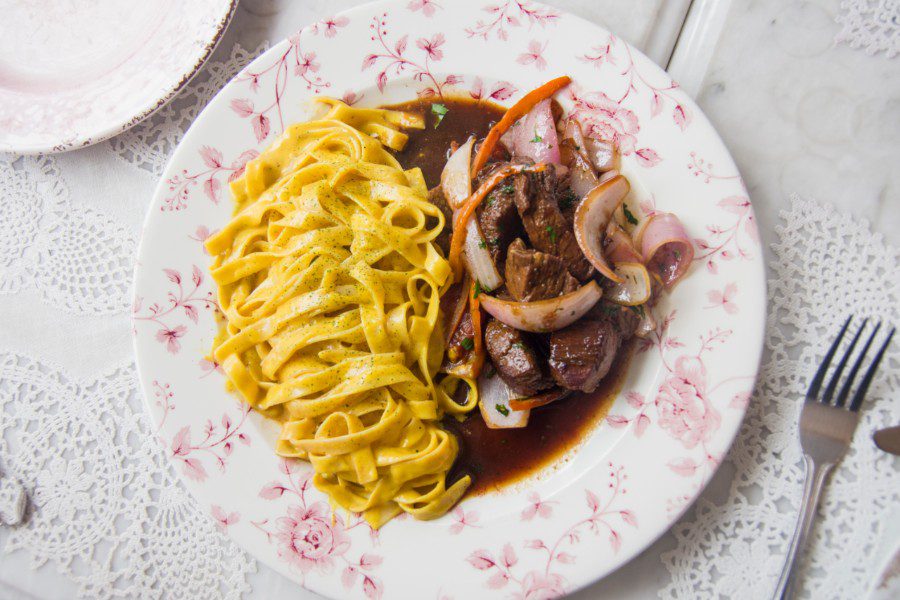 Occasionally the menu at Las Bolena changes slightly to add new items and move out dishes that might not be as popular. One of the new additions is the Tagliatelle Huancaino con Lomo al Jugo (S/ 41). This is a very satisfying alternative version of lomo saltado. Juicy pieces of beef tenderloin are sautéed with sliced onions and tomatoes and served alongside tagliatelle (long, flat egg pasta ribbons, similar to fettuccine) with the popular Peruvian yellow pepper (huancaina) sauce. Tagliatelle pasta is often used with beef dishes and ideal for this dish since the creamy sauce clings perfectly to this pasta. Be sure to let them know how you want your beef cooked. This is one of Las Bolena's more popular main dishes.
A newer option at Las Bolena that I highly recommend is the decadent, Raclette. This Swiss dish involves 200 grams of a semi-hard cheese (Gouda) which is slightly heated and melted then, using a special knife, scraped by the waitstaff over the cast iron skillet filled with slices of beef tenderloin, roasted potatoes, sautéed mushrooms and grilled asparagus. I shared (rather, devoured) this with a friend in August at Las Bolena. If you are a cheese fanatic, do not miss this dish!
Last but not least: Desserts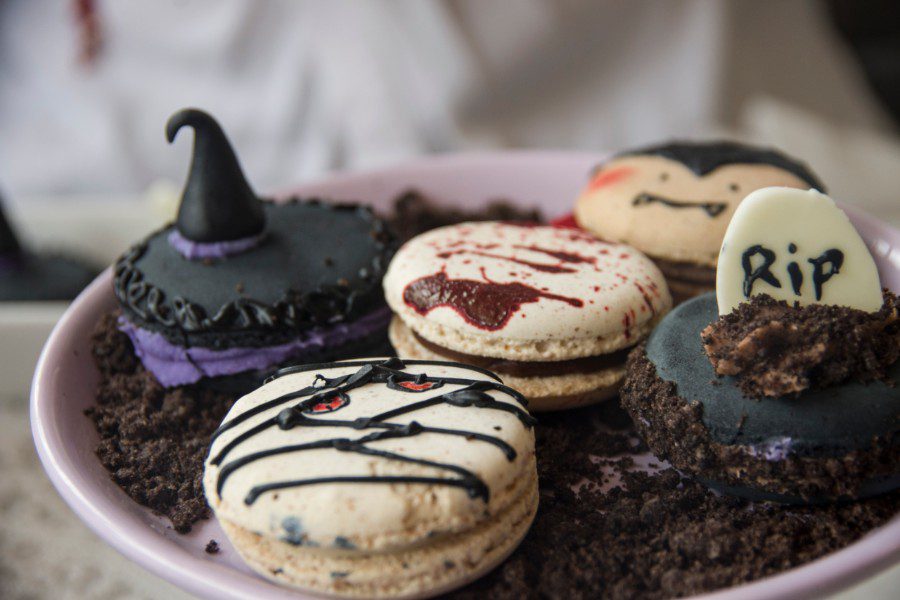 There are over 15 desserts available at Las Bolena to enjoy. A few of my personal favorites are the Montblanc (S/ 23), a slightly crisp type of biscuit filled with Kirsch liqueur, a light foamy custard (sabayon) and Italian meringue. Their macarons (S/ 4), round French meringue-based confections made with egg whites, almond flour with a variety of different fillings, are wonderful as well. The scones (S/ 4) are delicious and authentic in flavor and go perfectly with tea. For a variety, you can order the Gourmand (S/ 29), which includes three desserts of your choice along with tea or coffee.
With the Lima weather continuing to warm up, I foresee a brunch on Las Bolenas's outdoor patio along with my dog in tow in the near future.
Las Bolena TeaRoom & Restaurant
Av. Reducto 1290, Miraflores
Phone: 683-2493
Reservations accepted
Seating capacity: approximately 55 inside and 35 outside
Private areas/reservations available: [email protected]
Hours:
Monday–Friday, 12pm-10:30pm; Saturday: 9am-10:30pm; Sunday: 9am-9pm.
Brunch Menu (available weekends and some holidays)
Brunch items/dishes: S/ 4-33
Coffee: S/ 7-10
Non-alcoholic beverages: S/ 12-16
Beverages with alcohol: S/ 18-25
Bottomless Mimosas: S/ 65 (for 2 hours)
Regular Menu:
Starters: S/ 15-28
Sandwiches: S/ 18-27
Salads: S/ 25-28
Main dishes (beef, chicken, fish, pasta): S/ 15-48
Raclette: S/ 68 per person
Desserts: S/ 4-29
Pancakes/Waffles/French Toast: S/ 17-25
Non-alcoholic beverages: S/ 6-16
Piqueos/Bar Menu: S/ 16-28
Beer: S/ 16
Cocktails: S/ 21-29
Gin & Tonics: S/ 28-36
Wine & Sparkling Wine: S/ 22-24 (per glass)
S/ 98-156 (bottle)
Teas: S/ 12-14 (per teapot, 30 varieties)
Tea Menu (from 4pm-7pm. daily):
Royal Tea: S/ 82 (includes 6 mini sandwiches, 4 scones, 6 mini desserts, 1 pot of tea)
Grand Royal Tea: S/ 99 (same as Royal Tea + 2 glasses sparkling wine)
Cover photo: Maria Alejandra Baraybar
Now that you're here:
We're asking you, our reader, to make a contribution in support of our digital guide in order to keep informing, updating and inspiring people to visit Peru. Why now? In our near 20-year journey as the leading English-language source on travel in Peru, we've had our fair share of ups and downs-but nothing quite like the challenges brought forth in the first quarter of 2020.
By adapting to the changing face of the tourism and travel industry (on both local and international levels), we have no doubt we will come out stronger-especially with the support of our community. Because you will travel again, and we will be ready to show you the best of Peru.
Your financial support means we can keep sharing the best of Peru through high-quality stories, videos and insights provided by our dedicated team of contributors and editors based in Peru. And of course, We are here to answer your questions and help whenever you need us.
As well, it makes possible our commitment to support local and small businesses that make your visit an unforgettable one. Your support will help the people working in these industries get back on their feet once the world allows us to make our dream of enjoying everything Peru has to offer a reality again-from its mouthwatering gastronomy, thriving Amazon and archaeological wonders such as Machu Picchu.
Together, we will find a way through this. As a member of our community, your contribution, however big or small, is valuable.
Support Traveling & Living in Peru from as little as $1 - and it only takes a minute. Thank you!