It had been a while since my last visit to Lima 27, a posh restaurant run by the well-known Chef Carlos Testino. The arrival of their new winter menu was a great excuse to explore the novelties chef Testino and his team had to offer.
Aperol Twist

Bar

Coco and Lime Cheesecake

Details

Entrance

Four cuts Lomo Saltado

Golden Mule

Interior seating

Socarrat

Interior seating

Pisco Sour

Exterior seating

Ravioli XXL

Corpse Revival 2.1

Raw salmon with sour cream & black balsamic pearls
The décor
Lima 27 is a modern and sober restaurant offering Peruvian and international contemporary food. White, red, and black are the colors that largely predominate across the white table-cloth salons. At the back, an open terrace with a bar offers customers a relaxed ambiance that is perfect for lunch, dinner, or evening drinks.

The food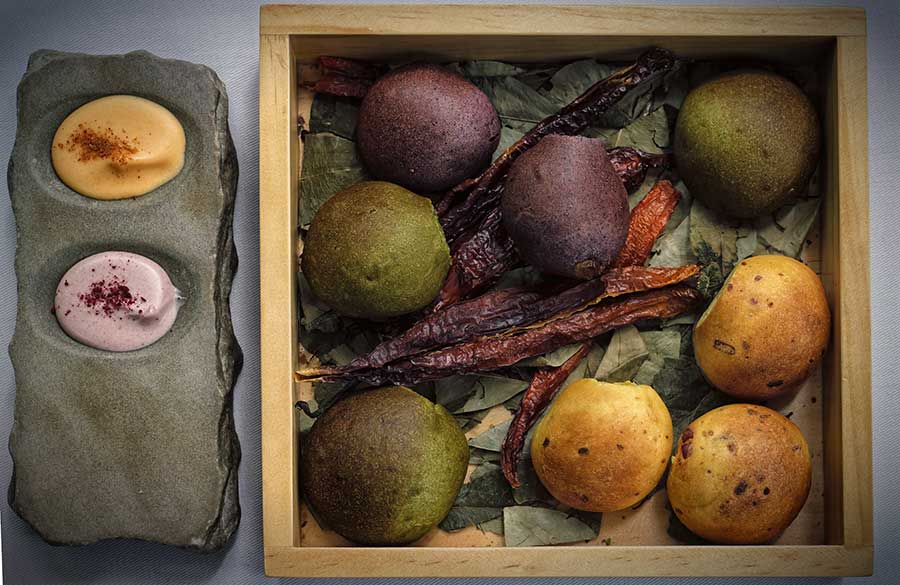 As we sat down, a polite waiter immediately brought us a wooden box with dry coca leaves and chili peppers, along with a variety of homemade breads that had the shape and form of cute little Andean potatoes. A beautiful presentation this was, and we enjoyed all three types of breads, namely the yellow chili pepper, the purple olive, and the green coca bread. The buns were all soft and incredibly tasty, and together with the olive and red capsicum flavored butters, we already had the sense that this would be a great lunch.

Our appetizers soon made their appearance. These consisted of raw salmon, sour cream, black balsamic pearls that pretty much looked like caviar, served on a crispy tapioca. They were yummy and refreshing.

It was time for the starters and the first one to arrive was the Tiradito de Paiche (s./55). This dish consisted of slices of the Amazonian fish curated with airampo (the Andean red cactus fruit) that gave this originally white meat fish a beautiful intense red wine color. The tiradito is served with crunchy dry oca (Andean tuber), a delicious cashew tiger´s milk sauce, and cilantro oils. I liked its acidity levels which I found invigorating and quite savory.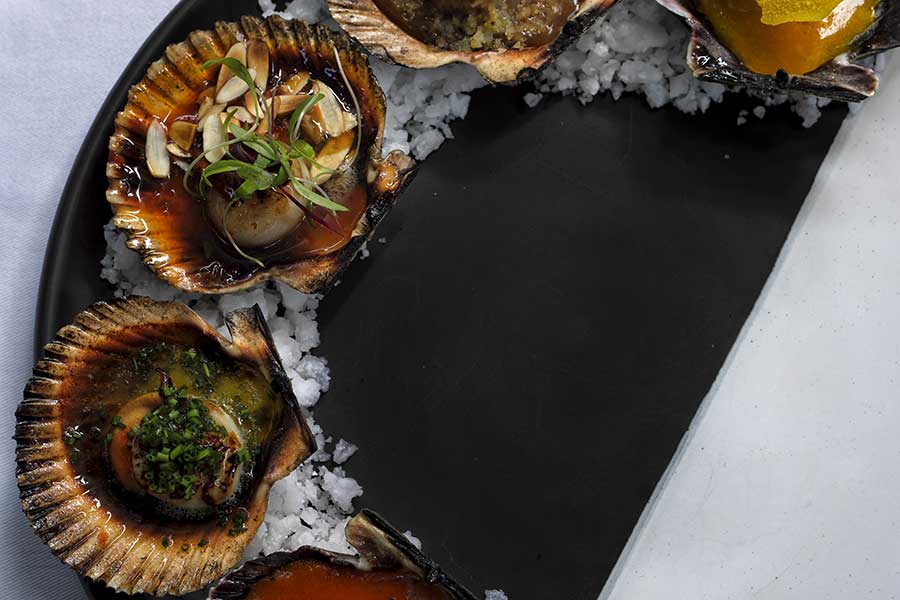 Our second starter was the 'Five Grilled Scallops' (s./65). These are five different versions of grilled scallops, each one looking more attractive than the other, served in a heavy black iron plate. There is the red chili pepper, beautifully red and spicy as you can imagine; the yellow chili pepper that had a nice acid taste; the glazed scallop with artichoke and potato sand, a bit sweet, crunchy and strong-flavored; the scallop a la meuniere with toasted almonds and sprout that was spicy, crunchy, and had oriental flavors, and finally, the cleared butter and chives, that was my favorite as it was heaven on earth. All of them were fantastic, with the flavors of the grill and the sea fabulously coming together, certainly, a not-to-be missed plate.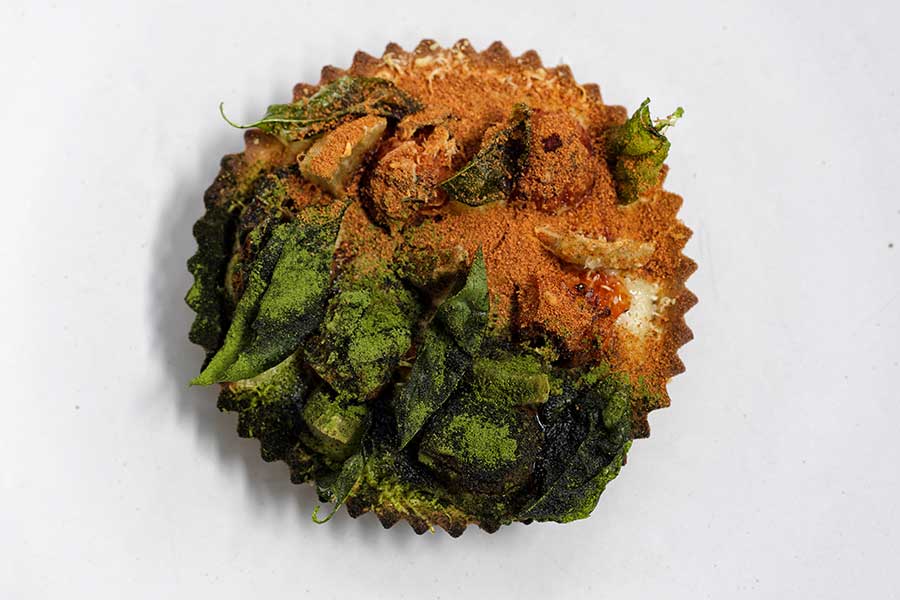 Our last starter was the Goat Cheese Tarte (s./50), a baked pie with goat cheese, parmeggiano, artichokes, cherry tomatoes, pesto sauce, and an artichoke and champignon ragout. The tarte was incredibly soft, and I enjoyed its filling which I found flavorful and delicate as well.

We then passed on to the main dishes. Our first main dish was the Ravioli XXL (s./48). These are two large ravioli filled with ricotta cheese and artichokes bathed in an abundant creamy hazelnut sauce, parmiggiano foam, crunchy pumpkin seeds, and topped with a poached egg. The ravioli were very tasty and so was the sauce. In my view, the poached egg was an unnecessary addition.

We also tried the Socarrat (s./67), which not surprisingly was a dish rice, orange-red in color that had the shape of a tacu tacu but tasted more like a concolón, the slightly crunchy burnt rice. The rice had clams, baby corn and peas, and two succulent grilled shrimps that we enjoyed very much.
The Amazonian Papilotte (s./69) was the next to arrive. The paiche came wrapped in leaves and with fried cassava chips on the side. The paiche's white meat was savory on its own while the juices formed after hours of cooking the fish with the Amazonian spices was simply mouth-watering. Not surprisingly, this dish became my favorite that day.
Our last main dish was the Four cuts Lomo Saltado (s./104), a generously served Peruvian-style beef sauté with onions and cherry tomatoes, some fried quail eggs, a bowl of rice mixed with corn on the side, and yellow fried potatoes. The four Angus cuts: sirloin, steak, skirt steak, and ribs were nicely cooked medium-rare, and all together the dish was juicy and tasty.
Dessert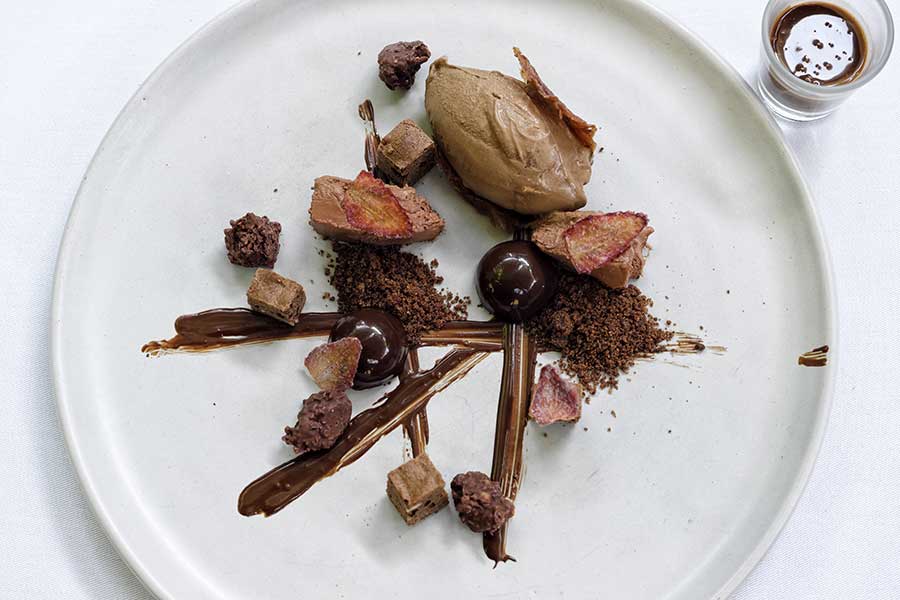 It was time for desserts and we tried two of them. We had the Chocolate, chocolate and more chocolate (s./30), a total chocolate feast with chocolate presented in different shapes, forms, and textures. There was mousse, brownies, nutella spheres –I loved them-, ice cream, chocolate sand, and just a few strawberries. You really have to be a chocolate lover to absorb this much chocolate.

We also had the Coco and Lime Cheesecake (s./30) that unlike the classic cheesecake, this one was totally flat. A nice sweet and acid lime-based cream with lime peels covered much of the plate, and a scoop of matcha ice cream, grilled pineapple cylinders, and caramelized coconut bites completed this original cheesecake. It was certainly refreshing, not overly sweet and enjoyable.
Drinks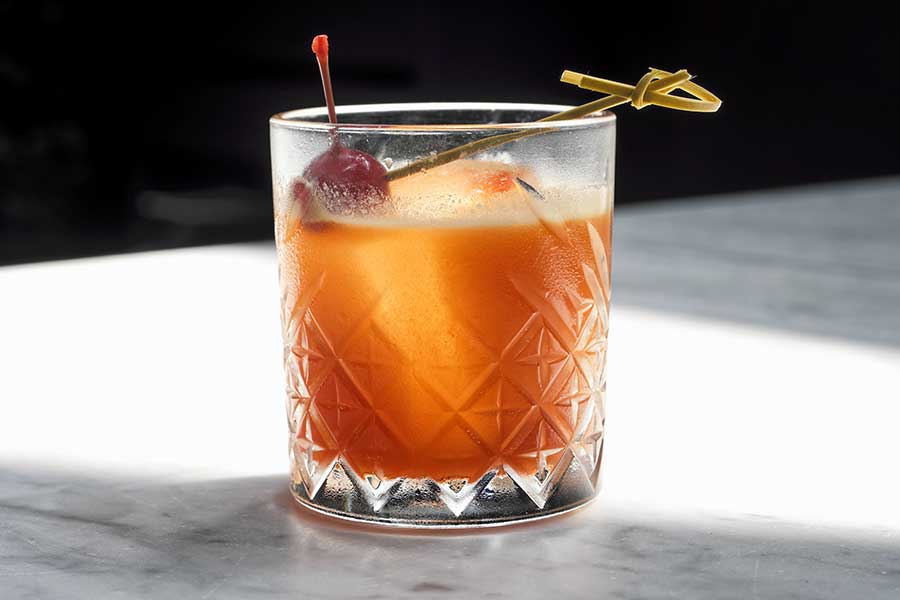 Lima 27 is also an ideal spot for some evening drinks with friends and colleagues. There are the classic ones, the signature cocktails as well as a variety of wines and liquers. We had a classic Pisco Sour (s./28), that was good and very foamy, followed by a Honey Negroni (s./30) that has rum, vermouth rosso, campari and honey spicy cream that was nice too. This drink had an interesting additional element, namely, a maraschino filled with goat cheese and strawberry coulis that I could have done without. We also tried the Aperol Twist (s./24), pisco, aperol, ginger beer, orange and lime juice, a classic that we all loved as it gave you a kick at the end.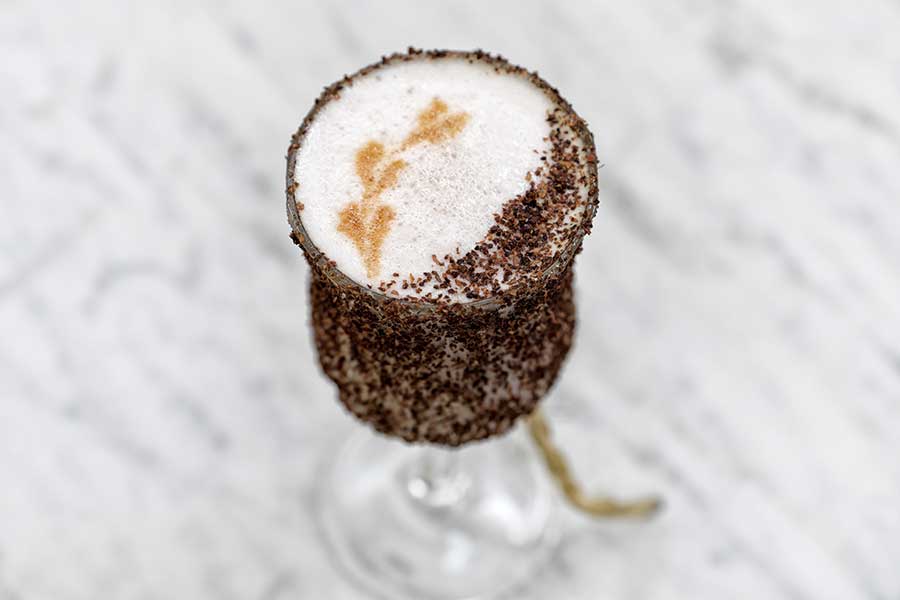 Amongst the new cocktails Lima 27 is presenting we found the Golden Mule (s./28), vodka, ginger beer, grapefruit, and decorated with herbs from their own vegetable garden. The drink was light, fruity and slightly spicy. We also had the Corpse Revival 2.1 (s./25) that comes in a large cup with a big round ice cube that inevitably your nose will encounter. This drink is made with triple sec, gin, white vermouth, orange liqueur, Tahiti lime, and a turmeric and pepper oil mix. The cocktail was citric and had a bitter note at the end. Our last drink was the Chullpi Flip (s./28), that has quite an original presentation as the cup itself is covered with chocolate and raw cane sugar, adding flavor to this signature house drink. The cocktail is made with pisco, port wine, coconut milk, chullpi (Andean corn) orgeat, egg yolk and whites, and chocolate bitter. The result is a light and smooth cocktail, similar in taste to a Pisco sour, enjoyable and fun.

Final remarks
We had a good experience at Lima 27 as the service was impeccable, the setting was nice, and the food was delicious.

Lima 27
Calle Santa Luisa 295 San Isidro
Parking – yes
Opening hours – Monday to Saturday 12.30 – 4 pm, 7.30 – 11.30, Sunday 12.30 – 4 pm
Menu
Tasting menu – s./ 260 -360
Starters – s./44 – 140
Salads – s./43 – 49
Rice and pastas – s./49 – 137
Fish and meat – s./62 – 120
Dessert – s./23 -30
Cocktails – s./24 – 39
Wine by the glass – s./22 – 45
Beers – s./ 13 – 26

Cover photo: Tiradito de Paiche/Marco Simola
Now that you're here:
We're asking you, our reader, to make a contribution in support of our digital guide in order to keep informing, updating and inspiring people to visit Peru. Why now? In our near 20-year journey as the leading English-language source on travel in Peru, we've had our fair share of ups and downs-but nothing quite like the challenges brought forth in the first quarter of 2020.
By adapting to the changing face of the tourism and travel industry (on both local and international levels), we have no doubt we will come out stronger-especially with the support of our community. Because you will travel again, and we will be ready to show you the best of Peru.
Your financial support means we can keep sharing the best of Peru through high-quality stories, videos and insights provided by our dedicated team of contributors and editors based in Peru. And of course, We are here to answer your questions and help whenever you need us.
As well, it makes possible our commitment to support local and small businesses that make your visit an unforgettable one. Your support will help the people working in these industries get back on their feet once the world allows us to make our dream of enjoying everything Peru has to offer a reality again-from its mouthwatering gastronomy, thriving Amazon and archaeological wonders such as Machu Picchu.
Together, we will find a way through this. As a member of our community, your contribution, however big or small, is valuable.
Support Traveling & Living in Peru from as little as $1 - and it only takes a minute. Thank you!