Mattoni is a recent newcomer to Miraflores. When I discovered this restaurant is owned by Chef Diego Sorni and the same owners of Cabos (one of my favorite restaurants in Callao), I was looking forward with anticipation to visiting. Even though Mattoni has only been opened since August 22nd, they seem to be enjoying brisk business.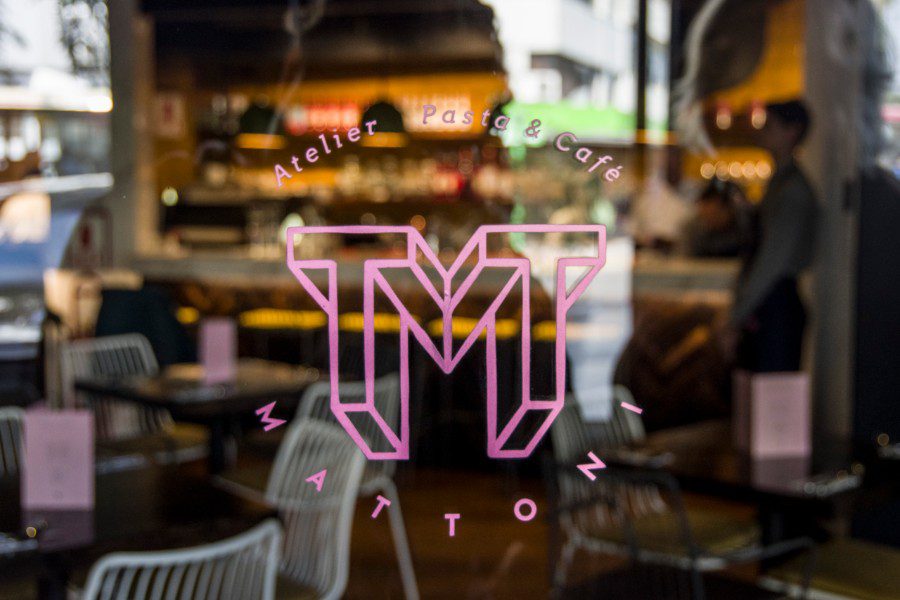 Drinks
We began with a couple of Mattoni's popular Italian cocktails. The refreshing Mattoni Tonic (S/ 26) jumps on the bandwagon of the Campari rage with a combination of Campari, orange juice, gin, and tonic served in a large balloon wine glass. The Cynar Julep (S/ 26) was a unique concoction of Cynar (artichoke liqueur), grapefruit, mint, sugar, and crushed ice.
Food
The first dish we tried was Steak tartare Mattoni (S/ 44), an excellent version of a traditional steak tartare topped off with an organic cage-free egg yolk, an anchovy and accompanied with homemade crispy toasts. We also enjoyed the generous drizzle of a mayonnaise with a hint of Worcestershire and anchovy. Steak tartare is one of my favorite dishes and this version did not disappoint.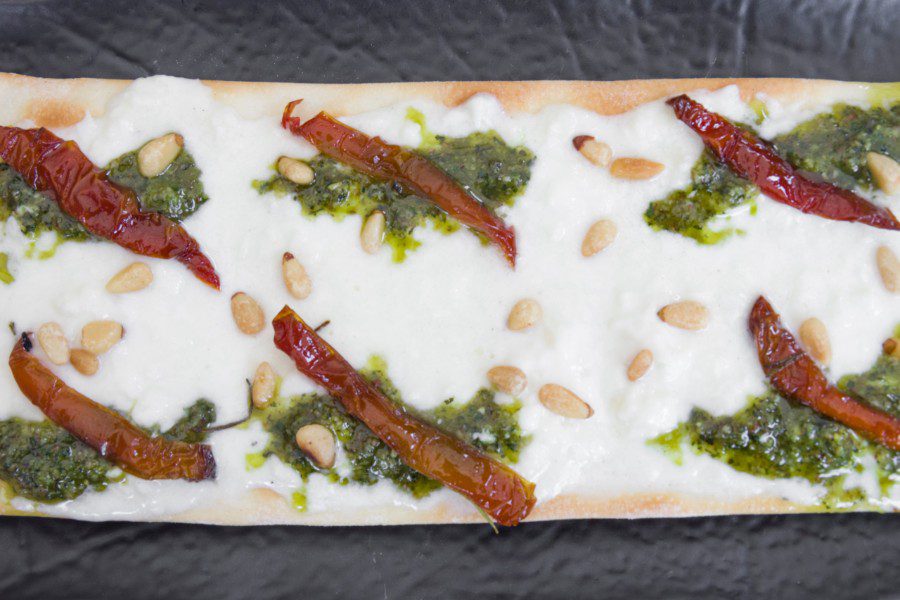 Our second starter was the Pizzetta de stracciatella y pesto (S/ 22). Pizzetta is typically finger food and resembles a mini pizza. Pizzettas can be prepared using flatbread as the base and sometimes I have seen puff pastry used as the dough base. The base for this particular pizzetta was actually very thin and almost had a cracker consistency. The toppings were stracciatella (a variety of soft Italian buffalo cheese), pine nuts and pesto. This starter was not that impressive to me mostly because I was not a fan of the cracker consistency.
One of the best meatball sandwiches I've had in a long time is Mattoni's Albóndigas en ciabatta (S/ 16). These meatballs were prepared with a pork and beef mixture and were very moist and satisfying. At least 4 to 5 meatballs were served on a homemade ciabatta, topped off with a mild and flavorful tomato sauce and a generous sprinkling of Parmesan cheese, as well homemade crispy potato chips. We all agreed we would return for this sandwich.
We observed several people ordering Mattoni's roast beef sandwich as well, which looked delectable. That's also on my list to try next time I visit. In addition to preparing rare roast beef on their premises, they also prepare their own top-quality pastrami which we had the opportunity to sample.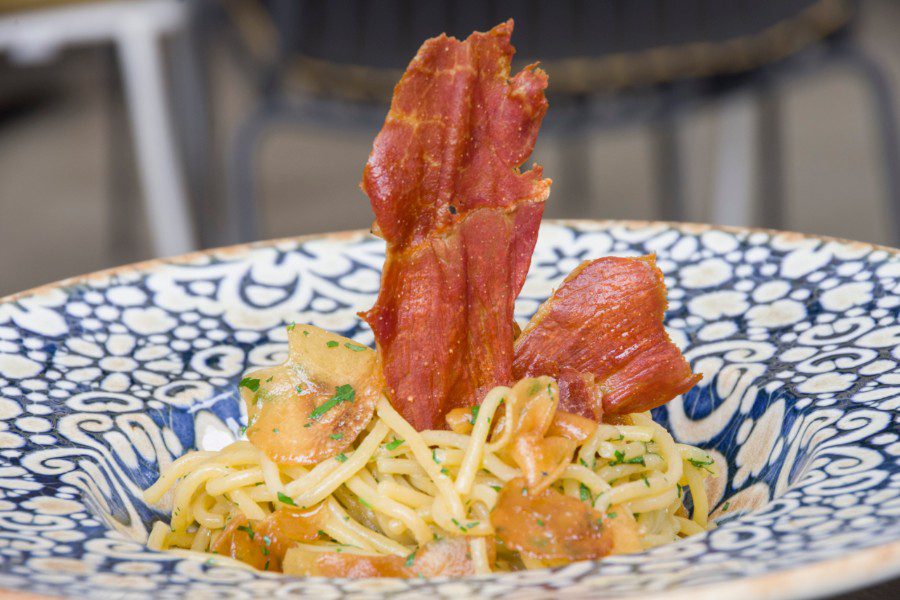 Next up were the artisanal fresh pastas. We began with the Spaghetti aglio e olio con prosciutto crocante (S/ 26). The house-made spaghetti was interspersed with a liberal amount of fried garlic slices along with a large slice of fried prosciutto displayed prominently in the middle of the spaghetti. The dish was quite flavorful, but we personally found the spaghetti a bit too "al dente" for our tastes.
The Casserece al pesto Genovese e burrata 100% piñones (S/ 44) was luxurious and decadent. I fell in love with this pasta. Casarecce are short pasta noodles with curled edges and have a groove down the middle. They look a bit like mini rolled up scrolls. These noodles are originally from Sicily, but also very popular in other regions of Southern Italy. Because of its textured grooves, sauces adhere well to this pasta. Pesto is a popular sauce that is often served with this pasta, so it wasn't a surprise that the sauce in this dish was a wonderful robust pesto, with lots of wonderful cracked pepper, crushed pine nuts, garlic and crowned with a lovely burrata cheese. I'm a fanatic for burrata so this dish was heavenly for me.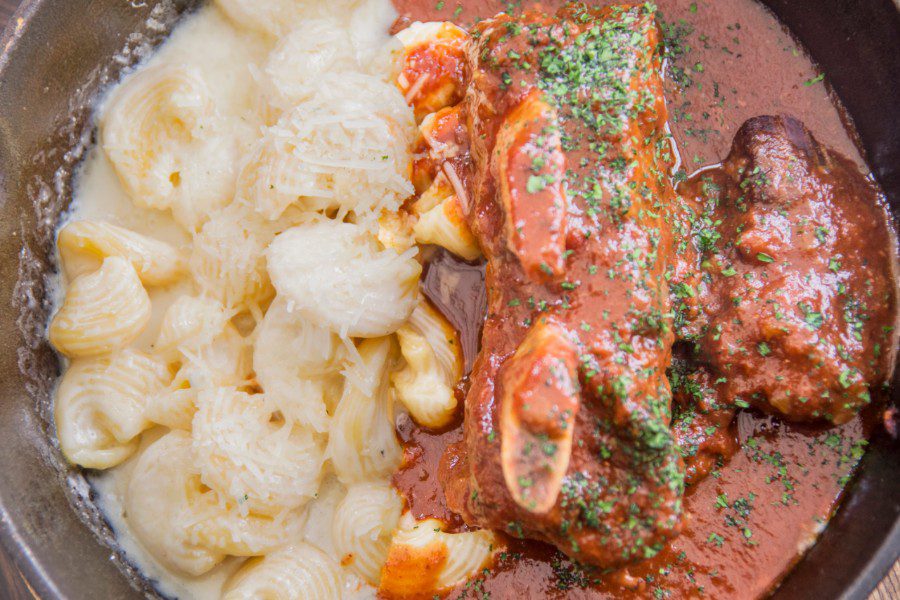 One of the favorites at our table was the Asado de tira con maccheroni a los 4 quesos (S/ 69). The popular Argentinian-style beef ribs were slow cooked a total of 9 hours. The beef was very tender and the sauce flavorful, and was accompanied by a decadent homemade macaroni with a 4-cheese sauce which included the incredible Colombo Gorgonzola. Both the beef and macaroni were quite rich so because of that this dish would be ideal for sharing.
We really enjoyed the Caramelloni de zucca y amaretti (S/ 32), little handmade pastas in the shape of candy wrappers and filled with zapallo loche (squash) and a light touch of the Italian amaretto liqueur. The entire dish was accented with fresh sage leaves. This pasta was delicate, delicious and would be an ideal starter for two people.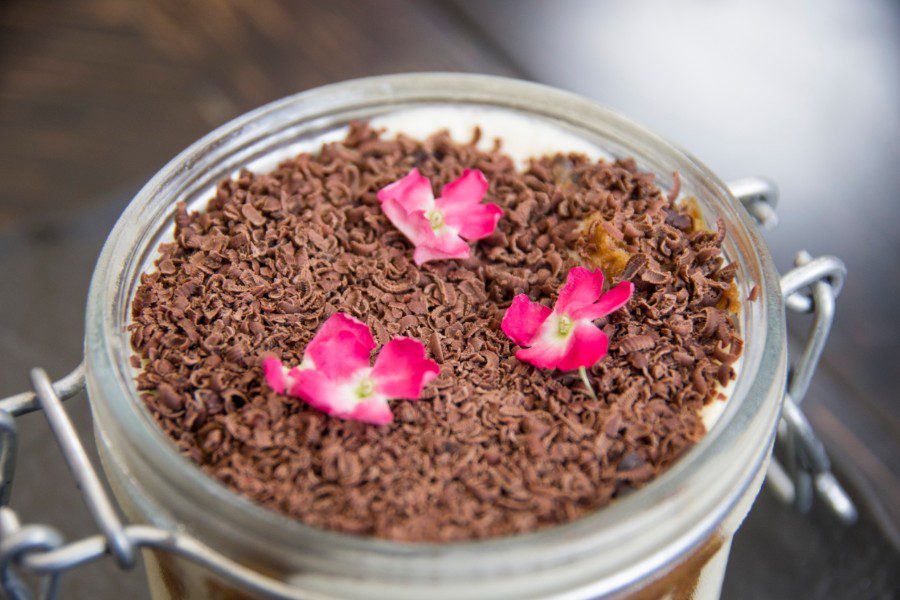 The desserts served at Mattoni are very respectable and satisfying. Our personal favorites included the Tiramisu (S/ 22) which was served in a small mason jar and prepared with mascarpone cheese, ladyfingers and topped off with chocolate shavings and edible colorful flowers: highly enjoyable.
The Cheesecake de queso (S/ 18) was a generous slice of rustic cheesecake served with a fig marmalade. This dessert is very trendy at the moment and many versions are served at several restaurants in Lima. I found this version good but slightly underwhelming.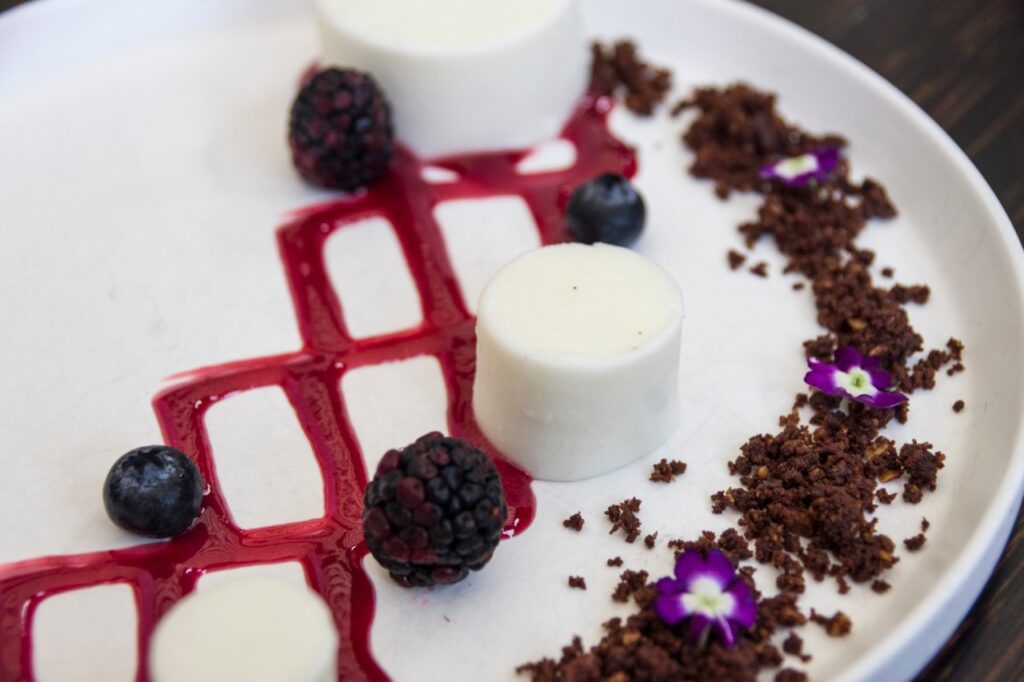 The Panna cotta con tomillo y frutos rojos (S/. 18) was visually pleasing to the eye, refreshing, and delicious. The panna cotta was creamy and lightly infused with thyme, served with a few seasonal berries as well as a berry coulis.
For the ice cream lovers out there, Mattoni has 7 different flavors. We sampled the chocolate (S/ 8.5), pistachio (S/ 15) and vanilla (S/ 15). All of their ice creams are prepared in-house.
Photo: Maria Alejandra Baraybar

Photo: Maria Alejandra Baraybar

Photo: Maria Alejandra Baraybar

Photo: Maria Alejandra Baraybar
After we enjoyed our lunch we did a brief tour of the impeccably clean and organized open kitchen. We especially enjoyed watching some of the friendly staff prepare fresh artisanal pastas. Mattoni prepares fresh pastas every day. An assortment of fresh pastas are also available for purchase (½ kilo for S/ 19 and 1 kilo for S/ 36).
Mattoni also serves breakfast and offers a diverse selection of options. All of the breads and desserts are also made on the premises.
Photo: Maria Alejandra Baraybar

Photo: Maria Alejandra Baraybar

Photo: Maria Alejandra Baraybar

Photo: Maria Alejandra Baraybar
Mattoni is elegantly casual and comfortable. The team of Traveling and Living in Peru dined in the large outdoor covered patio. I also recently found out that Mattoni is dog-friendly.
Overall we found Mattoni to be respectful of the Italian tradition and the products used in their dishes. The menu is approachable and offers a decent amount of variety without being overwhelming. The staff is experienced and courteous as well.
Av. Santa Cruz 1310, Miraflores
Hours:
Monday-Friday: 7:30 am – 11:00 pm
Saturday: 8:30 am – 11:00 pm
Sunday: 8:30 am -10:00 pm
Capacity: 45 people
Reservations & info: [email protected]
Cover photo: Casserece al pesto Genovese e burrata 100% piñones/Maria Alejandra Baraybar
Don't miss:
Now that you're here:
We're asking you, our reader, to make a contribution in support of our digital guide in order to keep informing, updating and inspiring people to visit Peru. Why now? In our near 20-year journey as the leading English-language source on travel in Peru, we've had our fair share of ups and downs-but nothing quite like the challenges brought forth in the first quarter of 2020.
By adapting to the changing face of the tourism and travel industry (on both local and international levels), we have no doubt we will come out stronger-especially with the support of our community. Because you will travel again, and we will be ready to show you the best of Peru.
Your financial support means we can keep sharing the best of Peru through high-quality stories, videos and insights provided by our dedicated team of contributors and editors based in Peru. And of course, We are here to answer your questions and help whenever you need us.
As well, it makes possible our commitment to support local and small businesses that make your visit an unforgettable one. Your support will help the people working in these industries get back on their feet once the world allows us to make our dream of enjoying everything Peru has to offer a reality again-from its mouthwatering gastronomy, thriving Amazon and archaeological wonders such as Machu Picchu.
Together, we will find a way through this. As a member of our community, your contribution, however big or small, is valuable.
Support Traveling & Living in Peru from as little as $1 - and it only takes a minute. Thank you!