Parada63 is a new (open for 3 months) restaurant venture between childhood friends, Cesar Huanachi and Ricardo Torres.

Parada 63 exterior

Exterior

Interior

Arroz chaufa de mariscos

Details

Arroz con mariscos

Interior

Ceviche de conchas negras
César is the wine sommelier and Ricardo is the administrator of the restaurant, and they both grew up in the area of Magdalena. Together they are offering a homemade, comfortable format seafood restaurant with wine pairings. Parada63 offers seafood-focused dishes along with some of the best wines available, served by the glass (or bottle). The wine list changes often since Cesar has access to many wines.

This small restaurant is located on the first floor of Ricardo's childhood home, and his mother still lives here. The space attracts quite a bit of business from neighborhood foot traffic as well as via word of mouth recommendations.

The decor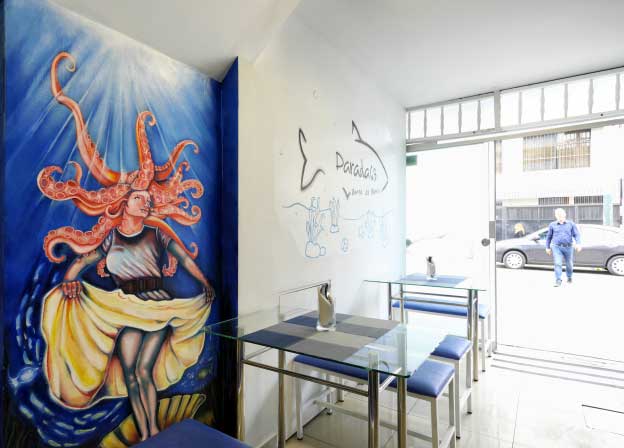 The decor is simple with limited seating. There are a few tables with bench seating as well as more seating available at one side of the dining room with a long "bar." The walls and some of the furniture are in various shades of blue. We especially enjoyed the red octopus tentacles mural on one of the walls.
The food

The menu at Parada63 includes popular and classic seafood dishes. We began with the Ceviche de Conchas Negras (S/. 20) which was a nice simple version prepared with plenty of diced onion and aji limo peppers. These black bivalve mollusks (e.g. clams, oysters, mussels, scallops) come from the mangrove swamps in Tumbes on the north coast of Peru. This dish was accompanied by corn (choclo), sweet potato, and plantain chips.

Next up was the Causa de pulpa de cangrejo (S/. 25) four yellow mashed potato-shaped tubes generously filled with succulent crab meat and bathed in two sauces, a golf sauce with a touch of Peruvian rocoto pepper and a purple olive sauce. Fresh and delicious.

We sampled Parada63's classic style ceviche, Ceviche con Chicharrón (S/. 20), although we had it served without the fried pota (calamar or squid) that usually accompanies it. This excellent ceviche was prepared with the fresh fish of the day, Lisa (a popular white fish) classically prepared with thin slices of red onion, aji limo and lime juice and accompanied by corn (choclo), sweet potatoes and plantain chips. The simplicity of this ceviche made it perfect.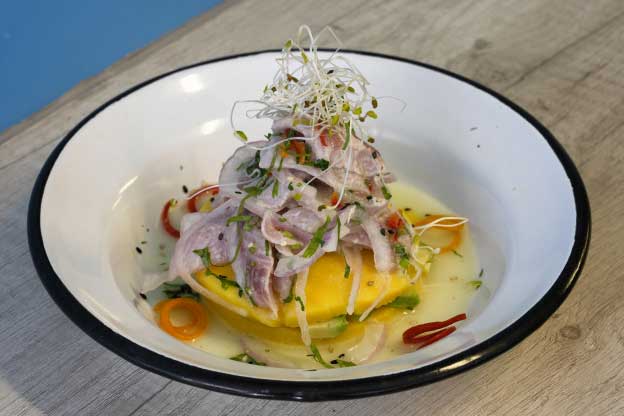 We moved on to their Causa Acevichada (S/. 18). Typically when you see the word "acevichada" most times you think it is referring to the creamy, mayonnaise-style ceviche sauce, but this is not that at all. This causa version is a generous amount of the mashed potato (causa) filled with avocado and then topped off with a liberal amount of the fish of the day, Lisa, served ceviche-style with a rocoto sauce and topped off with alfalfa sprouts and black sesame seeds. Highly satisfying.

We sampled 4 dishes from their hot plates section. I would consider all of the dishes listed in this section as main dishes due to their generous size and ideal for this chilly winter weather right now. We began with the Fettuccini en salsa de mariscos (S/. 26), a pleasant surprise. A bounty of seafood (calamari, shrimp, squid) mixed in with a generous amount of al dente fettuccine and a succulent, delicious sauce prepared with aji amarillo, a bit of milk and other secret ingredients and topped off with Parmesan cheese. Very satisfying.
The Arroz con mariscos (S/. 25) was excellent. This classic and popular dish of rice mixed with calamari, peas, carrots, and corn was robust and large enough for at least two or more people to share. The dish was accompanied with the typical salsa criolla.

The Arroz Chaufa de Mariscos (S/. 27) was comfort food at its best. A generous amount of rice filled with selected sautéed seafood, chopped green onion, a hint of ginger and soy sauce, topped off with a large, thin omelet filled with shrimp. All of this was accented with fried wonton strips and black sesame seeds. This was most definitely one of our favorite dishes.
My absolute personal favorite of the hot dishes had to be the incredible, spirit-boosting Chupe de Mariscos (S/. 22), a large bowl filled with calamari, shrimp, fish broth, garlic, onions, peppers, potatoes, habas (lima beans), corn, rice, queso fresco, huacatay, a bit of milk, and of course all topped off with a perfectly poached egg on top and a large huacatay leaf. This is a very popular soup here in Peru. I feel it's more of a chowder than a soup because of its creaminess and the addition of milk. This dish is made at the moment you order. Please keep in mind it takes approximately 20 minutes to prepare. Well worth the wait!

Let's talk about the wines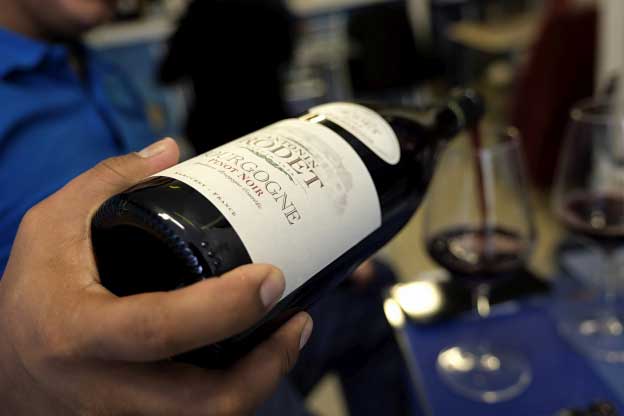 Since Cesar is a well-known wine sommelier here in Peru, we already knew his selection of wines would be superb. He is also the corporate sommelier of the renowned restaurant, Osaka. His wine suggestions are always perfect. At Parada63 there are labels available from Peru, Argentina, Chile, Spain, Germany, and France. There are Rieslings, Malbecs, Chardonnays, Sauvignon Blanc and much more available. There is a list on the wall with the available wines, but there are others not listed, but available because the wine selection changes often. The day of our visit we enjoyed four unique, wonderful and affordable wines that accompanied and were paired with our food. The 2013 Terra Noble Riesling/Sauvignon Blanc Gran Reserva from Chile was one of the table favorites. This wine was 80% Riesling and 20% Sauvignon Blanc. It accompanied many of our cold dishes perfectly. We also were fond of the Zinio Garnacha Rioja from Spain. The 2017 Lágrimas De Maria Viura & Tempranillo Blanco from Spain was wonderfully crisp and fruity. One of my personal favorites was the very special 2017 Antonin Rodet Bourgogne Pinot Noir from France. I am a huge Pinot Noir lover and this did not disappoint. You can't go wrong with any of the wines they serve at Parada63.

I returned a few days later with my husband in tow. We easily found parking on the street. It was a Sunday and we arrived early, but the restaurant filled up quickly, was very busy and filled to capacity. I ordered the Leche de Tigre a lo Parada (S/. 15), which I thoroughly enjoyed. It arrived at our table in a huge goblet with pieces of fish bathing in the white leche de tigre juices (onion, aji limo and lots of lime) with an ample amount of fried pota (squid) on top. This was definitely enough for two people. My husband was very pleased with his Ceviche con Chicharrón. I had to order the Chupe de Mariscos since it made a favorable impression on me the day of Traveling and Living in Peru's visit a few days earlier. Once again, it was exquisite. We also ordered the Arroz Chaufa de Mariscos, unfortunately, it seemed to be a bit lackluster than when I tried it a few days prior. I think the kitchen was a bit overwhelmed this Sunday and it came out rushed after the Chupe. It did not quite have the same amazing flavor as a few days earlier. We enjoyed our meal with a few glasses of the wonderful Terra Noble Riesling/Sauvignon Blanc blend. All in all it was a pleasant Sunday afternoon lunch.

Parada 63 is still in its initial growth stages. I feel it will get even better with time and experience. The generous portions and great price to quality ratio are bonuses. And I can't say enough about the wine selection.

Bring your appetite to Parada 63.

Parada63
Jiron Libertad 631 (altura cuadra 37 de la Av. Brasil), Magdalena
Capacity: 25-30
Hours: Tuesday-Friday: 12:00 p.m.-5:00 p.m.
Saturday & Sunday: 11:30 p.m.-5:00 p.m.
Closed Monday
Phone: 963 740 924
Email: [email protected]
Instagram

Starters/Cold dishes: S/. 15-26
Main dishes/Hot dishes: S/. 16-30
Trios: S/. 30-33
Non-alcoholic beverages: S/. 4-8
Wine: By the glass: S/. 12-25
Red wine (by bottle): S/. 70-190
White wine (by bottle): S/. 99-150

Cover photo: Ceviche/ Marco Simola
Now that you're here:
We're asking you, our reader, to make a contribution in support of our digital guide in order to keep informing, updating and inspiring people to visit Peru. Why now? In our near 20-year journey as the leading English-language source on travel in Peru, we've had our fair share of ups and downs-but nothing quite like the challenges brought forth in the first quarter of 2020.
By adapting to the changing face of the tourism and travel industry (on both local and international levels), we have no doubt we will come out stronger-especially with the support of our community. Because you will travel again, and we will be ready to show you the best of Peru.
Your financial support means we can keep sharing the best of Peru through high-quality stories, videos and insights provided by our dedicated team of contributors and editors based in Peru. And of course, We are here to answer your questions and help whenever you need us.
As well, it makes possible our commitment to support local and small businesses that make your visit an unforgettable one. Your support will help the people working in these industries get back on their feet once the world allows us to make our dream of enjoying everything Peru has to offer a reality again-from its mouthwatering gastronomy, thriving Amazon and archaeological wonders such as Machu Picchu.
Together, we will find a way through this. As a member of our community, your contribution, however big or small, is valuable.
Support Traveling & Living in Peru from as little as $1 - and it only takes a minute. Thank you!