Petra Eat and Drink, a small charming restaurant and lounge serving fusion food, is situated in one of those few traditionally old Miraflores houses that tend to disappear in this ever-growing city.
Petra Eat and Drink

Petra Drink

Cesar's Salad

Interior

Interior seating

Paloma


Satay Trout

Interior details

Interior seating

Tea


Noches de Petra

Interior details

Interior Details/Marco Simola
When we did our restaurant review at Petra, we quickly learned that their concept is to try to please everyone no matter what their choice of food is, and at what time their hunger calls. They are open seven days a week for breakfast, lunch, coffee time, dinner, and even late-night drinks.
Décor
Lots of color, art, and adornment define this charming Miraflores spot. Within this two-story floor house, you can find several different rooms that will certainly accommodate you. I particularly liked the ones on the second floor, but the bar and lounge areas are also great places to enjoy your drinks. Consider coming at night when the terrace is nicely lit; it's a time when the restaurant acquires a magical touch.
The Food
We went for lunch and noticed there were meat dishes, seafood, and vegetarian options, and that's why we decided to try a little bit of everything. Readers also might be interested in knowing that the menu is available in English.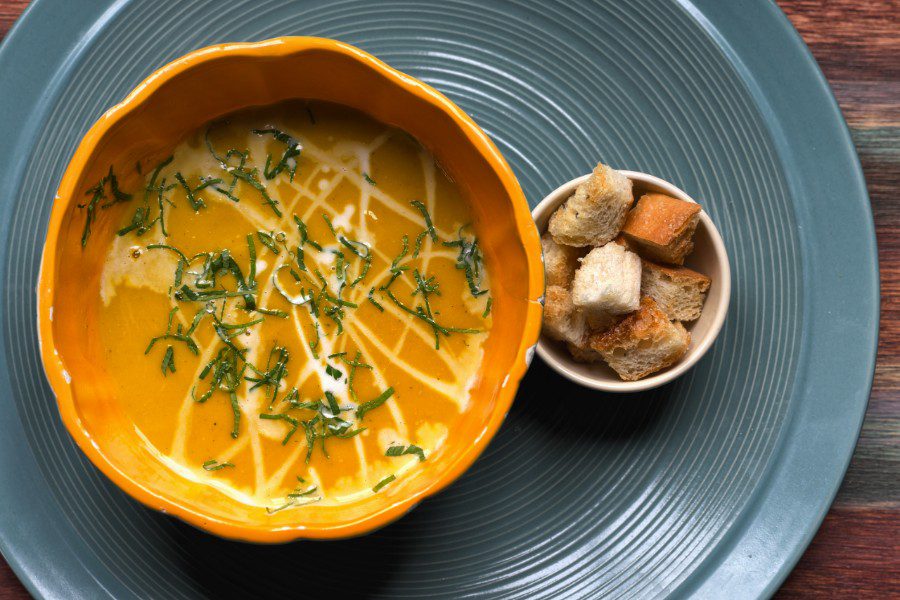 In these winter days, I appreciate that restaurants have soups in their menus. They have a daily soup, a pumpkin cream, and a minestrone. We opted for the Pumpkin Cream (S/. 18) that came in a lovely pumpkin-shaped bowl. The soup did not wow me, but I will still have to come back to try their Minestrone.
The Panko Fried Shrimp (S/. 28) is one of the several appetizers they have on their menu. This dish consists of a bundle of deep-fried panko shrimp that comes with fried cassava and a satay sauce dip. Both the shrimp and the cassava were nicely fried and crispy. The satay sauce made with nuts, butter, basil, turmeric, and coconut had an Indian flavor that did not quite make it for me, although my colleague did enjoy it.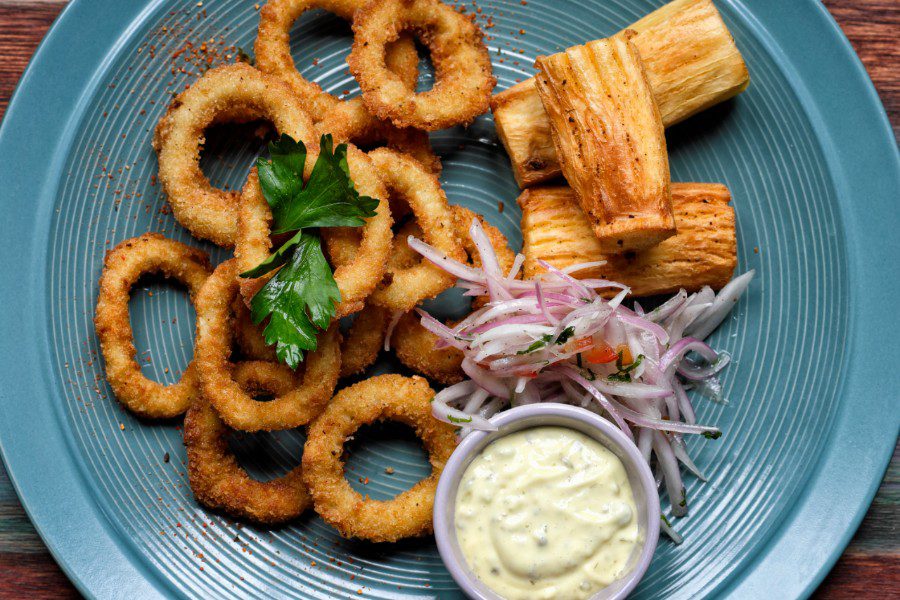 Another appetizer was the Fried Calamari (S/. 22). The calamari were, once again, nicely fried and so was the cassava. I particularly loved the criolla salad that also came along as it was super fresh, flavorful and beautifully spicy.
There are few salad options at Petra. We chose the Cesar's Salad (S/. 24) with Romaine lettuce, fried chicken, bacon bites, croutons and parmiggiano cheese. A mayo sauce comes along with the salad. The salad was fine but what I enjoyed the most were the croutons.
We also tasted one of their sandwich and burger options: the Petra Burger (S/ .26), which is one of the most demanded dishes, we were told. This is a large burger with minced meat mixed with shrimp and mushrooms, cheddar cheese, onions, and tomatoes. The burger was certainly juicy and very tasty. The native fries with skin that were served along with this dish were absolutely delicious. They were crispy on the outside and super soft on the inside. My burger-lover colleagues enjoyed this burger, giving it a definite thumbs-up.
For the main course, we tried the Seafood Fettucini (S/. 35), a well-served plate of pasta with shrimp, octopus, calamari, bell peppers, and peas mixed with cream. This dish was full of flavor and I loved the intensely yellow chili pepper creamy sauce with the pasta and the rest of ingredients. This was definitely my favorite dish and I will certainly go back for this dish.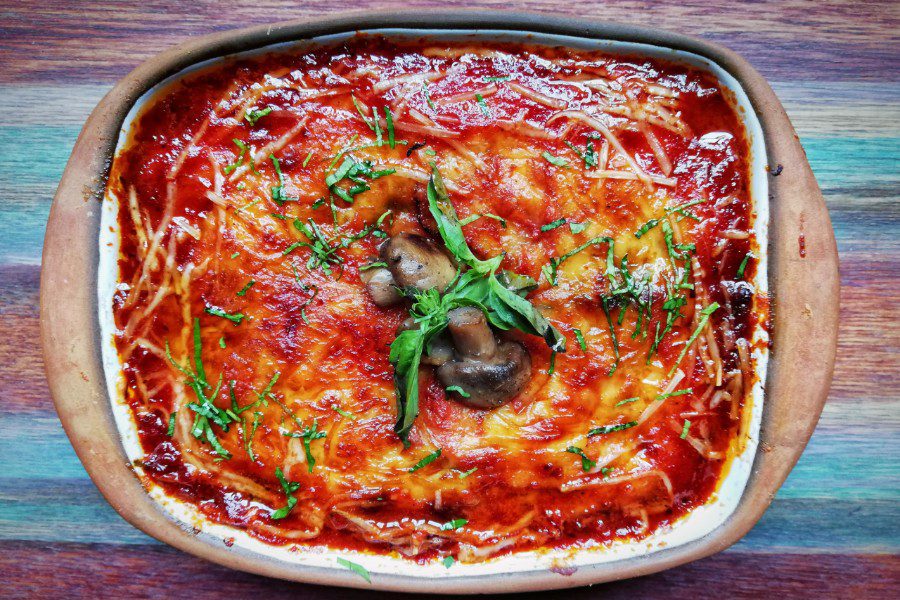 In the spirit of trying everything on the menu, we had one vegetarian dish: the Vegetarian Lasagna (S/. 30). The lasagna had eggplant, zucchini, mushrooms, cheese, and lots of tomato sauce (perhaps way too much, in my view). I enjoyed the lasagna, but I think the tomato sauce was too invasive. Our dear hosts took note of this and promised this would be fixed.
Our last dish was the Satay Trout (S/. 35), a nicely grilled trout bathed in a satay sauce, and Basmati fried rice on the side. The trout was nice on its own, and I would have preferred to have the sauce on the side. I also expected more from the rice as well.
Our lunch ended with a cup of coffee, a blend from the Madre de Dios, Puno, and Villa Rica region that my demanding Italian colleagues enjoyed.
Drinks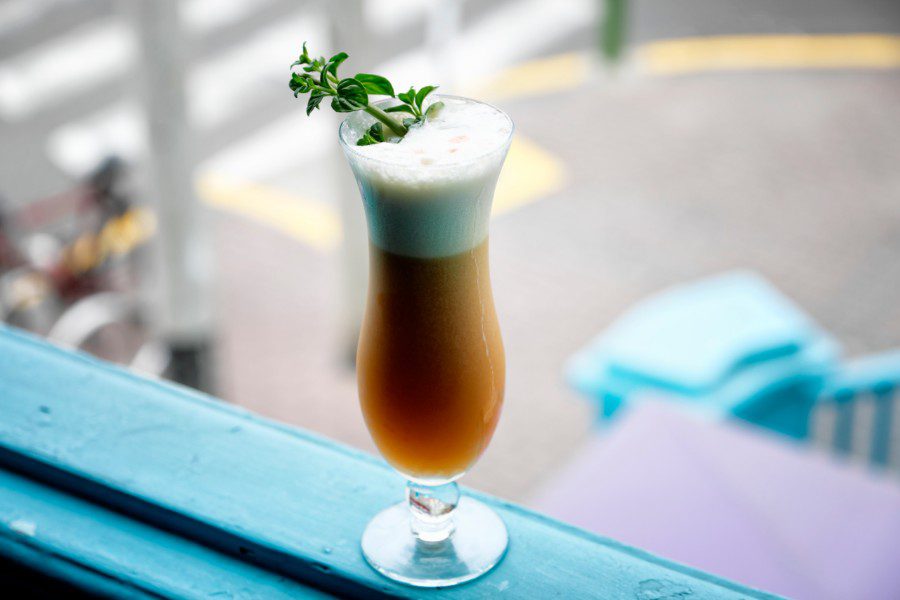 At Petra, there are several drinking options. Anything from beer to gin, whiskey, and signature cocktails. We tried the Noches de Petra (S/. 26), campari, Zacapa rum, pineapple and lemon. I liked this cocktail, in particular, for the touch of bitter it had. Then came the Paloma (S/. 28), which consisted of tequila and mezcal in a salt-covered cup. This transparent drink was powerful, especially at the end where you feel the kick. We also tried the Forbidden Sour (S/. 28), Jack Daniels, Cinzano Rosso, lime, and egg white. This was a long foamy dark-colored drink; actually, it kind of looked like a beer. I loved the foam and more so the taste. Definitely, my favorite drink.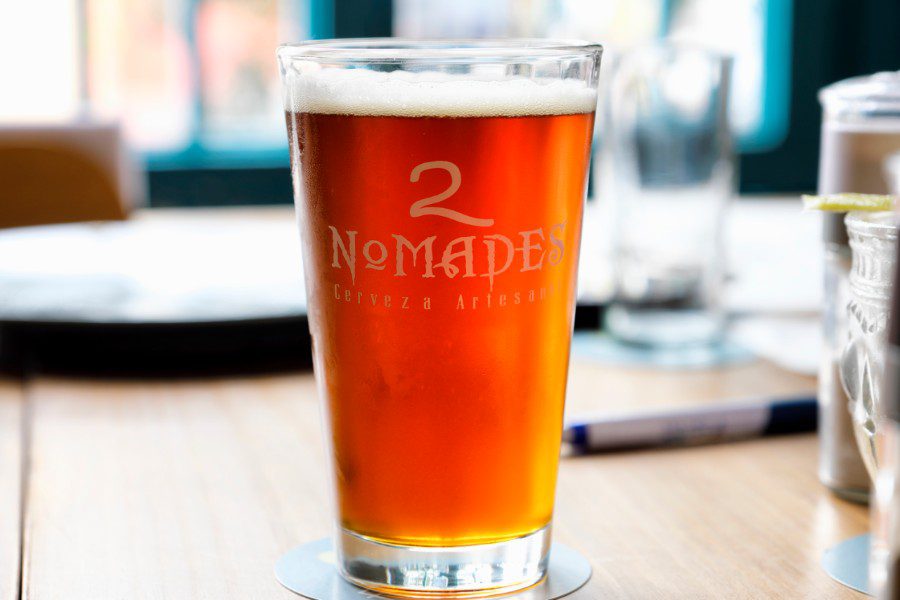 We also tried some artisanal beer by the name of Dos Nómades (S/. 18). We had the Pale Beer that looks like a regular beer, and the Palo Santo, which is a darker version and stronger in flavor. Both are quite popular amongst customers and my colleagues enjoyed every single drop.
Bonus
You also may be interested in checking out Petra's Happy Hour, 2 x S/. 20 that runs every day from Monday to Thursday all day long and on weekends until 9 pm.
For those like me that are looking for food on a daily basis, you may be interested in learning that Petra has a Daily Special for S/. 22, consisting of a salad, a main course (a vegan option is always available), and a beverage. This option is available from Mondays to Fridays. Another special offer is the Quiche with a glass of wine (S/. 20). During Tea time (4 to 6pm), they have a variety of desserts that apparently have become quite popular. I will have to check them out.
Lastly, Petra is pet-friendly and there is parking for bicycles and scooters.
Calle General Recavarren 298 Miraflores
Tel. 782 3209
Opening hours – Sunday to Thursday 8 – 1 am, and Friday and Saturday – 8 am to 3 am
Parking – no; Scooter and bike – yes
Menu
Breakfast – S/. 12 -25
Appetizers – S/. 13 -30
Soups – S/. 16 -20
Pastas – S/. 25 -30
Burgers and sandwiches – S/. 12 – 26
Main course – S/. 35 -38
Cocktails – S/. 18 -28
Wine by the glass – S/. 18
Hot and cold beverages – S/. 5 -15
Delivery – Uber eats, Rappi
Cover photo: Seafood Fettucini/Marco Simola
Don't Miss:
Restaurant Review: Ñañas by Qura
Restaurant Review: Clemente Café
Now that you're here:
We're asking you, our reader, to make a contribution in support of our digital guide in order to keep informing, updating and inspiring people to visit Peru. Why now? In our near 20-year journey as the leading English-language source on travel in Peru, we've had our fair share of ups and downs-but nothing quite like the challenges brought forth in the first quarter of 2020.
By adapting to the changing face of the tourism and travel industry (on both local and international levels), we have no doubt we will come out stronger-especially with the support of our community. Because you will travel again, and we will be ready to show you the best of Peru.
Your financial support means we can keep sharing the best of Peru through high-quality stories, videos and insights provided by our dedicated team of contributors and editors based in Peru. And of course, We are here to answer your questions and help whenever you need us.
As well, it makes possible our commitment to support local and small businesses that make your visit an unforgettable one. Your support will help the people working in these industries get back on their feet once the world allows us to make our dream of enjoying everything Peru has to offer a reality again-from its mouthwatering gastronomy, thriving Amazon and archaeological wonders such as Machu Picchu.
Together, we will find a way through this. As a member of our community, your contribution, however big or small, is valuable.
Support Traveling & Living in Peru from as little as $1 - and it only takes a minute. Thank you!