Wingman Miraflores has everything one looks for in a wing spot, great food, drink and communal dining.
This slideshow requires JavaScript.
Raised outside of Buffalo NY, home of the buffalo chicken wing, I came to Wingman looking for a taste of home. In the "city of good neighbors", buffalo chicken wing culture has developed in an incubator of community building. It just so happens that my neighbors were the founders of the famous Duffs Chicken Wings restaurant that Obama visited. In short, I grew up around THE place for chicken wings and they are my eternal comfort food.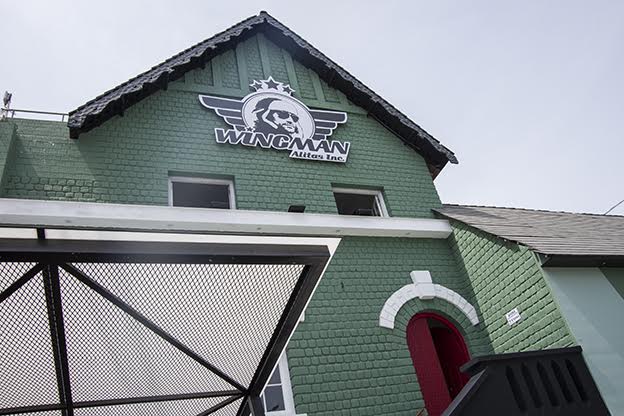 Wingman was started as a passion project by friends, Jose Luis and Renzo. It now has two locations in Barranco and Miraflores.  The Barranco location is a perfect dive for the munchies after a few beers, whereas the Miraflores location features a spacious "wing garden", styled as a family-friendly beer garden, with a more diverse menu serving 14 types of wings and 16 types of beers.
I decided to check out the Miraflores location. You approach the restaurant from the Bolognesi roundabout facing their old Tudor-esque house with wooden frames and shingled roof, slightly setback, nestled between two near identical structures. Enter the small parking lot in the front and head to the wing garden.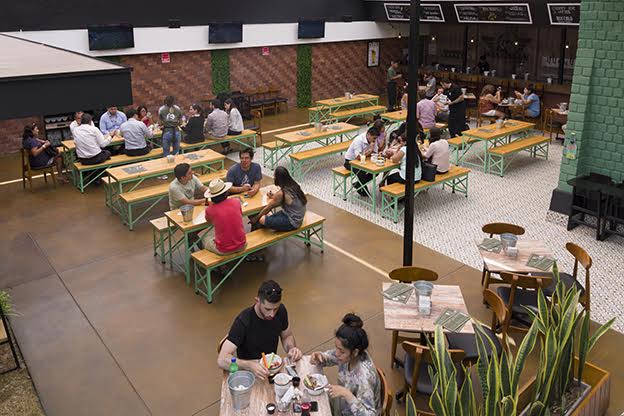 The Vibe
The house, the garden, the open floor plan… the recurring motif here is community. It doesn't matter where you come from, you sit together as equals and eat with your hands. No pretension. But unlike a run-of-the-mill mom n pop shop, Wingman's recipe guru, Cesar, puts great care into balancing their flavors. A basket of wings, sliders, assorted sauces, the food sits in the middle of a picnic table for all. Grab a slider, then a wing and sip your beer. The common denominator across all of the dishes is the flavors that compliment each other.
The Food
Wings
An order is 6, 12 or 18 wings. Side dressings include homemade aji (spicy sauce), ranch, mayo, ketchup and most importantly blue cheese. Immediately I noticed their blue cheese, the traditional buffalo wing compliment, has a great consistency. The classic problem with blue cheese is that it disappears in one bite, usually because of large chunks getting swiped up with each wingful. Not a problem at Wingman – their blue cheese still has that signature strong flavor, but it's very smooth. Of course, it all comes with the customary celery and carrots to cleanse the palate between bites.
As a side, you can order real American sweet corn. They cook it right, with a good blend of butter and pepper. Where some might overdo it, they keep it simple and sweet.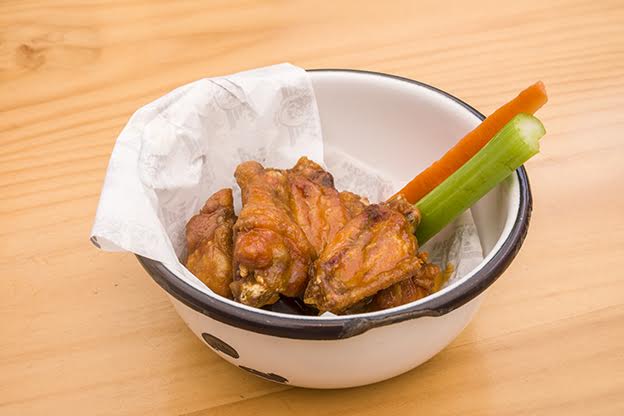 Buffalo Wings:
In truth, I came here for the buffalo wings. In my travels, wings have often been of different size, weight and consistency to the wings from back home. At Wingman, I immediately noticed the wings match the original buffalo wing for size and weight. This is a big deal. Even better, the consistency of the cooking and crunch is just the way I like it: cooked enough to have crunch, but not so much it loses the natural chicken flavor.
The buffalo wing sauce tastes close to what I consider a medium spiced wing, my favorite. It's runnier than I prefer, but taste-wise, it's pretty close. I travel for food and I mostly go for the local dishes, but everyone has those times when they think of home and salivate, missing that one thing they just can't get anywhere else. Well, the flavour of these buffalo wings, combined with the size, weight, and feel… if I close my eyes I'm home again.
Best enjoyed with: 
blue cheese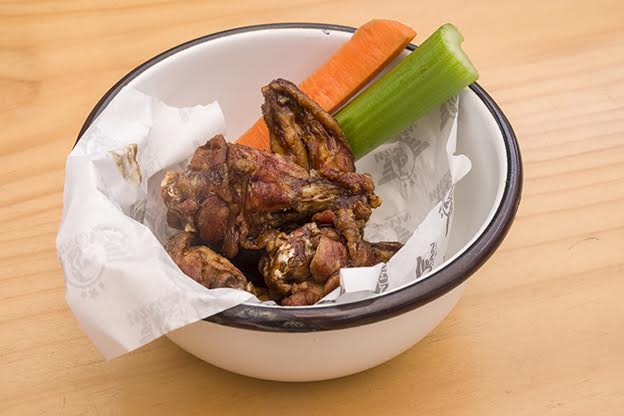 Yao Ming:

Alone, the Yao Ming has a subtle taste, a little salty and a little sweet. With dipping sauce, the flavors weave, wrap and twist through your mouth like two skilled salsa dancers. Look, I know that's a spicy sentence, but if you don't agree you haven't tried the Yao Ming. If you want to experiment with different dipping sauces, I recommend the Yao Ming.
Best enjoyed with:
 any sauce
Characato Oriental:
Recently, Asian flavors have become more popular and I am a big fan of this trend. The characato is a sweet teasing flavor featuring rocoto and oyster sauce.  It's got all the sesame seeds and Chinese onions you need for your oriental fix. It's not too strong so you can try dipping sauces, but this is a wing I prefer to enjoy on its own.
Best enjoyed with:
nothing else
Other Dishes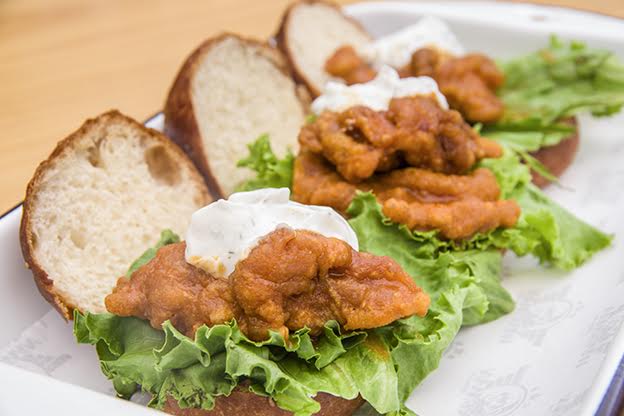 Buffalo Chicken Slider:
This is exactly what one wants from a Buffalo Chicken Slider. The buns for all the sliders are specially made at "Cafe a Bistro". For me, these are the best buns in the city 😉 The crust is crunchy, the inside soft and buttery. Buffalo chicken style foods need a kick, and the slider delivers a long-lasting spice. It's appropriately balanced between breadiness and crunch. When you finally get a taste of the blue cheese, it's a pleasant greeting, like a host coming into the room to welcome you.
(If you think that's a cheesy sentence, I literally felt like I was inside the sandwich – I guess that's how focused I was on the slider.)
Pulled Pork:
The pulled pork, which has become quite popular in America and Japan, is also becoming popular in Peru and Wingman has not fallen short. Here, it features in-house pulled pork with homemade bbq sauce, topped with coleslaw. Pulled pork tends to be messy.  Pleasantly this one isn't. Somehow it maintains the desired juiciness without the usual mess – a grippable bun instead of soggy mush. Between the buns, the coleslaw and bbq sauce don't compete. The bbq sauce is mild and blends well with the coleslaw flavor.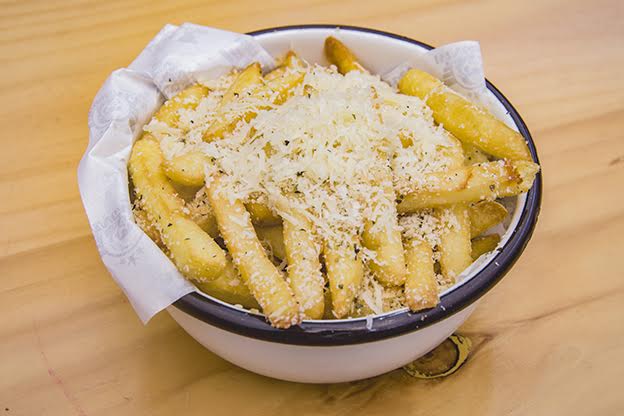 Fries:
The fries are a taste of home and a perfect addition to the wings. Fries are often treated as a side plate, but not at Wingman. I'm usually shy on fries because they can be too dry, thick, salty, or oily. For me, it's a fine line to get them just right, but Wingman gets it. Seasoned to perfection, crunchy-but-not-too-crunchy, and topped with delicious mozzarella, they went great with my wings and beer.
The Drinks
Wingman features 16 different kinds of Peruvian craft beers from IPA and Pale Ales to heavier Porters. The signature beer is a custom Mango Pale Ale (Mangueada) only found at Wingman. The beer is a collaboration with Magdalena Brewery (Facebook).  It's a light, non-obtrusive beer with a slightly fruity flavor. It's designed specifically to be the 'wingman' to your meal. And it is a roaring success. It was only supposed to be one batch but it is now on its seventh, and I have to admit, I've been craving it since my visit.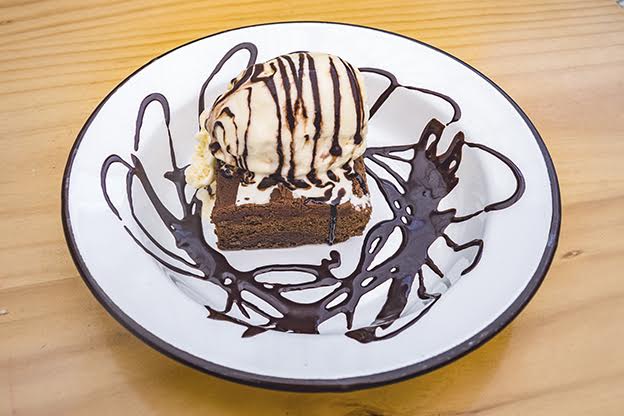 The Dessert
It's true you don't come to a wing house for dessert, but it's also true that you don't leave Wingman without trying theirs. They offer two desserts, Homemade Brownies and Chocolate Truffles (with or without ice cream), both made from a secret recipe from the sister of one of the owners – don't ask, just eat. It's like being served dessert at a family picnic. The taste isn't too sweet and the portion sizes are plentiful enough to share.
What We Thought Overall
From a food culture largely dominated by individual plates, wing culture offers a pleasant departure. Together, families and friends drop utensils and eat with their hands from the same bowl. Due to the popularity of chicken wings, restaurants that serve them have become places where different types of people congregate together. Parents, teens, and in-betweens, kids, couples, and singles – everyone eats as equals.
In short, Wingman has the two essential ingredients of a wing house: great community and great food. I definitely recommend eating there.
Prices:
Wings
   X6                       S/16.00
   X12                     S/31.00
   X18                     S/46.00
Buffalo Chicken Slider      S/20.00
El Chuls (Pulled Pork)       S/24.00
French Fries                      S/9.00
Brownie                             S/7.00
Brownie w/ Ice Cream       S/10.00
Chocolate Truffle               S/17.00
Beer                                   S/10-19.00
Mango Pale Ale (Mangueada)                 S/17.00
Locations:
WINGMAN BARRANCO: Av. Grau 188 – Barranco
WINGMAN MIRAFLORES: Calle Bolognesi 494 – Miraflores (Óvalo Bolognesi)
Hours:
Monday-Wednesday
12:30 PM – 11:00 PM
Thursday
12:30 PM – 11:30 PM
Friday- Saturday
12:30 PM – 12:00 AM
Sunday
12:45 PM – 5:00 PM
Parking
Comments
comments