Peru is a very large country and even if you were to stay in it for over a year, there is just not enough time to enjoy it properly. This complicates things for tourists that want to get to know the Peruvian culture, eat great food and go back home with amazing experiences.

Jungles, mountains, beaches, valleys, cities and more can be found in Peru, not to mention the numerous famous ruins and places everyone wants to see in person. Since there is so much to see, you will have to be selective and perhaps come back again and see the rest!

So, what to do if you only have one week to spare? We decided to put together a one-week tour for you if you have never been to Peru before and you wish to include Machu Picchu in your visit.

Suggested one-week tour for Machu Picchu, Cusco and the Sacred Valley

Day 1: Arrive in Cusco, visit Pisac ruins and market. Stay overnight in Pisac.
Day 2: Visit Moray and Salineras, evening in Urubamba. Overnight stay in Urubamba.
Day 3: Visit Ollantaytambo ruins and town. Spend the night in Ollantaytambo.
Day 4: Visit Machu Picchu, stay in Aguas Calientes. Overnight stay in Aguas Calientes.
Day 5: Train to Cusco, afternoon shopping in Cusco. Stay overnight in Cusco.
Day 6: Cusco city tour including Sacsayhuaman. Spend the night in Cusco.
Day 7: Departure from Cusco.


Starting your tour in Peru

Long bus rides can eat your schedule so this is why this tour recommendation includes flights so that you can get to your destination faster and have more time to enjoy Peru and spend less time traveling from one place to another.

Once you arrive in Lima take a two-hour domestic flight to Cusco. Remember, there is no time to waste! After taking a quick look around this city (you will have more time by the end of the tour), you can travel to Pisac by road where you will find ancient Inca ruins and also enjoy the market nearby. It is about an hour away from Cusco and you can spend the night here.

The second day of your tour you can stay in Pisac for a while and visit Moray (more ancient ruins) and the Salineras (Salt Mines) nearby. You can then travel again by road to the town of Urubamba and stay there for the night.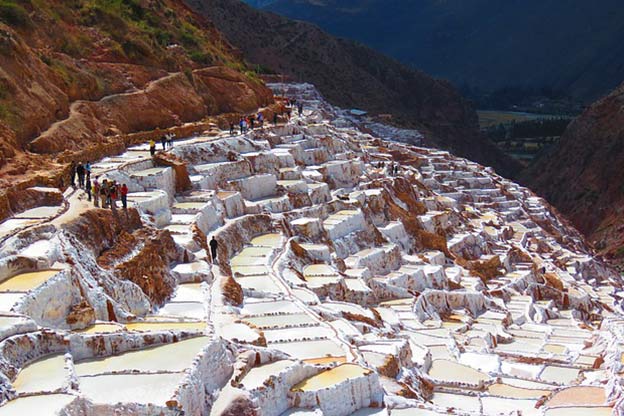 Day three will be for visiting another town in the Sacred Valley: Ollantaytambo. Here you will also find an archaeological complex and the city has a very nice historical center. Stay here for one night and recharge your batteries since day four is for Machu Picchu, the highlight of this itinerary.

Visiting Machu Picchu

Take a train from Ollantaytambo on the fourth day to Aguas Calientes. You will be spending the night here, but not before continuing your trip for the day to the ancient ruins of Machu Picchu. If you take a bus in Aguas Calientes, it will only take 40 minutes for you to arrive at the citadel. Once you are done exploring, you can go back to Aguas Calientes for the night.

Day five will take you from Aguas Calientes back to Cusco by train and you can use this day for shopping, eating and relaxing. Stay here for the night and use your sixth day to do a Cusco city tour that includes Sacsayhuaman, which are ruins located 2 kilometers north of Cusco. Spend another night in this city and prepare to say goodbye.

Finally, on the seventh day of your tour, you can fly back to Lima and then take a place wherever you need to go. We'll be sad to see you go but we expect you are still hungry for more Peru to come back soon!

Stay tuned because we will give you in the coming weeks more tour options for other parts of the country and for longer trips!

By Ermelinda Maglione