The Peruvian fusion of Nikkei cuisine has dominated the Limeño landscape. Matsuei restaurant is one of the pioneers.
Matsuei has been around for over 50 years. With a legendary story starring key players of international Japanese cuisine, such as Nobu Matsuhisa, the restaurant has trained nearly every chef that holds a Nikkei establishment in Peru.
So what's new now?
They've changed their locale from a traditional Japanese styled house to a chic, modern place a few blocks from Kennedy Park. The chef, Kenji Shiroma, who has a total of 22 years working with Matsuei, has kept a lot of their traditional dishes giving them a makeover with modern plating techniques.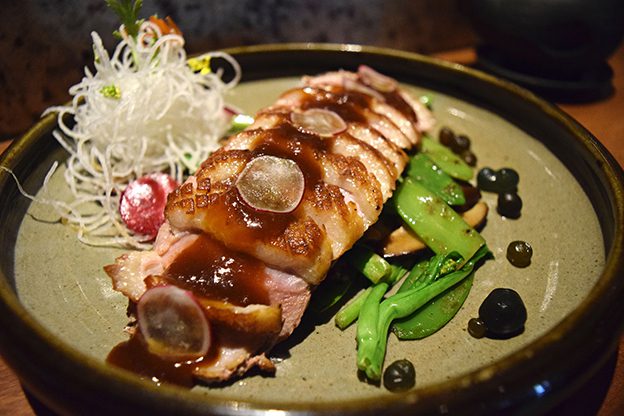 Fresh seafood is delivered daily and you can definitely tell.
Their respect for traditional Japanese cuisine is apparent as they try to steer away from the more tempting Nikkei concoctions.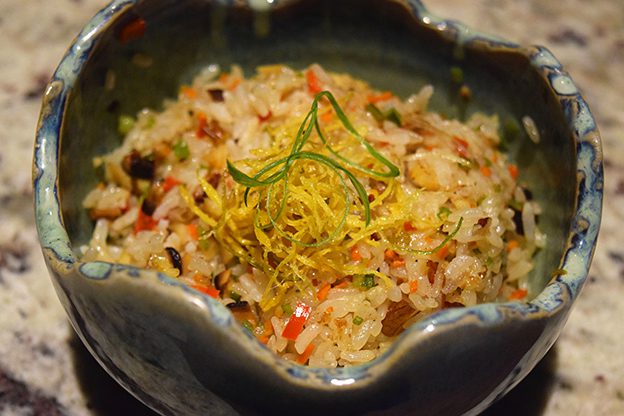 It's one of the few places that offers Sea Urchin (Uni) which if you haven't had in Peru before, the flavor differs with sharper mineral notes. Their respect for traditional Japanese cuisine is apparent as they try to steer away from the more tempting Nikkei concoctions. Their sashimi is A+ and the salmon belly is a must!
Although they are the creators of the famed "acevichado" maki roll, the majority of their sushi rolls (while deliciously executed) are filled with avocado, cream cheese, or both. The day I went, their hot dishes chef of 44 years was on his free day. That being said, the duck magret they served came out over cooked, dry, and they didn't render enough fat from under the skin. They have a braised pork dish which they cook for 6 hours under a mirin based sauce, it was tender and served with a powerful glazed loche.
They also have an interesting spicy tempura shrimp that would give any American flashbacks to the Bang Bang Shrimp from the Bonefish Grill. We also sampled one of their Vegetarian options; sautéed eggplant in a semi sweet sesame sauce. It was good, but given the portion size and the price (s/.28), it didn't seem like a very just vegetarian option seeing as it was just a bowl of eggplant.
They don't have a huge wine menu but the wines are decently selected so you don't have to worry so much about pairing. The drinks I sampled were their Ginger Chilcano and Bloody Mary Matsuei. Lemme say right off the bat, one of the BEST bloody marys I've ever tried. Their secret is they use fermented soy based ingredients that take it to a whole other level. I didn't like bloody marys that much, but there are a few that take the cake. This is definitely one.
The place is a little steep in the pocket, their sashimi is well worth it and I have faith that their hot dishes could be better than what I tried. The yakimeshi (stir-fried rice) was light and balanced albeit.
Final words: If you're a fan of a more traditional Japanese meal, and into culinary history, this place is a must.
Matsuei: Calle Atahualpa 195, Miraflores
Now that you're here:
We're asking you, our reader, to make a contribution in support of our digital guide in order to keep informing, updating and inspiring people to visit Peru. Why now? In our near 20-year journey as the leading English-language source on travel in Peru, we've had our fair share of ups and downs-but nothing quite like the challenges brought forth in the first quarter of 2020.
By adapting to the changing face of the tourism and travel industry (on both local and international levels), we have no doubt we will come out stronger-especially with the support of our community. Because you will travel again, and we will be ready to show you the best of Peru.
Your financial support means we can keep sharing the best of Peru through high-quality stories, videos and insights provided by our dedicated team of contributors and editors based in Peru. And of course, We are here to answer your questions and help whenever you need us.
As well, it makes possible our commitment to support local and small businesses that make your visit an unforgettable one. Your support will help the people working in these industries get back on their feet once the world allows us to make our dream of enjoying everything Peru has to offer a reality again-from its mouthwatering gastronomy, thriving Amazon and archaeological wonders such as Machu Picchu.
Together, we will find a way through this. As a member of our community, your contribution, however big or small, is valuable.
Support Traveling & Living in Peru from as little as $1 - and it only takes a minute. Thank you!